Gas Crisis in Dhaka: No respite till LNG supply starts in June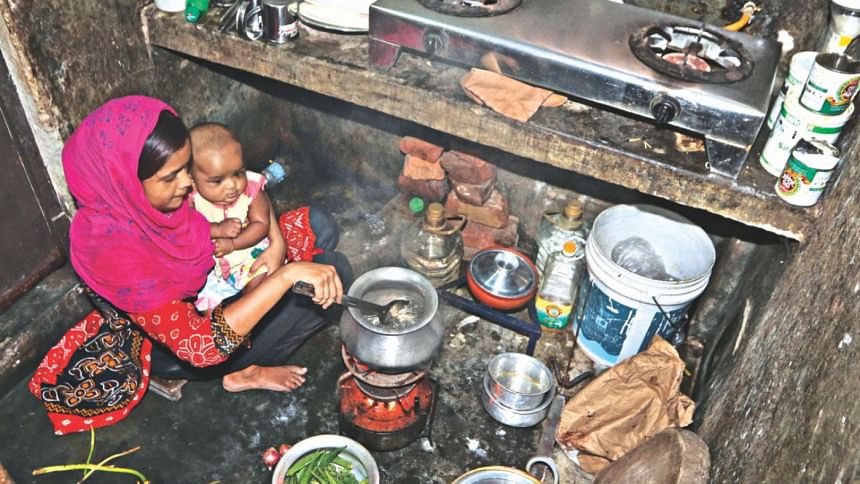 Julekha Begum, a resident of Gendaria DIT plot, could not make iftar on the first day of Ramadan as the gas supply went out at 9:00am and did not resume before iftar.
She said she bought a kerosene stove for Tk 150 the next day to cope with the crisis.
Julekha is among many city dwellers who have been facing prolonged gas crisis. According to officials, they may not get respite before the first week of June, when imported liquefied natural gas (LNG) is supplied into the national grid for the first time.
Some areas in Chittagong are already being supplied with the gas. 
Managing Director of Titas Gas Transmission and Distribution Company Ltd Mir Moshiur Rahman said the crisis arose due to demand outpacing supply. The problem would be solved when the LNG imported from Qatar enters the national grid.
The government recently imported 3,000 million cubic feet of LNG from Qatar which was now stored in Chittagong. About 500 million cubic feet of gas per day could be supplied from the country's first LNG terminal situated in Moheskhali, said an official of Petrobangla.
"We have already completed setting up of a 40 km pipeline from Anwara to Sitakunda," said Md Quamruzzaman, managing director of Rupantarita Prakritik Gas Company Ltd.
Currently, the total demand for Titas gas is 2,000 million cubic feet per day (mmcfd), while Titas' distribution capacity is only 1,650 mmcfd. This resulted in a shortage of over 350 mmcfd, Rahman said.
According to Petrobangla, the industry production stands at 2,700 mmcfd while total demand is 3,300 mmcfd.
As the authorities concerned failed to provide a solution during Ramadan, residents of different parts of Dhaka city, including Gendaria, Mirpur, Adabor, Shyamoli, Mirhajirbagh, Ibrahimpur, Gopibagh, Eskaton, East Razabazar, Khilji Road and Babor Road in Mohammadpur, Shewrapara, Ansar camp and Jhigatola, were facing difficulties.
The Titas MD, however, said city dwellers in 20 percent of the city were facing the gas crisis. "Consumption of gas rises by 15 percent during Ramadan due to the additional cooking of iftar items," he said.
He also mentioned that the government had taken some measures before Ramadan, including shutting down filling stations from 5:00pm to 11:00pm every day which was 5:00pm to 8:00pm before Ramadan.
He said the government also shut down Jamuna Fertiliser Company Limited before Ramadan to increase gas supply as fertiliser companies consume a large amount of the resource.