Free school for poor children
Magura couple establishes school on own initiative, covers all cost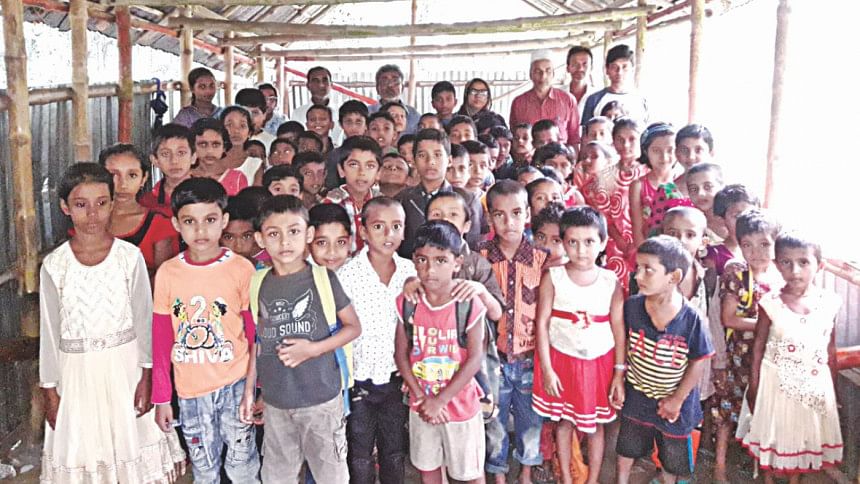 Knowing that their wealth could serve a good purpose in the here and now, Nawsher Alam and his wife Mahmuda Alam, from Uttar Majhail village in Hazipur union of Magura's sadar upazila, established a free school for poor students.
"Life is transient," says Nawsher, 63, the retired assistant headmaster of Magura's Fulbari Secondary School. "I intend to spend all of my wealth on our project. After all, I can't take it with me."
He married Mahmuda in 1982 and the couple tried in vain to have children of their own for around 15 years. His wife then suggested that they could found a school instead, to benefit needy children.
In 1998, they did just that, establishing the Bogura Adarsha Shishu Bikash Kindergarten School on 57 decimals of their own land, with classes from playgroup to class-V. With five tin-shed classrooms, it cost approximately Tk 2.5 lakhs initially.
The school opened with just 12 students, but that number has since grown to around 200. Seven local unemployed but educated young people now volunteer alongside the couple as teachers. The only financial reward they can look forward to, are the modest amounts Nawsher provides on the occasion of Muslim festivals.
"The students are my sons and daughters," says Mahmuda. "I am mother to 200 children. Because of them, we don't feel lonely. I want to offer my life to them."
Nawsher feels the same way. "We want to pass the rest of our days looking after our students. They keep us busy and help us to forget our lifelong sorrow of having no children of our own."
Since his retirement in 2014, Nawsher has been busy with the school every day, working alongside his wife. The other staff members also take much satisfaction from their efforts.
"Time used to weigh heavily on me," says the school's headmaster Kazi Ashaduzzaman. "When I heard of this couple's sincere initiative, I decided that I would also serve at the school as a volunteer. Our school is for those children who never had the opportunity to attend a Government Primary School in a nice uniform."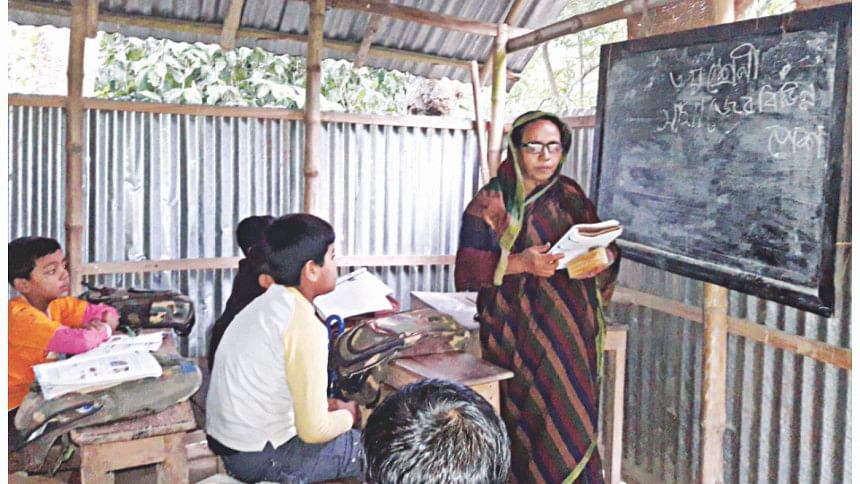 Khaza Joardar's daughter Mim Khatun studies in class-V at the school. "She has gained a good deal of general knowledge thanks to this school," he says.
Another guardian Taslima Khatun, says her grandson is a student at the school. "He is doing better with his schoolwork, day by day."
"The couple running this school are rendering a great service to society," says Hazipur's union council chairman Majharul Islam. "They are covering all the costs themselves, partly through wealth he has inherited. Their initiative is really inspiring, and if ever they ask me for any assistance with the school, I will do my best to provide it."