Free media vital for democracy
The power of the press always overcomes the power to suppress, former Amnesty International chief Irene Z Khan has said.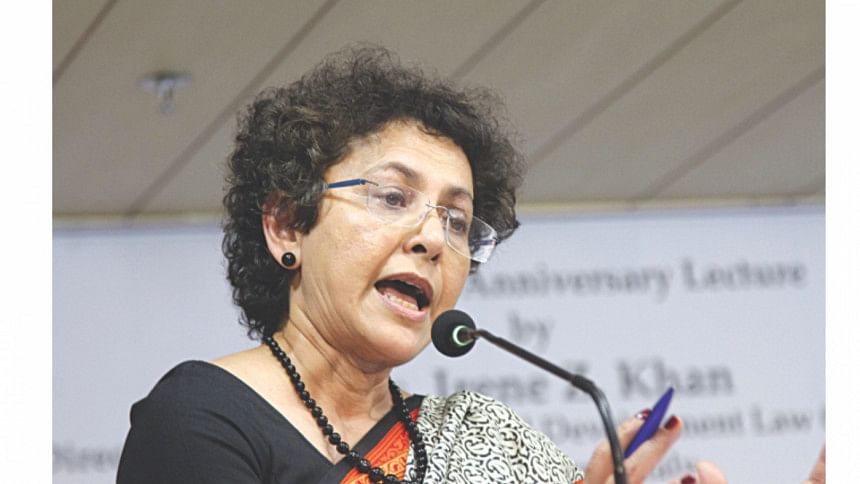 The power of the press always overcomes the power to suppress, former Amnesty International chief Irene Z Khan has said.
"In a democracy, free expression allows citizens to challenge political leaders, journalists to uncover information for the public and the public to ensure the accountability of their government," she said yesterday.
Irene was delivering a lecture titled "Free speech and free media: help or hindrance to development" at The Daily Star office on the occasion of the newspaper's silver jubilee celebrations.
"Without free media and free speech, there can be no development or democracy," said Irene, currently the director-general of International development law Organisation (IDLO), a Rome-based intergovernmental organisation promoting the rule of law.
Starting with the Language Movement's objectives including free speech and freedom of media, Irene in her 30-minute speech touched upon various subjects from suppression of free press in history to the American constitution and judiciary upholding freedom of speech. 
"The greatness of a newspaper is not measured by the size of its readership but by its influence and credibility," she said, noting why the New York Times or the Guardian are better known and more respected than the tabloids in their respective countries with 10 times their circulation.
Observing that freedom of speech "is the most complex and controversial right", she discussed how terrorist attacks led to tightening of security laws in a number of countries in ways that infringe upon freedom of speech and access to information.  She also gave instances of how this particular right was strangled in history.
She presented a brief picture of how freedom of speech enjoys protection in the US, Europe and Asia and Africa.
Terming the US the strongest champion of freedom of speech, a country where even burning the US flag is considered part of one's freedom of speech, Irene said even European countries could not do as well as the US in this regard.
"Most European countries have laws that ban 'hate speech', speech that incites racial or religious hatred. A number of them have laws that outlaw holocaust denial, and increasingly European countries are adopting laws banning speech or writing that is an 'apology for terrorism'," she said.
In Asia and Africa, blasphemy laws are used not just to silence criticism of religions but also that of political dissent to gain support from hard-line religious parties.
"If the law is not enough to chill free speech, then extremist violence acts as a veto, threatening, attacking and killing the critics, the bloggers or the zealous journalists with impunity," she stressed.
Noting that freedom of expression is also the right to hear, Irene said, "If the government is allowed to decide which opinions can be expressed and which cannot, an open, vibrant and diverse society quickly breaks down."
"Similarly, when our court system is used to silence those with unpopular views, we all lose the opportunity to hear all sides of an issue and come to our own conclusions," she added.
About the relation between free speech and free media, Irene said when people gained access to information about development choices available to them, they were able to organise, speak out and take part in decisions affecting their lives and livelihoods.
This helps them to come out of deprivation, exclusion and insecurity, she explained.
Citing how the huge loss of lives during the Chinese famine in Chairman Mao's time happened because the real picture could not be known due to curbing of media freedom, she said free media "benefits government by providing information on what is really happening" so that governments could adjust policies or correct any mistakes.
"Censorship can keep the government as well as citizens in the dark," she said.
About people's attitude towards free media in Bangladesh, Irene said, "I fear we do not value our media freedom enough."
"Indeed, most people, especially poor people, do not care much about democracy and freedom when things are going well," she said.
Citing a recent survey where Bangladeshis preferred economic growth over democracy and freedom, Irene said, "The stability that we are enjoying now is making us complacent about our freedoms, including our media freedom, but there are grey clouds on the economic horizon."
She said when economy "falters and unemployment rises, people come out on the street and they begin to value free media."
She, however, warned that the power of media might not be a good thing when its ownership "is mostly private and concentrated in the hands of a few."
The solution to this problem is not in censoring or regulating media, but in letting it expand and the news consumer choose which media outlet they want to read, view or listen to, according to Irene.
"Freedom of the net and the press thrives on competition and confrontation…" she said.
The speech was followed by a lively question-and-answer session where Irene, replying to a question, said, "Globally, freedom of press is growing."
A government cannot suppress media now in the face of strong public opinion favouring free media, she said.
"The biggest thing that saddens me about Bangladesh is the lack of solidarity in the press for the press."
Mahfuz Anam, editor and publisher of The Daily Star, moderated the programme.
He said governments in most developing countries "fail to see the role free media plays in informing the government."