Flood in Sylhet Region: Thousands in need of relief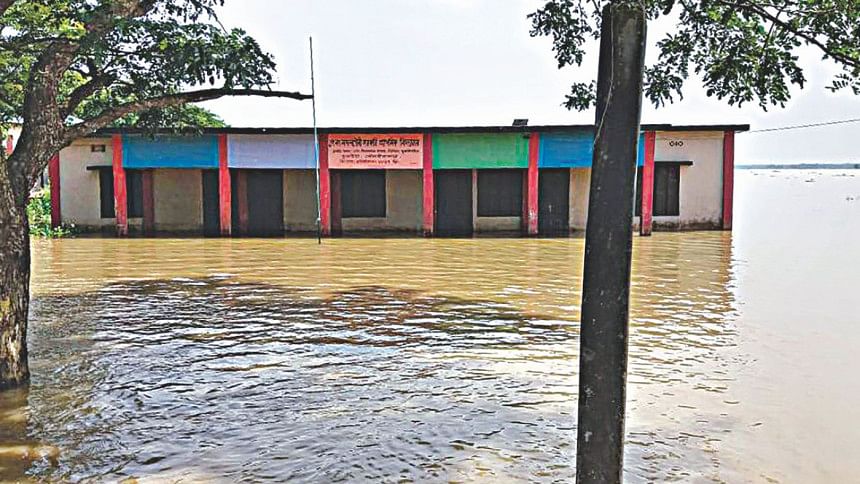 Thousands of people in Moulvibazar's five upazilas are facing a shortage of relief supplies following the flashflood.
Although, the overall flood situation in Moulvibazar and Sylhet districts has improved with dropping water levels in Manu and Dhalai rivers, thousands of people, especially those currently living on the embankments, are surviving only on puffed rice and unsafe drinking water for the past seven days.  
Their government rations are fast running out, despite assurances from government high-ups.
At a special disaster management committee meeting at Moulvibazar Circuit House on Monday, Disaster Management and Relief Minister Mofazzal Hossain Chowdhury Maya claimed that there was no shortage of relief and the distribution would continue until the flood ends.
Currently, about 100 families from Itarghat, Kalairchar and Chariarghat villages of Sharifpur, are living on the dam of the Manu river with their fowls, cattle and goats, awaiting help from the government.
In Itarghat, Arun Mia, a ward member said that for around 350 people, they were given food packets worth Tk 150 for 75 people and packets worth Tk 200 for 198 people. The amount was not enough.
Similarly, Manik Mia, 65, a resident of Mushibazar area in Kamalganj upazila area, said he received some aid from the government, but it was inadequate. "We received rations for five people. But, it hardly covers two meals," he said.
Harun Mia, local member of Itarghat, Kulaura upazila, also said the amount of relief materials was inadequate.
Deputy Commissioner of Moulvibazar Tofael Islam, said, "A total of 2, 50,430 people were affected by this sudden flood. We allocated 1,143 metric tonnes of rice for them."
Md Faizur Rahman, additional secretary of the disaster management and relief ministry, was present during the aid distribution. He said that due to poor road conditions, distribution was yet to gain momentum but he gave assurances that they would reach the remotest areas soon.
Flood relief was sent for nearly 2,300 people of the Sharifpur Union area, said Chowdhury Mohmmad Gollam Rabbi, Upazila Nirbahi Officer (UNO) of Kulaura.
Upazila Parishad Chairman of Sharifupur Janab Ali said there were a total of 4,500 flood-affected people in the area. 23 tonnes of rice was distributed among 2,300 people while 29 tonnes of rice was awaiting distribution. 
Executive engineer of the Water Development Board in Moulvibazar, Ronendra Shankar Chakrabarty, said the flood situation would not improve unless the rains lessened.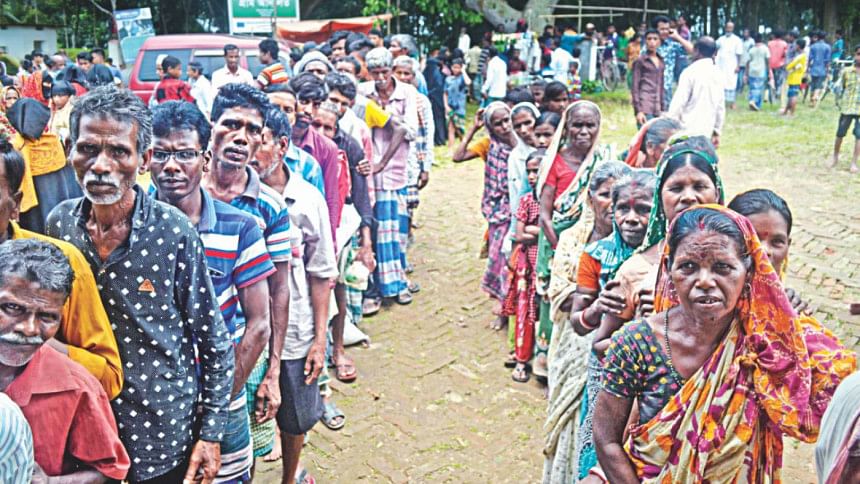 SCHOOLS AFFECTED
At least 231 primary schools and high schools in two districts of Sylhet division have suspended their academic activities as they remain deluged for around a week.
Of them, 27 are being used as flood centres in Sylhet division.
Md Bayezid Khan and Md Obaidullah, the two district primary education officers of Moulvibazar and Sylhet respetively, told this correspondent that classes of 96 primary schools in Moulvibazar and 111 primary schools in Sylhet were suspended.
Md Abdul Kadir, president of Modongouri government primary school managing committee, said the schools were scheduled to re-open on June 19 following a month-long Eid holiday. But right before Eid, the school buildings were flooded.
Education officers said considering the risks, a policy decision had been taken to stop the academic activities of the school until the water had receded. However, if the teachers wish, they will be able to take classes on the dry areas of the school.
ASM Abdul Wadud, officer of secondary and higher secondary education department in Moulvibazar, said around 25 thousands students were enrolled at 24 flood-affected schools.
Tahmina Khatun, deputy director of primary education department in Sylhet division, told this correspondent the decision to hold classes in the flood schools depended on teachers and management committee of the schools.