Floating guava market now a tourist spot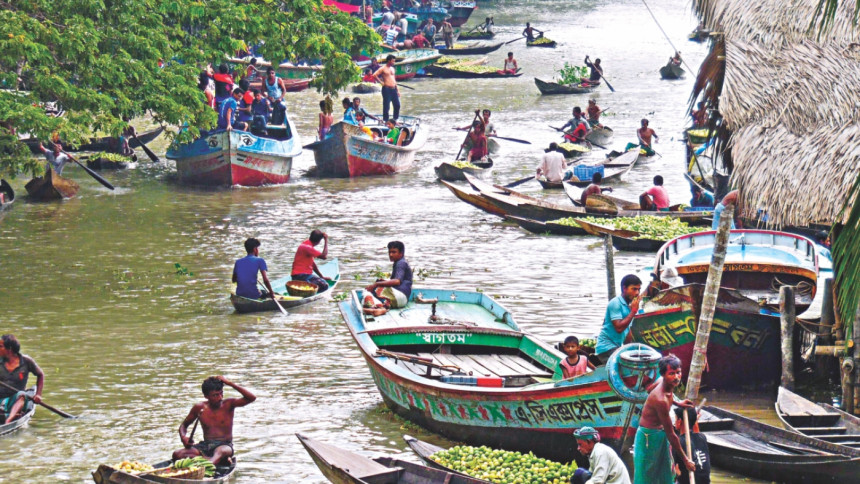 The 200-year-old floating market at Bhimruli in Jhalakathi has become a tourist spot.
The market began its journey when traders first started selling only guavas there but in time all kinds of agricultural products have been introduced and are sold here all round the year.
Hundreds of tourists from home and abroad visit the place every day to enjoy the beauty of the market and its surrounding landscape.
Small boats gather on the Bhimruli canal loaded with guavas, hog plums and other agricultural products from dawn. Traders sell those to the many wholesalers who turn up from across the country.
There are about 7,000 guava and many hog plums orchards in the 30 villages in the area, according to the district agriculture office.
More than 100 trawlers with tourists, including students from different schools, colleges and universities, reach the market on Fridays alone.
"I heard about the guavas and the floating market and was fascinated to see the natural beauty of the place, acres of land with guava trees … ," said Arnab, a tourist from Dhaka who works at a radio station.
"But there is no residential hotels or restaurants here … we wanted to stay for a few days."
Shuvrajit, a tea stall owner, said, "As road links have been established, the place is becoming more and more crowded and my sale has increased five times."
One of the farmers said, "We are getting fair prices from the visitors and they are getting fresh fruits from here."
Abu Saleh, who went there with a group of tourists from Dhaka, said, "I forget everything else when I entered the beautiful canals through the guava orchards. I try to come here every year."
Sadia Mou from Dhaka said, "I enjoyed not only the scenic beauty of this place but also the journey on a luxurious lunch during a moonlit night."
Wahiduzzaman, chairman of the marketing department at Barisal University, said, "Tourists are now looking for new kinds of places -- either natural or artificial. That's why the floating market has become one of the best attractions.
"Many business opportunities will be created if some tourists' facilities are established there as the law and order is good in the district."
Sheikh Abu Bakar, deputy director of the district agriculture office, said, "We are going to construct a fruits landing station on the canal very soon with all modern facilities for the farmers, buyers and visitors."
July and August is the season for guavas and hog plums and that's when most visitors and buyers gather there, he added.
Md Mizanul Haque Chowdhury, deputy commissioner of Jhalakathi, said, "I have talked with Bangladesh Parjatan Corporation for developing the areas by setting up some modern facilities for the tourists."
A proposal would be sent very soon to the higher authorities to that end, he added.