Five sued for grabbing the Dhaleshwari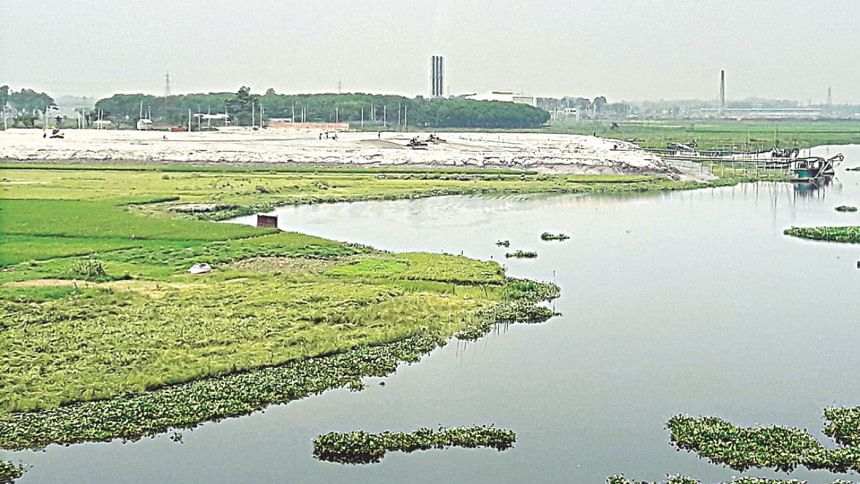 A case was filed against five people including a ruling Awami League leader under the Special Powers Act in connection with grabbing government land on the Dhaleshwari in Singair.
Mohammad Nur Islam, assistant officer of the Dhalla Union Land Office, filed the case with Singair Police Station on Sunday.
The accused are Mohammad Shahidur Rahman, joint secretary of Singair upazila unit AL, Abdul Halim Raju, chairman of Jamirta Union Parishad, Mustafa Moyen, director of Dhaka Northern Power Generation Ltd, its site in-charge Ashikus Salam and site engineer Abul Kalam Azad and more than 400-500 unnamed people.
In the name of setting up a power plant, Dhaka Northern Power Generation Ltd started construction of infrastructure on 11 acres and 30 decimals of government land on the riverbank in Dhalla union, according to the complaint and the upazila Land Office.
The land office had several times obstructed the construction, sources said, adding that the district administration had also served a show-cause notice on the company and marked off the area after land measurements. However, the power plant authorities continued building the structures.
On June 26, Mujibur Rahman Hawlader, chairman of the National River Protection Commission, visited the site and attended a meeting of the District River Protection Committee at the conference room of the deputy commissioner's office.
Mujibur asked the district administration, district police and the officials concerned to demolish the illegal structures on the river.
He told the meeting that the government has zero tolerance on river occupation and action would be taken against the big and the powerful ones first so that small parties could learn.
Meantime, petitioner Nur Islam Mia alleged that the accused are threatening and trying to harm him and his family, panicking him.
Inspector of Singair police Khandker Imam Hossain said the case was filed on July 1 under penal code 186/506 (2) and 15 (3) of the Special Powers Act and lawful action would be taken against the accused.
Site-in-charge Ashekus Salam of Northern Power Plant Ltd said his company bought the land from their owners following RS and DS land surveys.