Eid Journey thru' Paturia: Inadequate ferries a big worry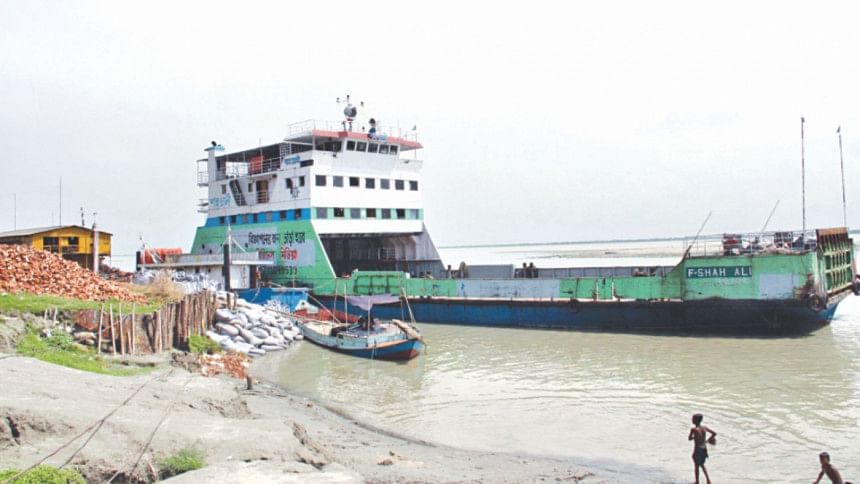 Painting a gloomy picture of the ferry service on the Paturia-Daulatdia route, Bangladesh Inland Water Transportation Corporation (BIWTC) officials yesterday said people bound for 21 southwestern districts might experience long delays at Paturia and Daulatdia terminals ahead of the Eid-ul-Fitr.
At a view-exchange meeting on "safe journey", they virtually expressed their inability and said the main rush of Eid holidaymakers would commence just two days before the Eid and they would not be able to handle such a rush with the limited number of ferries.
"The queue of vehicles could be as long as 10 kilometres stretching from Paturia ghat to Tepra area of Manikganj," said Zillur Rahman, assistant general manager of BIWTC, at the meeting at the Manikganj deputy commissioner's control room at Paturia ferry terminal.
He pointed out that there were public holidays before the previous Eid and that is why it was possible, if not on time, to get the vehicles aboard the ferries. But this time there is no public holiday other than the Eid holidays and therefore the rush would reach its peak just before two days of Eid.
Every year, passengers heading for southern districts in buses through the Paturia and Daulatdia ferry ghats get trapped in traffic snarl-ups for hours near the terminals. It's because hundreds of buses race for spots in only 17 to 19 ferries, leading to traffic chaos.
A total of 17 ferries -- seven of them RoRo, six utilities and four K-type -- are now in operation on this route. One more ferry will be anchored on the ghat in two days, but it will be kept reserved for VIPs. Besides, one ferry remains aground in rotation for maintenance, said BIWTC sources.
Around 4,500 vehicles cross the Padma using the ferry ghat every day and the number would double during the Eid, they added.
A ferry can make 25 trips a day on average, carrying 15 small and large sized vehicles. If 17 ferries are operated daily during the period, around 6,375 vehicles can be ferried. Therefore, about 3,000 vehicles are likely to be stranded at the terminals.
Shafiqul Islam, manager (commerce) at BIWTC's Daulatdia office, said the three-and-a-half nautical miles river route is the channel that connects 21 southwestern districts with the capital.
"It normally takes 35 to 40 minutes to cross the Padma by a ferry. So we have to struggle to get the vehicles cross the river when the pressure of vehicles would mount," he said.
Giving a warning, Rifat Rahman Shamim, superintendent of police in Manikganj, said the small vehicles like cars and microbuses heading for southwestern districts through Mawa-Kawrakandi route have been using the Paturia-Daulatdia route due to traffic congestion.
"If the pressure of these vehicles increases ahead of Eid, this will create another major problem," he said.
However, there would be no deterioration in law and order in the ghat areas, he said, adding that more than 500 law enforcers, including police and Ansar members, would be deployed in parts of Manikganj on Dhaka-Aricha highway.
Mohammad Faridul Alam, traffic inspector of Bangladesh Inland Water Transport Authority (BIWTA) in Aricha, said 10,000 passengers cross the river every day by launches on average and the number would increase to around 50,000 ahead of Eid.
Of the total 33 launches, 18 are engaged in Paturia-Daulatdia route while the rest in Aricha-Kazirhat route.
So there would be pressure on the launches as well, he said, adding 19 speedboats were operating on this route without any permission.
"A horrific situation will be created if the weather turns rough," Faridul said.
Speaking at the meeting, Manikganj Deputy Commissioner Md Najmus Sadat Selim said the control room "Mohona" would remain open on behalf of the district administration at Paturia Ghat from June 10-20.
An executive magistrate would operate a full-time mobile court to check irregularities. A medical team would be ready to give passengers prompt treatment, if needed, he said.
The authorities have been instructed to be alert to ensure passengers' life-saving equipment on the launches and stop them from carrying additional passengers, he added.
Kazi Shahidul Islam, additional district magistrate, and Mehedi Hasan, Shivalaya upazila nirbahi officer, also spoke at the meeting.