Economy stable, lacks vibrancy
Private investment remains depressed, says CPD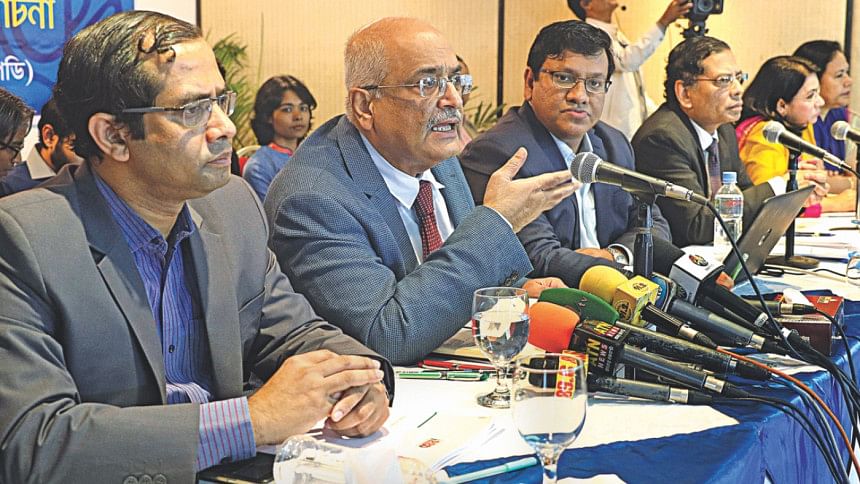 The Centre for Policy Dialogue yesterday came up with a number of recommendations to boost the country's economy that has "stability but lacks vibrancy".
"It makes us worried that private investment has remained depressed despite low inflation and prices of global commodities, downward trend of lending rates in banks and a stable exchange rate," said CPD Distinguished Fellow Debapriya Bhattacharya.
"So, we conclude that there is stability in the economy but it lacks vibrancy," he said at a media briefing in the capital's Brac Centre Inn.
The CPD organised the event to release its review of the country's development, "The State of Bangladesh's Economy in FY 2015-16".
The thinktank suggested reducing prices of fuel, especially kerosene, diesel and furnace oil. It proposed cutting the central bank's key policy rates -- repo and reverse repo -- for further reduction in banks' interest rates on lending to break sluggishness in business and investment activities.
It also suggested reforms and continued efforts to curb militancy and ensure public security for attracting investment.
"Unless there is security, investment climate will deteriorate further," said Debapriya.
The CPD said various indicators such as agricultural production, foreign exchange reserves and exchange rates were favourable.
But the economy suffered from various weaknesses in the first five months of the year. Those include: downturn in capital machinery import and industrial term lending, and decline in the number of initial public offerings in the capital market.
Remittance flow declined while export earnings saw volatility, it added.
Implementation of projects under the Annual Development Programmes was low, while revenue collection growth remained slow, indicating sluggish economic activities, according to the CPD.
Presenting an analysis, CPD Research Fellow Towfiqul Islam Khan said resource mobilisation and utilisation are likely to miss the targets for FY 2015-16.
Revenue shortfall from the target of 208,443 crore might be Tk 40,000 crore by the end of the fiscal year, he said.  
To give the economy a push in the short term, the CPD favoured reduction in fuel prices to let people have the benefit of falling petroleum prices on the international market.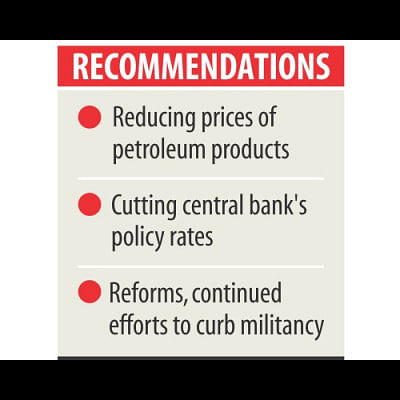 The government is yet to slash petroleum prices in the domestic market though the prices have kept falling since January 2013.
"Fuel price cuts will have positive impacts on consumers, producers, investment and economic growth. Only government's profit will reduce. But it is a good time to slash fuel prices, and revise gas and electricity prices," said CPD Executive Director Mustafizur Rahman.
The CPD projected that a 10 percent reduction in fuel prices would help the GDP grow by 0.3 percent, and increase export by 0.4 percent and household consumption by 0.6 percent. And inflation will decline by 0.2 percent.
Debapriya said the government is getting some relief from a surplus by keeping fuel prices high on the domestic market. "This benefit should be given to consumers."
Cuts in Bangladesh Bank's key policy rates will facilitate reduction in banks' lending rates, said the CPD.
"Now is the time for the central bank to cut rates slightly so that investors could reap the benefit of low inflation rates."
It said banks' average lending rate declined to 11.3 percent in October last year from 12.5 percent a year ago. However, the real lending rate has not reduced significantly in spite of lower inflation rate.
"In order to boost investment, business community has been consistently demanding a lower lending [interest] rate."
The thinktank said rate cuts by the central bank would reduce the cost of banks' funds and allow depreciation of taka against dollar, which would increase competitiveness of exportable items.
Referring to a large volume of non-performing loans (NPLs), it said the banking sector's performance continues to be worrying. The share of NPLs in total loans still remains high at state banks and has risen at private and foreign banks.
There is a suspicion that a major portion of bad loans at private banks went to the pockets of bank owners, said Debapriya.
Lending on political consideration was the main reason behind bad loans at state banks, while insider lending may be a reason for the rise in bad loans at private banks, he said.
The CPD demanded that the government form a Banking Commission.
On the issue of private investment, the thinktank said inadequate infrastructure was one of the main reasons behind investment slowdown.
"Bangladesh needs to focus more on improvement of institutional efficiency to reignite private investment: from 'first generation' to 'second generation' reforms," the CPD said, calling for revision of investment and business-related policies.
"Business-related services need to be simple, transparent and hassle-free," it added.