Mother's Day
Drawing strength from a mother's memories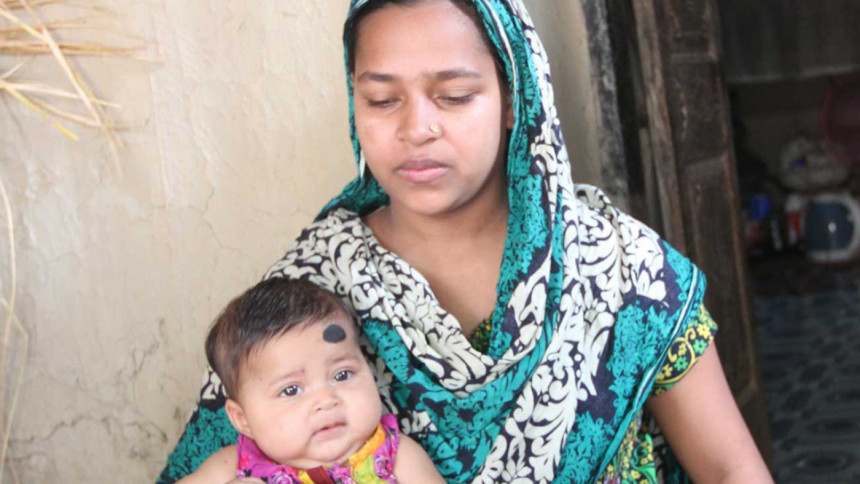 Rebecca had lost her father while an infant and witnessed how her mother had struggled to give her a beautiful childhood despite her step-father's misgivings about bringing her up.
The Rana Plaza disaster took her mother's life. It also left her injured and crippled so badly that doctors warned her against conceiving.
But memories of her mother gave her the strength and courage that the 23-year-old needed to go through a nine-month pregnancy with both of her legs amputated -- one below the waist and the other below the knee.
Though Rebecca's husband Md Mustafizur Rahman never left her side, she felt the need for a baby whom she can consider a part and parcel of her own being, like she was to her mother.
"My urethra was fractured and needed seven stitches to mend. Plus the condition of my legs was so bad that doctors told me I could never sustain a normal childbirth," she said. "But I wanted a child even though I knew I have to go through yet another operation on my body."
Rebecca's story represents how a daughter puts her life together, drawing strength from her mother's memories. It is in honour of the sacrifice and joy of motherhood that the world celebrates Mother's Day today.
Unlike others, Rebecca cannot pick up her four-month-old daughter Sijdartul Muntaha and hold her in her arms on her own; nor can she breast-feed her, lull her to sleep or change her clothes or run to her when she cries.
But she sits or lies beside her and stares at her, waiting for the day when Muntaha will learn to speak and call her "mother".
"The Rana Plaza tragedy not only cost my legs but it took away the person closest to me -- my mother," she said. "I had no dear one left in this world."
Though many ancient cultures in different parts of the world used to celebrate Mother's Day by offering prayers to a mother goddess, in modern times Mother's Day celebration began in the United States of America in the early 20th century.
Anna Jarvis of West Virginia started the campaign for this day in memory of her mother Anna Reeves Jarvis, a peace activist who worked for wounded soldiers of the American Civil War.
Later on, many other countries started celebrating the day. Though it is not celebrated officially in Bangladesh, individuals and young children, especially in the cities, show their appreciation to their mothers through gifts and cards.
For Rebecca, however, the very presence of Muntaha is the best gift she ever received. "I could not save my mother or take care of her, but my daughter, my own flesh and blood, will look after me when she grows up," she said in a voice resounding with the pride of motherhood.