Pilkhana Tragedy: 10th anniv observed solemnly
With a heavy heart, the nation yesterday observed the 10th anniversary of the Pilkhana carnage that left 74 people, including 57 army officers, dead.
The incident, which took place between February 25 and 26 in 2009, had left the nation benumbed, as people stood aghast at the extent of the atrocity perpetrated at Pilkhana, the then headquarters of Bangladesh Rifles, now Border Guard Bangladesh, in the capital's Dhanmondi.
To pay homage to the martyrs, representatives of the president, prime minister, home ministry, chiefs of the defence forces, BGB director general and the martyrs' family members laid floral wreaths at Banani military graveyard, reports BSS.
They also observed a one-minute silence and participated in a munajat to pray for eternal peace and salvation of the departed souls.
Besides, BGB took up an elaborate programme, including a Quran Khwani, doa and milad mahfil, across the country to mark the anniversary, the agency added.  A special doa and milad mahfil will be held at Pilkhana Central Mosque today after Asr prayers.
On February 25 in 2009, several hundred BDR personnel rose up in armed revolt during a three-day "BDR Week" at Pilkhana and carried out the killing.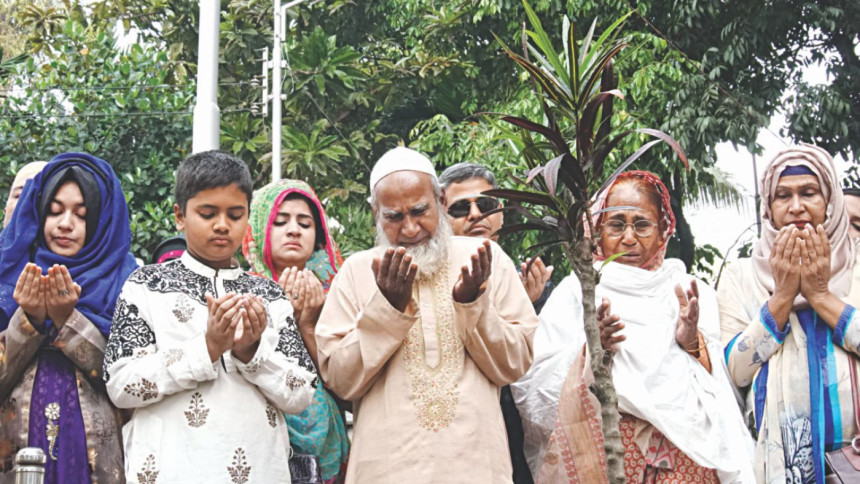 The mutiny finally ended on February 26 with the surrender of firearms, ammunition and grenades after negotiations between the government and the BDR rebels.
Following the mutiny, the paramilitary force was renamed BGB.
After the incident, several cases, including murder and loot, were filed.
On November 5, 2013, a Dhaka court, in the country's largest-ever murder case, sentenced 152 people to death, 161 to life imprisonment and 256 to jail for three to 10 years. It also acquitted 277 other people.
On November 27, 2017, the High Court confirmed the death penalty for 139 out of 152. Besides, the court upheld life sentences for 146 convicts, awarded different terms of imprisonment to 196 and acquitted 41 others.
In another development, the BNP yesterday alleged that those who were behind Pilkhana massacre had not been identified yet as the investigation report by the army regarding the incident was not made public, reports UNB.
The party also demanded February 25 to be announced as "national mourning day", the agency added.