Ctg commuters face transport shortage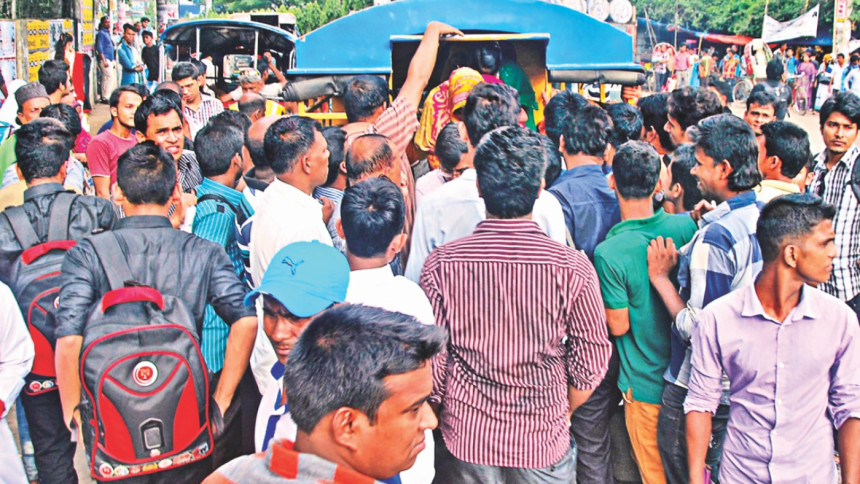 It was already quite late. Exhausted after a hectic day at work, Jafar Ahmed was trying his best to get onto a human haulier near Prabartak intersection in Chittagong city. He wanted to go home.
In one hour, six to seven of the four-wheelers arrived there. But much to his frustration, all of those were already packed with people.
Besides, every time the vehicle came, Jafar was jostled and shoved by dozens of his fellow travellers competing for just one spot or two.
Thanks to a chronic shortage of public transport, people often go through the same torment at almost all the key points of the port city during rush hours.
This paper talked to over a dozen of commuters, who travel in bus or similar vehicles, across the city. All of them have the same story.
They said the situation turns worst in the morning around school time.
Taking a CNG-run auto-rickshaw is not an option for many as the drivers often charge more than the government fixed rate.
"These days, commuting has become an everyday struggle for me," Jafar, a private job holder, told this correspondent near Prabartak intersection last week. At last, he had to get a CNG-run auto-rickshaw to go home that evening.
Liza Akter, a student of Chittagong College, said she is often pushed and shoved by other passengers whenever she tries to board three wheelers, locally known as tempo, to travel between Chawkbazar and Gate Number 2 area.
"It is much more difficult for a girl to take a bus as it is often overcrowded," she said.
The transport crisis in Chittagong city took a turn for the worse as the number of public vehicles there has remained almost the same over the past few years, despite a significant increase in population.
The 2011 census had put the city population at about 40 lakh, according to sources at the Chittagong City Corporation (CCC). 
However, on September 15 this year, CCC Mayor AJM Nasir Uddin, at his budget speech for 2015-2016 fiscal, said it is around 60 lakh.
According to Mozammel Huq Chowdhury, secretary general of Passengers Welfare Association of Bangladesh, around 7.50 lakh people use public transport daily in the city.
Sources at the Bangladesh Road Transport Authority said, every day some 1,342 buses and minibuses, 1,088 human hauliers and 2,357 tempos are capable of operating in the city streets.
However, a fewer number of vehicles have taken the route permit, added the sources.
Talking to this correspondent recently, transport leaders pointed out that the actual number of transports plying the city streets would be a lot fewer than what it says on paper.
According to them, the total number of the vehicles would not be more than 2,800.
In addition, 14 BRTC double-deckers and nine buses of CCC also operate every day in the city streets.
Golam Rasul Babul, secretary general of Chittagong City Road Transport Owners' Federation, said the number of public transport in the city has not increased since 2011.
He said on one hand a few transports are being introduced but on the other the older ones are breaking down and are taken off the street, making almost no change in the total number.
On many routes, transport owners have replaced buses with human hauliers in recent years, saying they were not being able to make their expected profit.
They said a "huge" duty on bus import, and frequent traffic jam reducing the number of their daily trips are mainly to blame.
Abul Kalam Azad, president of Chittagong City Bus, Minibus and Human Haulier Owners' Association, said in some cases bus owners even fail to recover the money they invest.
Passengers, on the other hand, said smaller vehicles like the human hauliers often violate traffic rules, deteriorating the traffic situation.
AKM Shahidur Rahman, an additional commissioner of Chittagong Metropolitan Police, said they were taking action to free the footpaths from illegal occupation to ease congestion. Apart from this, he believed, the introduction of new buses was the only solution to the problem.
Contacted, MAN Siddique, secretary of Road Transport and Highways Division, said: "I will talk to the BRTC chairman so that he takes steps for a survey to determine whether more buses are needed in the city."
"If we find that there is a demand, we can provide [the city dwellers] with new buses. We have no issue with that," he added.