Core aspects of CHT accord still ignored
Says Santu Larma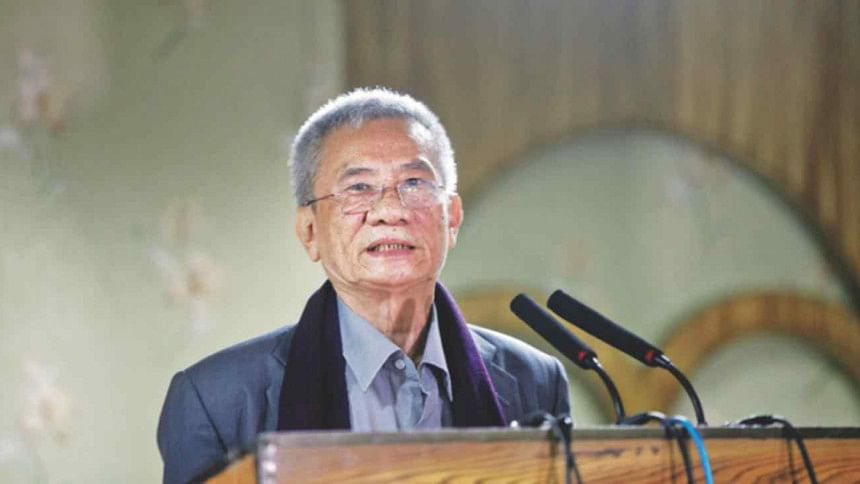 Jyotirindra Bodhipriya Larma, popularly known as Santu Larma, yesterday alleged that the government did not take effective steps to implement the fundamental aspects of the Chittagong Hill Tracts Peace Accord even 20 years after its signing.
"Only 25 of the 72 clauses of the accord have been implemented," Larma, president of Parbatya Chattagram Jana Sanghati Samiti (PCJSS), told a press conference at a hotel in the capital.
The PCJSS organised the briefing marking the 20th anniversary of the accord signing on December 2, 1997.
Expressing concerns regarding the full execution of the pact, Larma also alleged that many activities of the government rather go against the interests of the Jumma (indigenous) people. 
Reading out a written statement, he said the government did not keep its promise of implementing the accord fully.
"As a result of this, the problem centring the CHT has not been resolved… the CHT Regional Council Act has also not been implemented yet and the council is kept non-effective."
Larma further alleged that the Jumma people were not getting jobs on a priority basis in the CHT area.
He said the CHT Regional Council and three CHT district councils were established to introduce a special ruling system in the hilly districts but those rather became "branches of the ruling political party and corruption".
The establishment of the CHT Regional Council's head office is still pending, he said, adding that it proved the reluctance of the government to implement the accord.
He also alleged that instead of implementing the CHT peace accord, the government "seemed to be against the agreement" and that was leading to "complications" in the CHT.
"At least 20 communal attacks have taken place since the signing of the accord and 11 of them were carried out during the regime of the present government. The main purpose of all those attacks was to drive away Jumma people from their own land."
The PCJSS chief also said the land dispute resolution commission was yet to start its functions although the "controversial" provisions of the CHT Land Dispute Resolution Commission Act 2001 were amended over a year ago.
"Although there is a CHT Land Commission, it does not have sufficient manpower and funding."
According to the first clause of the peace accord, Larma said, the government recognises the CHT as a tribal-populated region and also recognises the necessity of its protection.
He then accused the government of breaching the accord by including outsiders in the voter list as permanent residents of the CHT areas.  
The Adivasi leader called upon the democratic, non-communal and liberal political parties as well as the people of the country to play  effective roles in executing the accord for the greater interest of the country.
Dhaka University's Prof Mesbah Kamal, noted columnist Syed Abul Maksud and Oikya Nap President Pankaj Bhattacharya were also present during the press conference yesterday.