Conspirators still active
Trying to malign govt, says PM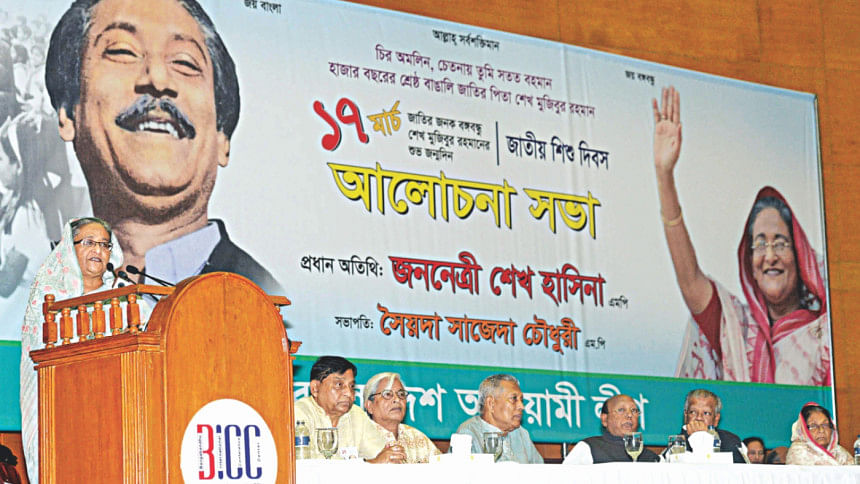 Prime Minister Sheikh Hasina yesterday urged the Awami League leaders and activists to go ahead with honesty and sincerity for materialising the dreams of Bangabandhu.
Bangabandhu had pursued a very honest life and suffered in his whole life as he struggled with an objective of achieving freedom for the Bangali nation and bringing smile on their faces, she told a discussion at Bangabandhu International Conference Centre in the city.
The AL organised the programme marking the 97th birthday of Father of the Nation Bangabandhu Sheikh Mujibur Rahman.
The PM, also the AL president, said it is the government's duty to bring smile on people's faces as Bangabandhu could not do it because of the conspiracy of the anti-liberation forces at home and abroad.
Conspirators are still active and they are trying to malign the government, she mentioned, adding that her government could overcome an international conspiracy against the Padma bridge project because of its utmost honesty.
"One can speak loudly if he or she is honest," she noted.
Reiterating her government's commitment to build Bangladesh as a peaceful nation, Hasina said there is no place for terrorism and militancy in the country.
"We want to ensure two meals a day for every person as well as every family's access to housing, modern education for every child and healthcare service for every citizen which was the lifetime desire of Bangabandhu," added the AL chief.
The premier said the politics of killing gained ground in Bangladesh after the assassination of Bangabandhu. The nation witnessed about 19 coups when many freedom fighter military officers and soldiers were killed, she added.
She blasted Ziaur Rahman for inducting Razakars and anti-liberation elements into the cabinet. Zia had distorted the history of Liberation War and even prohibited uttering the name of Bangabandhu, said the PM.
Deputy Leader of Jatiya Sangsad Syeda Sajeda Chowdhury presided over the meeting. AL advisory council members Amir Hossain Amu, Tofail Ahmed and Suranjit Sengupta, presidium members Matia Chowdhury, Sahara Khatun and Satish C Roy, and party General Secretary Syed Ashraful Islam addressed the meeting, among others.