College teachers on 3-day strike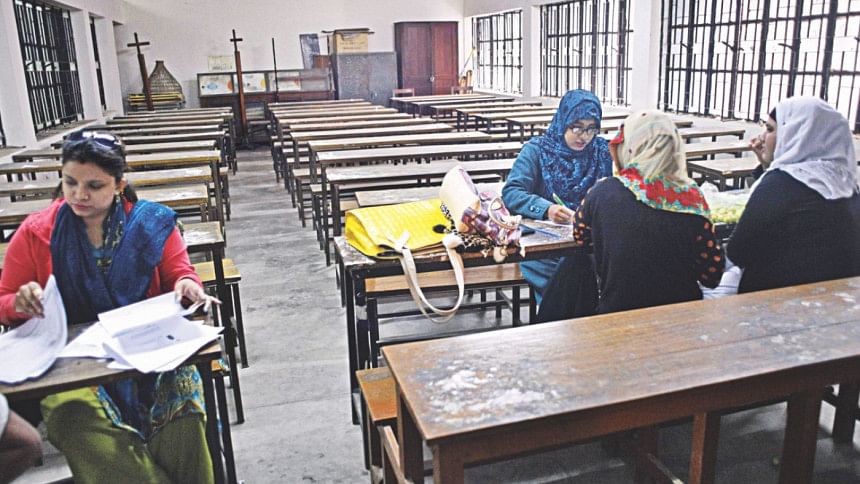 Teachers at all government colleges in the country began a three-day work abstention programme yesterday demanding removal of "discrepancies" in the eighth national pay scale.
Under the banner of BCS General Education Association, a platform of teachers and officials belonging to the BCS general education cadre, they did not take classes at almost all 310 public colleges as per an earlier decision taken at a meeting on January 22.
They also formed human chains at different college premises in support of their demands.
"The work abstention programme was held at all colleges across the country," IK Selim Ullah Khondaker, secretary general of the association, told The Daily Star.
Besides, the programme was also held at all education boards, government teachers' training colleges and commercial colleges and National Academy for Educational Management (NAEM).
The association in its general meeting announced to observe the three-day work stoppage programme. Earlier on January 4-5, the teachers boycotted academic activities at all colleges to press home their demands that include upgradation of the posts of professors and reinstatement of selection grade and timescale.
Selim Ullah said they would hold protest programmes in phases until February 23 and then go on an indefinite strike from that day if their demands were not met.
Professors of BCS general education cadre are grade-4 officers, but around 50 percent of them used to get grade-3 through selection grade. But now they would have to go on retirement from grade-4 as the government scrapped selected grade in the eighth pay scale, lowering their status.
"Now the professors will have to retire in grade-4," said Selim.
There are around 15,000 teachers and officials under the education cadre. Of them, the number of professors is 634.
Like the public university teachers, teachers of the state-run colleges and officials of education cadre have been waging a movement since September last year. With yesterday's programme, they have stayed away from work for five times so far.
Things turned for worse after the government had issued a gazette on the pay scale on December 15. But it irked the teachers further as it did not mention about the selection grade and timescale.
During yesterday's programme, the teachers said they wanted the government to solve the problems immediately. Otherwise, they would have no alternative to going for a tougher programme.
Classes were not held at different colleges in the capital including Dhaka College, Eden Mahila College, Government Titumir College and Government Bangla College.
The first phase agitation of the college teachers ends on Thursday. They said they would boycott classes from February 6 to February 11 in the second phase if their demands were not met by February 5.
In the third phase, they would boycott examinations along with classes from February 13 to February 18 to press home their demands.
If their demands were not met by February 22, they would go on an indefinite strike boycotting both classes and examinations from February 23.
Their other demands include promotion of associate professors, who are in grade-5, to grade-3 like other cadre officials of same grade, and upgrading the heads of all education boards, NAEM and National Curriculum and Textbook Board to grade-1.
Earlier this month, public university teachers went for a non-stop cease work programme from January 11 to press home their demands over the new pay scale. The teachers however returned to classrooms on January 20 upon the prime minister's assurance.