City life disrupted by Roanu rains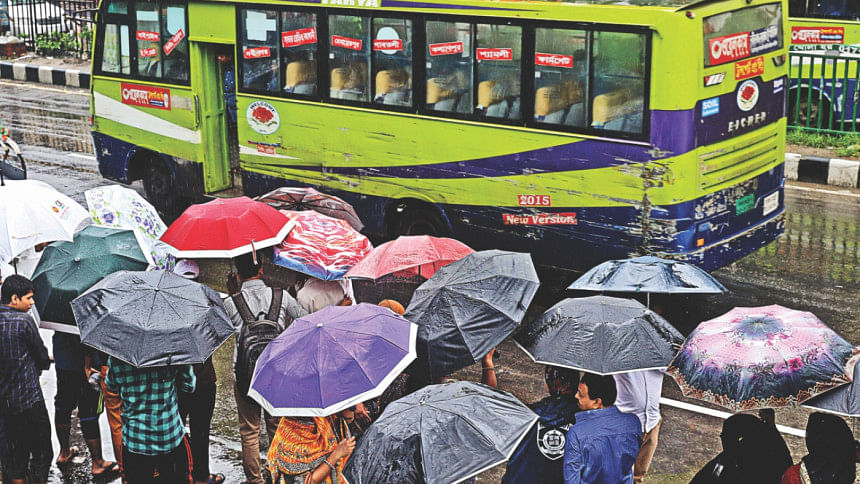 It was quarter to 10 in the morning yesterday. A wet Abu Hossain, a rickshaw puller, was waiting all alone for passengers in the incessant rain on a deserted street near the capital's Gulshan Club.
The lanky young man's lips were trembling in cold and his wet clothes were sticking to his body.
"Where would you go?" he shouted at this correspondent as he was passing by.
"How much would you charge to take me to the Lake Park?" this correspondent asked.
"Anything you wish to give," said Hossain.
Rickshaw pullers in this posh neighbourhood usually demand high fares.
Asked why he was out of home in the rain, he said, "Otherwise I would have to go hungry."
The ceaseless rain that began in the early hours of yesterday submerged many streets and disrupted city life and businesses. The rain, caused by the impact of the cyclone Roanu, swept across the country.
According to the Met Office, Dhaka received 48mm of rain since 6:00am until 12:00noon.
Traffic was thin on the streets as it was the last day of the weekend and city dwellers mostly preferred staying indoors.
However, commuters experienced immense sufferings due to a lack of transport, and many of them had to wade through the water-logged streets.
They complained that rickshaw pullers and CNG-run auto-rickshaw drivers charged them excessive fares, taking advantage of the inclement weather.
The authorities of Pallavi Dance School in Gulshan phoned the parents in the morning and informed them of the cancelation of scheduled classes due to the bad weather.
The low-income people who earn on a daily basis were the worst hit.
Jalil Hawlader, a roadside green coconut vendor at Karwan Bazar kitchen market, said the entire of his Tk 3,000 stock remained unsold as no one came to buy green coconuts from him.
Ilias Hossain, who manages a meagre livelihood being a porter at Karwan Bazar, said there was hardly any customer until noon due to the rain. He said he could earn only Tk 10 until noon.
Many city roads wore a deserted look and those in Shanti Nagar, Rajarbagh, Mouchak, Malibagh, Mirpur, Sheorapara, Arambagh and Badda were submerged in the rainwater as the city's clogged storm water system failed to drain the water.
Most of the low-lying areas in the city also went under rainwater.