Cities not safe for women
55pc face violence, ActionAid reveals in study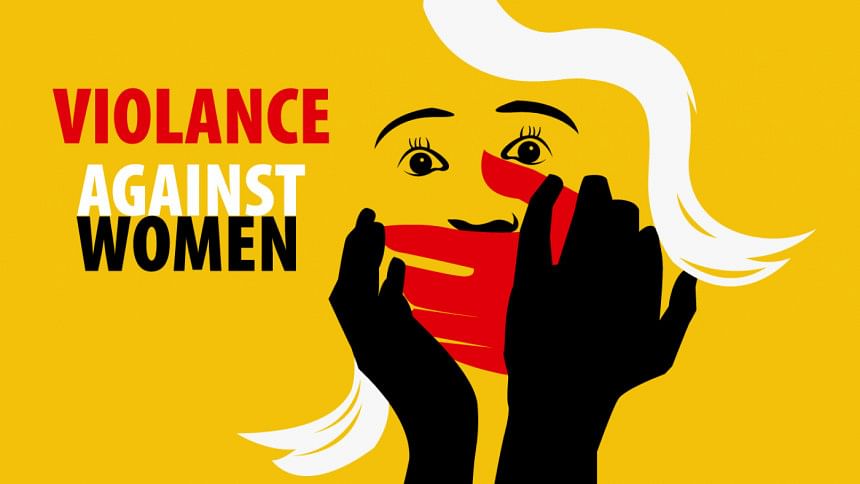 A total of 54.7 percent women living in urban areas of Bangladesh face violence, ActionAid said in a study yesterday.
They face physical, psychological, financial and social violence including unwanted touches from strangers, said the study, referring to a 2015 report by the Bangladesh Bureau of Statistics (BBS) and UNFPA.
ActionAid's study was conducted on the basis of five indicators- - situation of violence against women, existing legal frameworks for violence against women, proper plan and budget allocation to stop violence against women, gender friendly urban planning and gender friendly transportation system.
The study, which evaluated the safety of women in urban areas, was launched at a programme titled "Whose City" at the Centre on Integrated Rural Development for Asia and the Pacific (CIRDAP) in the capital.
The methodology included collecting the relevant data of 2015 and 2012 from UNFPA and BBS. Besides in 2015, it conducted a survey on 1200 Bangladeshi women living in the seven divisional cities of the country.
This year, the data of 10 countries was analysed and then they were ranked according to the findings by ActionAid. Bangladesh positioned sixth while Nepal came first. The other countries in the study were Brazil, Jordan, Liberia, Nepal, Nigeria, Senegal, South Africa and Zimbabwe.
Moreover, the study found that 57 percent women alleged that their complaints are not taken seriously by law enforcers and 65 percent women think that law enforcers are more prone to blaming the victims instead of the accused. 
The study also showed that 49% women feel unsafe in public transport and 48% claim to feel the same while availing public services including health services.
Countries were marked out of 100 and Bangladesh secured 39.32 marks with a C grade in the range of A to E while Nepal secured 72.65 marks, acquiring a B grade.
The countries surpassing Bangladesh in women safety and empowerment issues are Nepal, Nigeria, Jordan, Brazil and Zimbabwe.
"The study shows that Bangladesh is not in a satisfactory condition regarding women's safety," ActionAid Bangladesh Country Director Farah Kabir said while revealing the findings.
She urged the government to make the city more women-friendly.
While talking about legal aid for women in the country, Shahnaz Huda, a professor of the law department of Dhaka University, said laws in the country should be women-friendly as there is "no specific law to stop sexual harassment".
Maleka Banu, general secretary of Bangladesh Mahila Parishad, said that different places of the city should be adequately lighted and CCTV camera should be used for surveillance, helping women feel secure.
Dr Akter Mahmud, professor of urban and regional planning in Jahangirnagar University, said that a smart city is a city where everyone, including women, is safe.
However, women in urban areas are afraid to go to the park or in open places as they do not feel safe lest they be harassed by a man, said Mahmud.
Criticising the public transportation in Dhaka, he said, "Harassment would be reduced if the public transportation was women-friendly."
Meher Afroz Chumki, state minister for the women and children affairs ministry, Shoko Ishikawa, country representative UN Women (Bangladesh), and Mohammad Mufti Khan from Rapid Action Battalion of Bangladesh, were also present.