Challenges ahead to reach 4 SDG targets
TIB report says relevant agencies not functioning as expected due to political influence, centralised power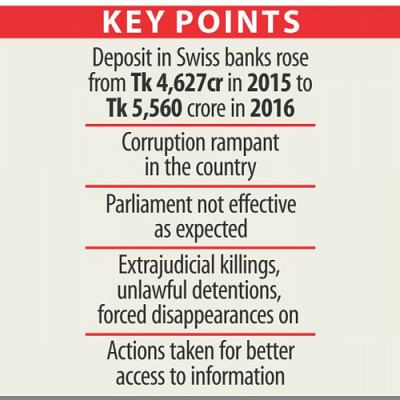 Corruption, bribery, money laundering and human rights violation continue unabated in the country, posing serious challenges to the achievement of four targets of Sustainable Development Goal-16, Transparency International Bangladesh has said.
In a scathing report launched yesterday, the anti-graft watchdog said various government agencies were not functioning as expected due to political influence, centralisation of power and dominance of executive branch.
It, however, hailed the government for making serious efforts to improve institutional preparedness and formulate required laws and policies to achieve the targets.
The report titled "Sustainable Development Goal 16: Preparedness, Progress and Challenges of Bangladesh" was released at a press conference at the TIB's Dhanmondi office.
SDGs, otherwise known as the Global Goals, are a universal call for action to end poverty, protect the planet and ensure that all people enjoy peace and prosperity. Spearheaded by the UN, it came into effect in January 2016. 
The four targets that Bangladesh may face challenge to achieve are: significant reduction of illicit financial and arms flows, strengthening recovery and return of stolen assets, and combating all forms of organised crime by 2030 (16.4); substantial reduction of corruption and bribery in all forms (16.5); development of effective, accountable and transparent institutions at all levels (16.6); and ensuring public access to information and protecting fundamental freedoms, in accordance with national legislation and international agreements (16.10).
Conducted between April and August, the report was based on interviews with experts, academics, practitioners, public officials and journalists.
Explaining the reason behind picking up the four targets under a specific SDG goal, TIB Executive Director Iftekharuzzaman said achieving Goal-16 was important to achieve the other goals.
And the four targets are directly related to combating graft and ensuring good governance, he said.
The report says illicit outflow of money from the country has increased gradually, as deposit of Bangladeshi citizens and organisations in Swiss banks has increased from Tk 4,627 crore in 2015 to Tk 5,560 crore in 2016.
However, the government and Bangladesh Bank have objections about the data, it says.
The TIB found that gaps in national and sectoral risk assessments, lack of accountability of state-owned commercial banks, and political-administrative liaison in committing corruption are among the challenges to achieve target 16.4.
In 2010, for example, only 10 money laundering cases saw verdicts. Trial proceedings of 10 more cases were concluded, while 222 such cases are now under trial.
Corruption is "hugely present" in the country despite having sufficient legal and institutional means in place to combat it. Also, the government's graft-fighting efforts were not up to the mark as only a few cases are investigated and even fewer cases end in conviction, it said.
Only recently, the government intensified its efforts to fight graft.
Alongside legal limitations, the Anti-Corruption Commission has no strategic plan to combat graft, while wealth statements of public servants are not available for common people, which are key challenges to achieving target 16.5.   
The TIB survey team took into consideration 15 major institutions including parliament, the executive and the judiciary mentioned in the NIS, focusing on current situation regarding their effective functioning, state of transparency and accountability practices.
Despite a number of positive initiatives, the Jatiya Sangsad has not been effective at an expected level, it said. 
In the current House, the main opposition lacks the capacity and voice to play an expected role in ensuring accountability of the government and MPs have limited participation in law-making, is said.
The executive power is exercised by or under the authority of the prime minister, not by the cabinet while the judiciary suffers from a huge case backlog, the report noted.
The TIB found that the existing laws of the NIS institutions are more or less comprehensive and robust.
But some gaps and limitations have been identified, which might impede effective functioning and transparency of these institutions.
Over the last two years, efforts have been made to ensure better access to information by the citizens.
For instance, in 2015, various agencies received 6,181 applications under the Right to Information Act. Information was provided against 5,940 applications, which is about 96 percent, it adds.
But regarding protection of fundamental freedoms, there are a number of issues to be worried about.
Despite continuous protests by various human rights organisations, extrajudicial killings, arbitrary or unlawful detentions, and forced disappearances by government security forces have continued.
The government continued to deny even the existence of any extra-judicial killing, the report said. 
Replying to a query, TIB Chairperson Sultana Kamal said the country did not progress much in terms of reducing discrimination as culture of impunity was still prevailing in the society.