Christian convert brutally murdered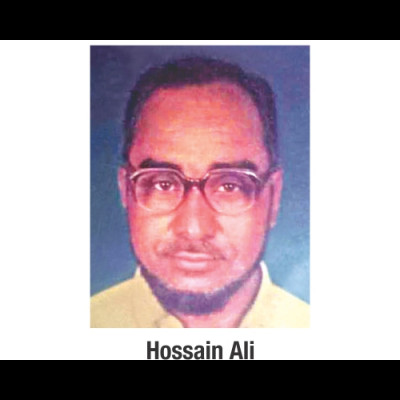 Unidentified assailants slit the throat of a Christian convert at Garialpara in Kurigram town yesterday.
The attack came a week after a Shia homeopathic doctor was killed in Jhenidah and a month after a Hindu priest was murdered in Panchagarh.
Hossain Ali, 68, a freedom fighter and a retired inspector of Family Planning Department in Kurigram, was on his way home in Garialpara from his routine morning walk around 7:00am when the attackers swooped on him, said police and locals.
Three men riding a motorcycle intercepted Hossain, who had converted to Christianity from Islam I the 90's. Two of them got down from the bike and attacked him with sharp weapons, leaving him dead on the spot, said locals.
As a pedestrian witnessed the incident, the killers chased him and hurled a homemade bomb at him, they added.
After the explosion, locals rushed to the scene and tried to stop the killers from fleeing.
The attackers threw two more bombs while fleeing, as some people tried to block a road by felling trees. The bombs, however, did not explode.
Witnesses said two of the killers were wearing helmets.
Mohammad Tabarak Ullah, superintendent of police in Kurigram, said police reached the spot after being informed and recovered the body.
The body was sent to Kurigram Sadar Hospital morgue for an autopsy.
Nazrul Islam, resident doctor of the hospital, said Hossain's throat was cut and there were hacking marks in his neck and back.
He died of excessive bleeding, said the doctor.
SP Tabarak, who visited the spot following the incident, said police collected evidence from the spot.
Filing of a case was underway, police said.
Sirajul Islam, sub-inspector of Kurigram Sadar Police Station, said police picked up three people for interrogation in connection with the murder. He, however, refused to disclose their identities.
A guard of honour was given to Hossain in front of his home in the town by the police and the local administration around 5:45pm. Later, his body was sent to his village home at Sitaijhar for burial.
Father of two daughters and a son, Hossain converted to Christianity in 1999, said his family members.
It could not be immediately known whether Hossain had changed his family name after converting to Christianity. He was known to the locals by his Muslim name.
He had been living at his Garialpara house for the last two decades.
The victim's son Ruhul Amin Azad said he was clueless about who killed his father, as Hossain had no enemies.
Azad, however, said the family has disputes with locals over ownership of a piece of land.
He also said a person identifying himself as Abul Bashir rented a room of their house in the first week of this month.
Azad said Bashir told them that he was from Rangpur' Mahiganj. Although he initially said he would live with his family, he lived alone.
Bashir left the house a few days ago saying he would bring his family but had not returned, the victim's son said, adding that they found Bashir's mobile phone switched off.
On February 14, unidentified criminals hacked Abdur Razzak, 48, a Shia homeopathy doctor, to death in Kaliganj upazila of Jhenidah.
Razzak used to give religious sermons to some 20 followers at his pharmacy on Ganna Road in Kaliganj municipality, said police.
Just after dawn on February 21, criminals slit the throat of priest Jogeswar Dasadhikari of Sri Sri Shonto Gaurio temple in Debiganj of Panchagarh and fled the scene firing shots and exploding homemade bombs, which injured two devotees.
The attackers fled the scene on a motorbike.
Global terror outfit Islamic State (IS) claimed responsibility for the two incidents, according to US-based SITE Intelligence Group.
However, The Daily Star could not independently verify both the claims.
Our Kurigram correspondent contributed to this report.