Betel nut sees bumper yield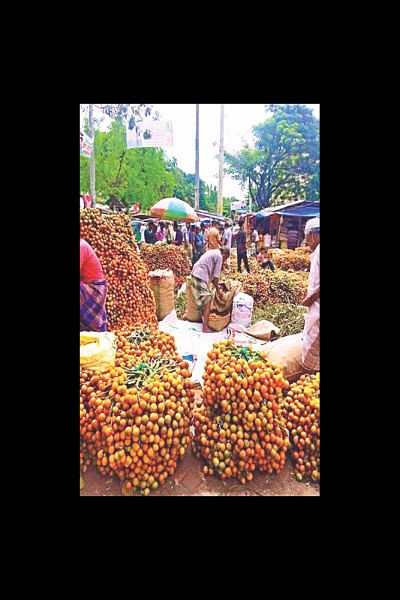 A bumper production of betel nut and a fair price for the produce have put a big smile on the growers' faces in Ukhia and Teknaf of Cox's Bazar this season.
Apart from flooding the local markets, the nut, called supari in Bangla, is being supplied to different  parts of the country as its plucking is going on in full swing.
It is also being exported to different countries like the UK, the UAE, Saudi Arabia, Qatar, Pakistan and India, bringing home a handsome amount of foreign currencies.
In Ukhia and Teknaf, around 12,000 families are involved in betel nut cultivation on some 5,000 acres of land, said the agriculture officers and locals.
The weather of the two upazilas -- situated near the Bay-- and their soil having adequate salinity have been a blessing for them.
The local administrations also deserve due credit for their proper monitoring of production and supply of the produce to the markets, they added.
Ukhia Upazila Agriculture Officer Sunil Shil said on average, trees on an acre of land is capable of producing eight to 10 tonnes of betel nut during this season that started in September last year and will run through this January.
Eighty pieces of the nuts are sold for Tk 200 at local markets. Every day, a wholesale market sits at renowned Sonarpara Bazar in Jaliapalong union from where trucks loaded with the item leave for different destinations across the country, he added.
Teknaf has experienced a better production of supari than Ukhia did.
Betel nuts were cultivated on 3,000 acres of land in that upazila's Sabrang, Teknaf Sadar, Municipality and Baharchhara, resulting in its record production ever.
Teknaf Upazila Agriculture Officer Mohammad Abdul Latif claimed that over 10 tonnes of betel nut was produced from each acre of land there.
Eighty pieces of the nut were being sold for Tk 300 at local markets, said locals.
The country's biggest betel nut markets sit at Lamar Bazar in Teknaf Sadar, Mudir Chhara in Bahar Chhara, Sabrang and Naya Bazar of Teknaf upazila, they added. 
Wholesaler Sirajul Islam of Firingi Bazar in Chittagong town told this correspondent that the trading of betel nut was very profitable and hassle-free.
However, some traders, wishing not to be named, complained of harassment by some law enforcement agency members during the transportation of the good by road.