Bar Council polls held peacefully
Election to Bangladesh Bar Council, the licencing and regulatory body for lawyers, was held yesterday in a peaceful and festive manner across the country.
Some lawyers however failed to cast their votes at the polls centres of the Supreme Court Bar Association and Dhaka Bar Association for not carrying relevant photo identity cards.
The lawyers were supposed to show their national ID cards or passports to the election officials for casting votes to elect members of the Bar Council according to a recent Supreme Court directive.
Besides, names of a section of lawyers were allegedly not put on the voter lists at the two centres of SCBA and DBA.
SM Rezaul Karim, one of the candidates, told The Daily Star that at least 20 regular practicing lawyers could not cast their votes at DBA, as their names were not found on the voter list.
Besides, many lawyers were not allowed to cast votes, as they forgot to bring their national identity cards or passports, he added.
Rezaul Karim said the SC had asked the Bar Council authorities to ensure that the lawyers show their photo ID cards to the presiding officers before casting vote.
He also raised allegation of mismanagement at the election at DBA saying the ballot papers and other relevant materials reached there at 12noon although the voting started at 10:00am.
Eunus Ali Akond, another candidate and a voter at SCBA polling centre, told this correspondent that he was not allowed to cast his vote as he could not show the photo ID card.
He said he knew about the SC order but forgot to take his national ID card to the polling centre.
The candidate alleged that some influential lawyers were allowed to cast votes although they did not show their photo ID cards.
A group of lawyers also ran election campaigns inside the polling centre of the SCBA in violation of the relevant rules, Eunus added.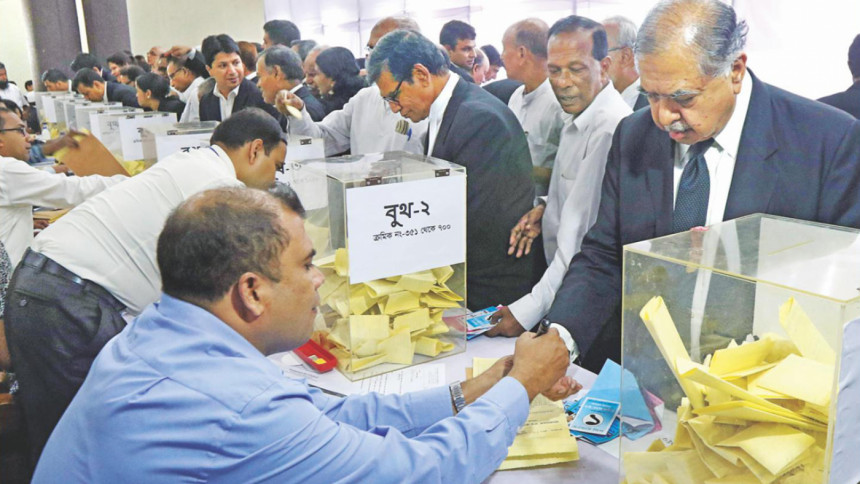 Bar Council Secretary Zahurul Alam refuted the allegations, saying his office did not get any allegation of irregularity or mismanagement.
Lawyers had to show photo ID cards for casting votes as per an SC directive and the Bar Council had to comply with the apex court directive, he said.
Zahurul could not specifically say when the results of the election would be announced.
He said compiling results of all 77 centres from across the country would take some time.
Our correspondents from Chittagong, Rajshahi, Khulna, Sylhet and Barisal reported that the election to Bar Council was held smoothly and in a very free and fair manner.
Almost all the lawyers could cast their votes as they took their national identity cards to the poling centres.
The voting started at 10:00am at 77 polling centres and continued till 5:00pm.
As many as 43,302 voters have registered their names to elect the 14-member executive body, with equal general and regional seats, among 61 contestants.
Some SC lawyers said the main contest would be between two panels -- the ruling Awami League-backed Sammilito Ainjibi Samannoy Parishad (SASP) and BNP-backed Jatiyatabadi Ainjibi Oikya Panel (JAOP).
Former vice-chairman and SCBA president M Amir ul Islam is leading SASP, while incumbent Vice-chairman and SCBA President Khandker Mahbub Hossain is leading JAOP.
Two other contesting panels are Ainjibi Oikya Front led by Subrata Chowdhury and Ainjibi Oikya Parishad led by Md Eunus Ali Akond. Other candidates are contesting independently.
Attorney General Mahbubey Alam, ex-officio chairman, was the chief election commissioner.