Bangladeshi conservationist wins Whitley Award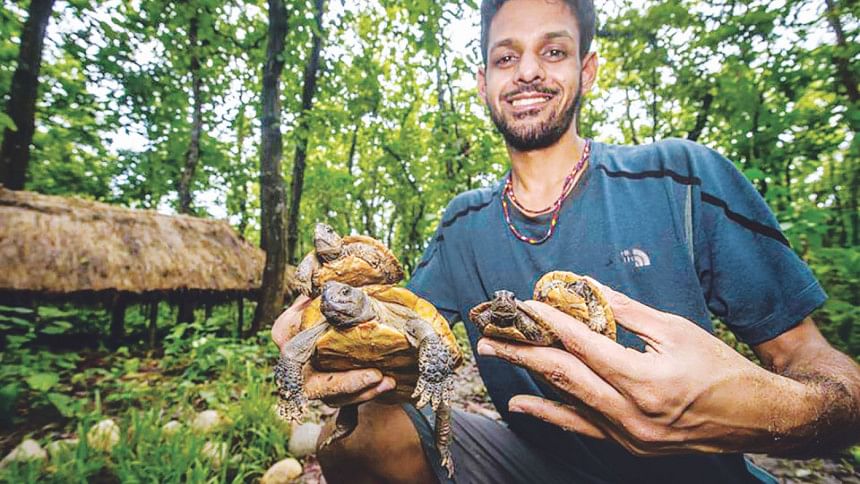 An area the size of a dot on Bangladesh's map is enough to preserve the rich biodiversity. This is the belief of Shahriar Caesar Rahman, a conservation biologist specialising in reptiles. And he has left no stone unturned in proving the existence of this environmental "promised land".
His unwavering faith in this idea, coupled with his numerous efforts, has gone a long way in showing the fact behind the sentiment.
Yesterday, Caesar, co-founder of Creative Conservation Alliance, a non-profit organisation, dedicated to ecological and cultural preservation, was honoured with the prestigious Whitley Award by Her Royal Highness The Princess Royal in a ceremony held in a glitzy ceremony at the Royal Geographic Society at London.
Caesar won the award for his work on preserving Asia's largest tortoise currently found in a remote corner of Chittagong Hill Tracts (CHT) -- Caesar's own promised land.
In 2011, Caesar began exploring CHT to survey for rare reptiles and amphibians. Nestled between the Bangladesh and Myanmar border, the CHT is one of the least explored, but most bio-diverse areas on the planet.
It was here that Caesar's team first discovered the wild Asian giant tortoise, previously thought to be extinct. They also uncovered a new species of forest turtle.
Caesar has since set up an initiative to protect tortoise populations and their surrounding habitats. But instead of blazing his own trail alone, Caesar has involved in the local community in the preservation work as well. 
He has trained former Mro hunters as biologists and now they document the region's wildlife.
A press release by the Whitley Fund for Nature says that with his Whitley Award, Caesar will work with Mro people to establish community conservation areas to safeguard forest habitat from being lost and curb hunting by training more ex-hunters as "parabiologists" employed to monitor and protect turtles.
This has been his dream. During a conversation with The Daily Star a few months ago, Caesar expressed his desire to create such "conservation corridors" and stressed on the urgent need for them.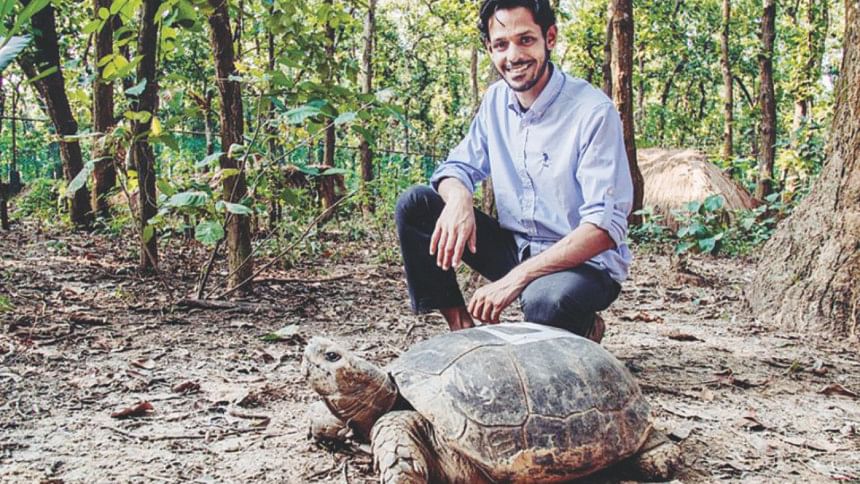 Apart from instilling a communal pride in the hidden gems of CHT, Caesar's team have also created a market for indigenous crafts -- reviving cultures on the verge of being lost.
A dialogue with the national government has also been initiated to gain support for conserving the area.
According to the press release, Edward Whitley, founder of the Whitley Fund for Nature, said: "In an area of Bangladesh that has faced decades of social and political conflict, Caesar has become a figurehead and has made huge steps towards bringing these reptiles back from the brink. We are especially thrilled to be supporting Caesar during our 25th anniversary year and look forward to following him on this journey."
"What began as a personal interest and exploration has advanced into a fully-fledged conservation programme. From helping to construct schools and educate future generations, to empowering local communities and reviving traditional cultures, I have been able to touch the hearts and lives of many people through species conservation. With the support of this Whitley Award, I can continue to make a difference to the future of both the wildlife, my fellow men and entire cultures," Caesar said on the occasion.
An annual event, often referred to as the "Green Oscars", the 2018 Whitley Awards, are part of Whitley Fund for Nature's 25th Anniversary celebrations.
The winners will each receive £40,000 in funding to support their work to conserve some of the planet's most endangered species and spectacular places.
Shahriar Caesar Rahman is also the 2017 Future for Nature award winner.