Govt plans to introduce electric, high speed trains
Says PM, flags off Dhaka-Benapole train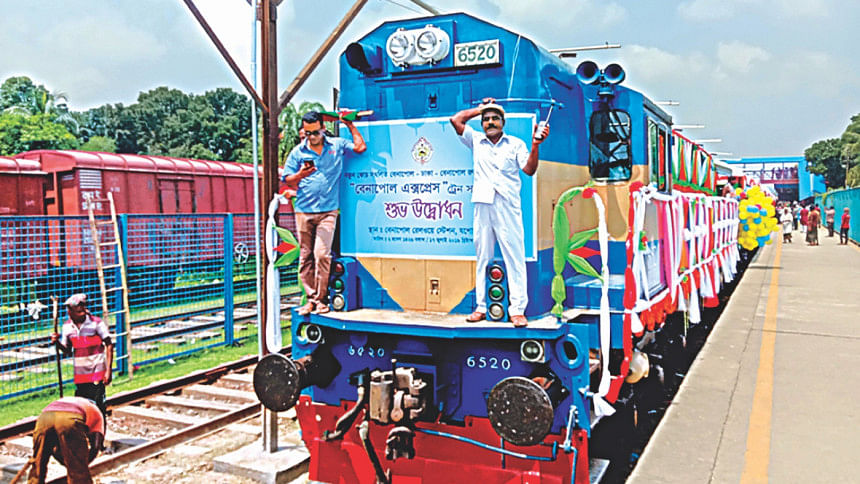 Prime Minister Sheikh Hasina yesterday said the government has a plan to introduce electric and high-speed trains in the country to make the railway services better and faster.
"We've a plan to generate more electricity as we're now producing 22,000MW ... we'll be able to introduce electric trains in the near future ... we'll set up rail lines for remote areas as well to introduce speedy trains for easier communications," she said.
The PM said this while inaugurating "Benapole Express" for plying between the capital and Benapole and the extension service of Dhaka-Rajshahi nonstop intercity "Bonolata Express" train to Chapainawabganj through a videoconference from the Gono Bhaban.
When the Awami League government came to power, she said, the country had only 1,600MW of electricity generation capacity, but it had now jumped to 22,000MW.
Hasina mentioned that with the introduction of electric and speedy trains, goods transport would be easier and faster, creating opportunities for enhanced business and trade.
"The economy will become stronger ... we'll be able to establish poverty-and hunger-free golden Bangladesh as dreamt by Father of the Nation Bangabandhu Sheikh Mujibur Rahman, and for what the freedom fighters fought and laid down their lives," she said.
The PM mentioned that the current distance between Dhaka and Benapole by railway is much longer -- 385 kilometres.
"There's good news! On completion of the Padma bridge, we'll set up Bhanga as a railway junction ... we'll link Jashore with Faridpur, and then there'll be no problem to go to Benapole through that route. The distance will get reduced by 180 kilometres and the journey time by 4-5 hours. Anyone will be able to travel to Benapole from Dhaka at a minimum time," she said.
In this regard, she asked the authorities to recruit necessary manpower to the railway and provide modern training to make its staffers capable of operating such modern trains.
"Such steps will strengthen both the railway communications and the national economy fulfilling the desire of establishing a prosperous Bangladesh."
Hasina thanked the Asian Development Bank for always supporting Bangladesh in developing its railway sector.
She said trains could carry a greater number of passengers and goods at lower cost which is very much important for a densely populated country like Bangladesh.
"But it's regretful that during the BNP regime they had wanted to close this sector. After returning to power, we created a separate ministry for the railway sector and made separate allocation in the national budget so that they could provide services to people."
Terming communications very important for development, the PM said the aim of her government was to take communications services closer to mass people.
About the new trains, Hasina said these are the gifts of her government for the people of Rajshahi and Khulna Division ahead of the upcoming Eid-ul-Azha.
Railways Minister Nurul Islam Sujan and ADB Country Director Manmohan Parkash also spoke on the occasion. Railways Secretary Mofazzal Hossain highlighted various achievements of the railway through a power-point presentation.
A video documentary was also screened at that time on the development of Bangladesh Railway.