Don't waste water
PM asks city dwellers, inaugurates two water treatment plants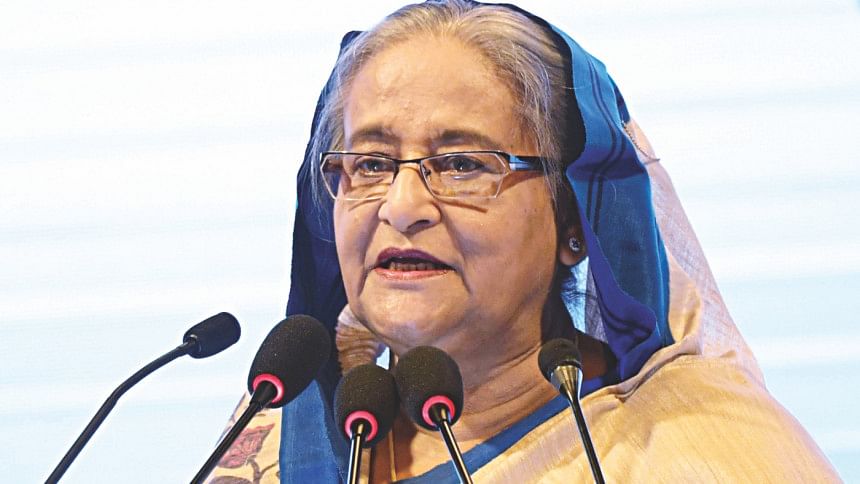 Prime Minister Sheikh Hasina yesterday urged city dwellers to exercise austerity while using water since a significant amount of money is spent on water treatment.
"I'd like to urge all to be conscious over the use of water. Everyone will have to pay special attention to ensure that water is not being wasted," she said.
She made the announcement while digitally inaugurating two water plants and laying the foundation stone of another of Dhaka Water Supply and Sewerage Authority (Dwasa) at a city hotel.
LGRD and Cooperatives Minister Md Tazul Islam presided over the programme.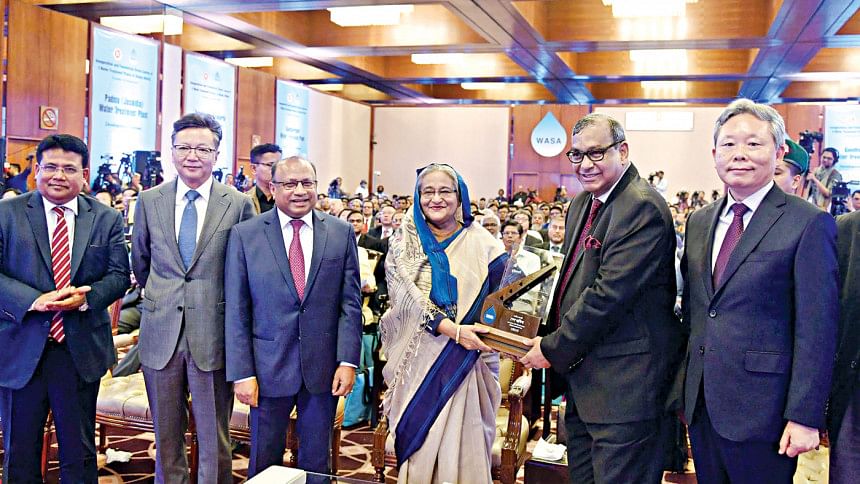 Sheikh Hasina inaugurated the Padma (Jashaldia) Water Treatment Plant (Phase-1) and the Well Field Construction Project (Phase-1) in Savar's Tetuljhora-Bhakurta area.
Dhaka will receive a total of 600 million litres of water a day from the two plants -- 450 million from the Jashaldia plant and 150 million from the Savar plant.
The Prime Minister laid the foundation stone for the construction of the Gandharbpur Water Treatment Plant at Rupganj under the Dhaka Environmentally Sustainable Water Supply Project.
Pointing out that Dwasa is a commercial service provider, she urged all to extend all-out cooperation to Dwasa.
At the same time, Hasina also directed Dwasa to be more active and dynamic in implementing the development projects and goals for expanding the facilities.
She urged Dwasa to be sincere over the maintenance of the newly-opened water plants and expediting the construction work of the Gandharbpur Water Treatment Plant.
The PM also said her government, assuming power in 2009, took a comprehensive plan for Dwasa to bring radical changes in water supply.
Now, Dwasa has the capacity to supply surplus water against the demand, she said.
Hasina said her government is now ensuring safe water for other divisional cities, while taking measures to ensure safe water for district and upazila towns across the country.
She added that the government's goal is to ensure safe water even at the union level and is working to ensure safe water across the country.
Hasina said the government is working to extend urban facilities to villages and has also already taken measures to address river pollution.
"The government is now evicting all illegal structures from river banks and enhancing the navigability and water reserve capacity of each river by dredging them," she said.
Hasina said the government has taken measures to give importance to the use of surface water in irrigation, reducing dependency on underground water.  
Local Government Division Secretary Helal Uddin Ahmed, Chinese Ambassador to Bangladesh Li Jiming, South Korean Ambassador to Bangladesh Hu Kang-il, Asian Development Bank Country Director Manmohan Parkash and Dwasa Managing Director Taqsem A Khan also spoke on the occasion.