Bangladesh bags four medals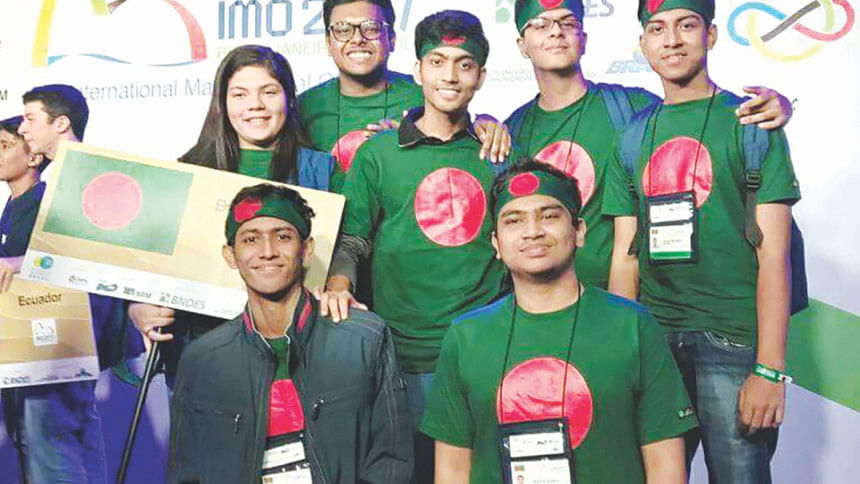 With two silver and two bronze medals, Bangladeshi students have taken 26th place among contestants from 111 countries in the 58th International Mathematical Olympiad in Rio de Janeiro of Brazil.
Bangladesh secured the first place among the South Asian countries. 
According to the results announced yesterday, Asif E Elahi from Sylhet MC College and Ahmed Jawyad Chowdhury from Cantonment English School and College in Chittagong won silver medals.
Besides, Rahul Saha from Dhaka College and Tamjid Morshed Rubab from Notre Dame College received bronze medals, Bayezid Bhuian Jewel, coordinator of Bangladesh Mathematical Olympiad, told The Daily Star.
Asif scored 24, just one shy of gold. Jawyad scored 23, Rahul 18 and Tamjid got 17, he said. 
Two other participants -- Sabbir Rahman of Notre Dame College and SM Naimul Islam of Amrita Lal Dey College in Barisal -- were given honorary recognitions.
With 170 marks, South Korea stood first followed by China and Vietnam in second and third places.
Among the South Asian countries, India was placed 52nd with a score of 90 while Sri Lanka 62nd with 80 and Pakistan 81st with 58. Nepal, which took part in the competition for the first time, secured 110th position.
Prof Jamilur Reza Choudhury, chairman of Bangladesh Mathematical Olympiad Committee, said: "I am delighted to learn about the excellent performance of our team in the 58th IMO."
"Achieving 26th position among 111 countries, beating all other countries in South Asia, is laudable. Two of our contestants got silver medals, missing the gold by only 1 and 2 points," he told The Daily Star.
"Two of the problem sets in this year's IMO have been among the most difficult sets in recent years, and none of the contestants from any team could solve those completely. I am happy to see all the six members of our team perform well. This reflects the overall balanced team structure. I congratulate all the members of the team."
Curtain will fall on this year's IMO with distribution of medals midnight tonight (Bangladesh time). The next year's event will be held in Romania.
Bangladesh Mathematical Olympiad Committee had picked the six participates though Gonit Utsab held across the country. The event was conducted by daily Prothom Alo and patronised by Dutch-Bangla Bank.