Allocation rises for digitisation
Question remains over proper utilisation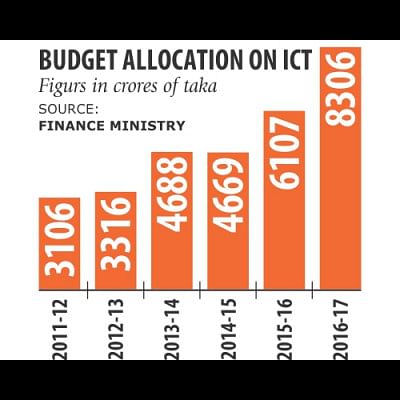 The proposed budget for the upcoming fiscal year increases investment in digitising government services by 36.01 percent year on year.
Though the allocation is aimed at modernising and speeding up the service delivery process, only a little would be spent for "the actual digitisation work" since a lion's share of the allocation will be eaten up by infrastructural and office expenses, say experts and industry people.
They also have expressed dissatisfaction at the government's move to increase supplementary duty on telecom services.
The government has proposed to allocate Tk 8,306 crore, 2.44 percent of the total budget, for the service digitisation purposes.
Of the amount, Tk 6,242 crore was allocated specifically for 126 projects that will be implemented by different ministries and government agencies.
Most of the projects are under the ICT and telecommunication sector. Other projects and initiatives concern the government agencies on health, education, power, information and law enforcement.
"This huge allocation will help modernise the service delivery but the main challenge would be to spend the whole amount," says Mustafa Jabbar, former president of Bangladesh Computer Samity.
The project-specific allocation in FY 2015-16 was Tk 4,707 crore while the total allocation for the sector was Tk 6,107 crore.
The government has increased the allocation for service digitisation more than 3.5 times the amount, Tk 2,357 crore, kept aside in FY 2009-10, said Finance Minister AMA Muhith in his supplementary presentation on "Advancement Towards Digital Bangladesh: Perspective 2016" in his budget speech in parliament on Thursday.
Jabbar says, "Most of the allocation will be spent for building structures and office expenses. But we want more for digitising the process."
Shameem Ahsan, president of Bangladesh Association of Software and Information Services, says though the allocation is huge, "only a little of it will be used for software and digital services development."
Besides, increasing supplementary duty will "be a direct blow to the (government) plan," he thinks.
In the "Perspective 2016", Muhith spoke of a government plan to increase 100 percent internet penetration and 50 percent broadband penetration by 2020.
With 36.71 percent internet penetration, Bangladesh is ahead of neighbouring Nepal, Myanmar, Pakistan, Sri Lanka and even India in this regard.
The government is giving special focus on four sectors -- e-governance, e-commerce, e-education and e-service, according to Muhith's "Advancement towards Digital Bangladesh" presentation.
The minister boasted that the current government has provided 6,600 schools with free internet and established 3,172 computer labs in different educational institutions.
There are plans to offer all public services through mobile phone applications under "one office, one app" initiative, and to establish 12 ICT parks in as many districts, he said.
To speed up service delivery, 265 public office opened Facebook pages to receive complaints and share innovations. Some offices have YouTube channels as well for sharing ideas and information, said Muhith.
So far, 23,000 public servants have been trained on using digital signature and another 2,000 are to get the training, he added.
However, "handsome allocation does not always mean that the service delivery process will become faster and easier. The officials concerned need to change their mindset first," says Shameem Ahsan.
To achieve the target of earning $5 billion from the ICT sector by 2021, the government also needs to encourage private investments and reduce taxes, he thinks.
"The proposed budget brings back taxes on e-commerce and online shopping, which may have a negative impact on the sector and people may lose interest in e-shopping."