Hoarding for Pahela Baishakh
9.5 tonnes of hilsa fry seized in Chittagong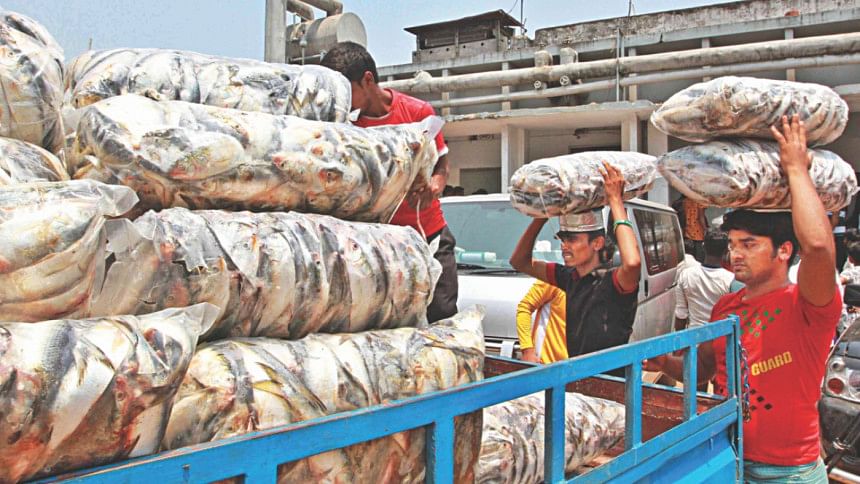 A mobile court yesterday seized around 9.5 tonnes of jatka (hilsa fry less than 10 inches in length) worth Tk 2 crore from eight fish cold storages in Chittagong city.
The court, led by Executive Magistrate of Chittagong District Administration Tahmilur Rahman, began the raid in Fishery Ghat area around 6:00am and continued it until 5:30pm.
"Acting on information that a huge quantity of hilsa fry is being stored in the cold storage, we conducted the drive and found the hilsa fry below 10 inches in length (25 centimetres) in the eight cold storages," he said.
For keeping the hilsa fry, owners of the eight cold storages were jailed and fined under the Protection and Conservation of Fish Act, 1950, said Tahmilur.
Of the cold storage owners, five were fined Tk 5,000 each, while the three others were sentenced to different terms in jail.
"Considering the demand for hilsa in the upcoming Pahela Baishakh, owners of the cold storages bought the fish to sell them at a high price. We have distributed the fish among 50 orphanages and destitute people," said Tahmilur.
A team of Rapid Action Battalion-7 and officials of the fisheries department assisted in the raid. 
Meanwhile, a coast guard team seized a fishing vessel with 15 kilogrammes of hilsa fry. The vessel too was fined Tk 5,000.