Death of A Worker
7 hurt as 'factory guards' open fire on protesters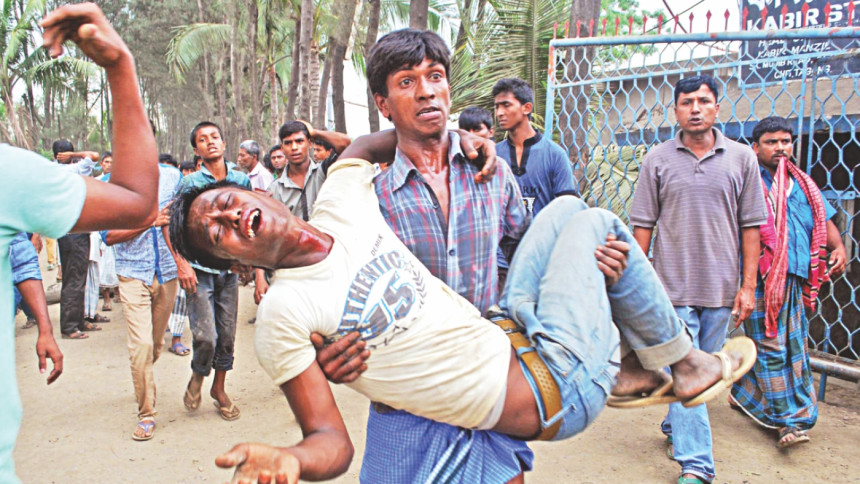 Seven people were hit by bullets allegedly from security guards of Kabir Steel Ltd over the death of a factory worker in a road crash at the entrance to the factory in Sitakunda upazila of Chittagong yesterday.
Incensed at the death of Md Sumon, locals blocked the Dhaka-Chittagong highway for about two hours from 11:30am, said Sitakunda police.
The 28-year-old was run over by a long vehicle when he was entering the factory at the ship-breaking yard at Gamartol around 8:00am, said Saleh Ahmed Pathan, officer-in-charge of Barowalia Highway Police Station. The factory gate is around 50 feet away from the highway.
The youth from South Sonaichari village in the upazila died on the spot. The driver, however, managed to escape.
Hearing the news, locals along with the victim's relatives staged a demonstration in front of the factory around 11:00am.
Talking to The Daily Star, Sumon's relative Shahnaz Akhter said, "The factory authorities took the body inside and did not hand it over to us. They tried to cover up the fact that Sumon was run over by their vehicle."
As the protesters tried to vandalise the factory, security guards opened fire on them, leaving the agitators wounded, witnesses said.
Injured Shanaj Akhter, 25, Delwar, 22, Munna, 22, Osman, 22, Nurnabi, 20, Sahabuddin, 18, and Samir Ahad, 16, were sent to Chittagong Medical College Hospital (CMCH). All the seven are from Gamartol area in Sitakunda.
Rajib Palit, emergency medical officer at the hospital, said the injuries were caused by bullets.
Police later detained six officials of the factory. The agitators withdrew the barricade from the highway following assurance from law enforcers of taking legal actions in this regard.
Police sent the body to the CMCH for an autopsy.
MA Karim Dulal, director of Kabir Steel Ltd, said they have 75 security staff at the ship-breaking yard. One of them uses a licensed gun.
Md Gias, security officer of the factory, fired blank shots when the agitators tried to set a fuel storage tank on fire, claimed Karim. Gias is one the seven officials detained by police.
The director stated that local lawmaker Didarul Alam owns the vehicle which was involved in the accident. The company uses it on rent, he added.