2 female pilots to join UN mission in Congo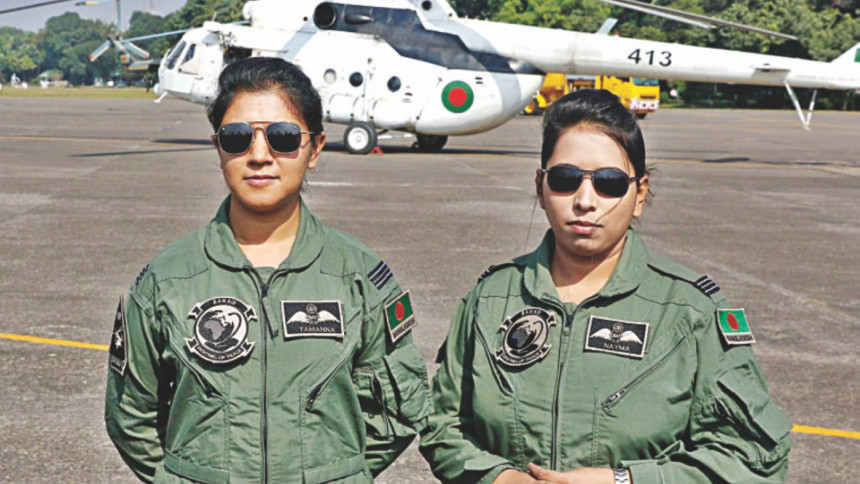 Adding another feather to their already illustrious caps, two female pilots of Bangladesh Air Force are now all set to join the United Nations Peacekeeping mission in Congo.
Flight Lieutenants Nayma Haque and Tamanna-E-Lutfi will leave Bangladesh for the sub-Saharan country on Thursday night for a year-long mission, with responsibilities of performing operational duties like carrying emergency medical support, patients and casualties.
"We will operate Mi-6 helicopters there," Nayma, who was commissioned in the air force in December, 2011, said.
"The climate in Congo is rough and challenging, and different from our country. Hopefully, we will have successful flights there," she told reporters prior to a brief drill at the BAF Base Bashar in Dhaka yesterday.
During the drill, she and her colleague showed expertise in flying a helicopter.
In December, 2014, Nayma and Tamanna became the first-ever combat pilots of the country when they landed their Bell 206 helicopters at the BAF Base Bir Sreshtho Matiur Rahman in Jessore.
Tamanna, who was commissioned in December of 2012, said they have undergone the necessary BAF training at different stages in the last few months ahead of their UN peacekeeping mission.
"We have operated helicopters in Chittagong Hill Tracts to have mountain flying experience because the mission area in Congo is mountainous," she said.
The BAF contingent was deployed with an aviation unit and an air field support unit in the Democratic Republic of Congo for UN Peacekeeping mission in 2003, according to the BAF website.
Female officials from BAF have already been operational in Congo for the last seven years while the duo will be the first-ever female pilots to join in, said Nayma.
"Bangladesh has gotten glorious achievement in UN peacekeeping missions. We will serve our duty with keeping such achievements intact," she added.
BAF selected them as combat pilots considering the professional risks and challenges, says an Inter Services Public Relations handout, provided to media during yesterday's drill.
They started ground training in August, 2014 and flight training in September of the same year in Jessore. After approximately 25 hours of training, they were able to undertake solo flights successfully.
They performed duties in different operational squadrons of BAF after completing 65 hours of basic helicopter conversion training, says the ISPR handout. They have undergone training in aviation medicine course in India and performed as operational pilots in Operation Uttaron in CHT.
Nayma said her family members are nervous but on top of that they are thrilled and blessed her for the mission.
The society is becoming welcoming for women as more of them are shining in different sectors at present, said the BAF official.
She added that alongside them, a few more female pilots are also in the pipeline. They are undergoing training in Jessore air base at present.
BAF is a dynamic force which maintains discipline. The ambiance for women professionals is friendly here, she added.
"I am hopeful that more women will take challenging professions like combat piloting in BAF," she said, emphasising the need for one's dedication and hard labour behind any success.
Tamanna said BAF is a very much supportive institution for women as anyone can succeed there upon completion of their qualification. She grew up in an air force family as her father Lutfor Rahman was also a BAF official.
Born on June 5, 1993 in Jessore, Tamanna completed BSc (Aero) from Bangladesh University of Professionals in 2013.
On the other hand, Nayma's father Nazmul Haque is a retired official of the Department of Agricultural Extension. She was born on April 20, 1990 in Dhaka.
Like Tamanna, she also completed BSc (Aero) from BUP in 2013.