1971 War Crimes: Evidence found against former Pak army man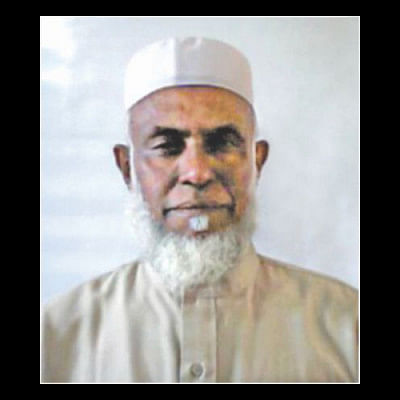 The investigation agency of the Inter-national Crimes Tribunal has found evidence against a former Bangalee army official that he worked for the Pakistan army and committed crimes during the Liberation War in 1971.
The accused, Muhamed Shahidullah, also known as Capt Shahidullah, from Golaperchar village under Daudkandi upazila of Comilla, had involvement in confinement, torture, abduction, looting, arson and killing of at least three people during the war, according to agency officials.
"The case is slightly different. For the first time, evidence of war-time offence has been found against an army official who was working in Pakistan army during the war," said Sanaul Huq, co-coordinator of the agency, at a press conference at its Dhanmondi office.
Shahidullah, aged 75, was arrested on August 2 last year after the tribunal issued a warrant for his arrest. He has been in jail since then.
The investigation officer of the case, ZM Altafur Rahman yesterday handed over the probe report, statements of witnesses and other documents to the Chief Prosecutor Office.
The prosecution will now scrutinise the documents and press charges against Shahindullah for trial if they find the evidence convincing, Prosecutor Abul Kalam said.   
Earlier in January, Co-coordinator Sanaul Huq told reporters that the agency was investigating two former Bangalee army officials' affiliation with the Pakistan army and links to war crimes.
One of them is Shahidullah. No details were provided about the other accused.
In January last year, the agency said it had formed a special committee to gather information about the Pakistani prisoners of war (PoWs) and their involvement in crimes during the Liberation War.
The move was made at a time when calls for putting 195 Pakistani PoWs, repatriated following a tripartite agreement in 1974, on trial are getting louder and experts finding no legal bar to bringing them to book.
However, a decision is yet to be made whether a formal investigation will be launched against the Pakistani soldiers, Abdul Hannan Khan, coordinator of the agency, told The Daily Star yesterday.
WHO IS SHAHIDULLAH?
Speaking of Shahidullah's links to the Pakistani army, he said that as Shahidullah joined the Pakistani army, he was posted to the then West Pakistan. But he came to his Comilla's home before the war broke out on March 26, 1971.
Shahidullah joined the Pakistani army at Dhaka Cantonment and later went to Comilla Cantonment. He along with other army men set up a camp at Daudkandi sadar and tortured and killed civilians.
"During our investigation, we have found that he [Shahidullah] was a captain in the army. However, we did not get any record from army," Hannan said.
Sanaul Huq said Shahidullah had "willingly" sided with the Pakistan army though participating in war was not mandatory for him.
Since he didn't join Bangladesh Army after the birth of this country, he can be legally termed as "absconding army man", he added.
The probe agency has information about three incidents that Shahidullah allegedly had links with. 
On June 7, 1971, he along with 8-10 Pakistani army men abducted Habibur Rahman, a physician, tortured him at the camp and subsequently killed him on the bank of the Gomti river before dumping his body there.
On June 16 that year, Shahidullah accompanied by 40-50 men attacked his own village Golaperchar and Chengakandi, picked up 20 unarmed people, and looted and torched five houses.
Of them, 19 were released as they pledged to give information about freedom fighters. The other one was shot dead by Shahidullah himself on the bank of the Gomti river.
On July 21, the accused along with some other Pakistani army men attacked Daudkandi Bazar, picked up Kala Mia, a pro-liberation man, tortured him and then shot him dead behind Chandina Hospital in Comilla.
The investigation agency in its report named 22 prosecution witnesses who would testify against Shahidullah.