. Righting The Grievous Wrong
Villain behind the putsch
Khanadaker Moshtaque Ahmed had always appeared with a baleful look in his activities even when the Liberation War was being fought.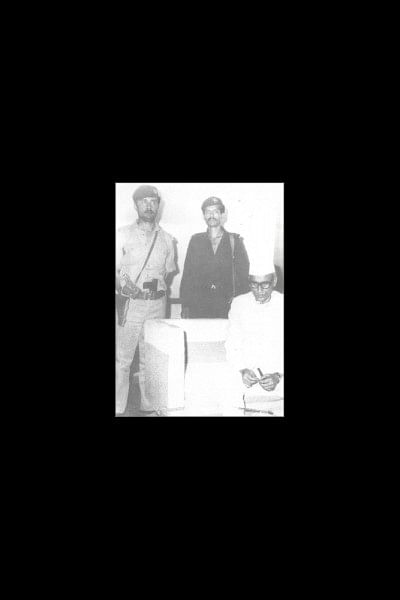 Khanadaker Moshtaque Ahmed had always appeared with a baleful look in his activities even when the Liberation War was being fought. Though he had failed in the plot to split the movement for independence in 1971, he indeed succeeded four years later in the assassination of Bangabandhu Sheikh Mujibur Rahman and most of his family members.
How much Moshtaque had been involved in the plot to assassin Bangabandhu and his family members was evident from his own statements quoted by Taher Uddin Thakur in his confessional statement to the court. Taher was one of Moshtaque's two leading associates in the sinister activities before independence.
"So it's good news you are getting promotion. Just wait. There is no certainty as to what will happen," Moshtaque told Taher on August 13, 1975 following a meeting between Taher and Mujib at Gano Bhaban the same day when Mujib indicated Taher's promotion.
Moshtaque also advised Taher not to go outside Dhaka and asked him to meet him at his office the following day (August 14), said Taher, who emerged as a political leader of the putsch that killed Mujib.
"I reached the Secretariat at around 1:00pm on August 14. Brigadier Zia came twice that week. He and his people had become restless to do something quickly. When I asked, Moshtaque said they wanted to change power by force. They are ready to do anything, if necessary," Taher said in the statement.
According to Taher, Moshtaque had said he conveyed his opinions, as there is no alternative to it. Moshtaque also asked him to remain with them before leaving that day.
Moshtaque had always been confident about his action and plans and it was evident in his comments on different occasions in August as Taher quoted him.
"You have become the governor. Do you think you will be able to start work?" Taher quoted Moshtaque as saying to Ali Amin, who was the newly appointed governor of Brahmanbaria and Moshtaque just attended a reception to him in August in 1975.
A Dhaka divisional self-reliance conference was held in May or June in 1975 at Gazipur Salna High School where four to five army officers including Major Noor, Major Shahriar and Major Faruque were present, Taher said.
Taher added when Moshtaque asked the army officers about the condition of their movement, they replied that the boss was taking preparations for everything.
According to Taher's confessional statement, the primary plot was made centring Chittagong divisional conference organised by Bangladesh Academy of Rural Development in Comilla. The conference was organised with the guidance of the then vice-chairman of BARD Mahbubul Alam Chasi, the other leading protégé of Moshtaque, and under patronisation of the then commerce minister Khandaker Moshtaque Ahmed.
On the second day of the conference Moshtaque introduced Chasi and Thakur to Major Rashid and Major Bazlul Huda in civil dress with whom Moshtaque held a meeting there.
Taher said in June 1975 Moshtaque attended several functions where army officers attended and adverse reaction was made even in loud voice against Bangabandhu.
He also said Moshtaque had intimacy with two generals of Ayub era -- Gen MI Karim and Gen Chowdhury -- who visited his Gulshan residence a few times.
Taher said on August 15, 1975 he prepared the brief radio speech for Moshtaque which was broadcast in his own voice.
Following his directive Taher also prepared a draft of the oath of allegiance which the chiefs of three services, BDR chief General Khalil and IGP Nurul Islam read out in phases by 10:30am.
Taher also prepared the draft of the president's address to the nation over radio and television.
The then president Moshtaque, Maj Rashid, Maj Faruque, Maj Dalim, Maj Bazlul Huda, Maj Pasha, Maj Mohiuddin, Maj Shahriar, Maj Noor, Maj Rashed, Maj Sharful, Cptn Kismat Hashem, Cptn Nazmul Hossain Ansar, Cptn Nurul Huda, Cptn Majed, General Zia and I unitedly prepared the list of cabinet members, Taher said.
The members of the cabinet were then brought to the Bangabhaban and it was decided that Syed Nazrul Islam, Kamaruzzaman, Monsur Ali and Tajuddin Ahmed would be put on surveillance in their respective houses.
Moshtaque analysed the overall situation and informed the meeting that Sheikh Mujib, members of his family, Serniabat and his family members, Sheikh Fazlul Haq Moni, his wife and others have been killed. He also informed that arrangements have been made to bury Sheikh Mujib in his village home and others in Dhaka, Taher said in his confession.
The role of Moshtaque during the Liberation War while he was in-charge of the foreign ministry of provisional Bangladesh government foretold that 1975 would happen when he worked with a US plot to split Awami League on the question of independence and thus to split the war of independence so that Bangladesh cannot be born.
The Guardian reported this quoting documents of a study, commissioned in 1973 by Carnegie Endowment, of the conduct of US policy during 1971 Bangladesh crisis.
"What the Carnegie documents make unequivocally clear is that secret contacts were made in 1971 in Kolkata with a faction of the Bangladesh Provisional Government in the hope of splitting the independence movement and arriving at a settlement short of independence.
"The US contact was made with the Moshtaque faction of Awami League in Kolkata and was highly sensitive since they bypassed the provisional government in the person of the then prime minister Tajuddin Ahmed.
"Absolute discretion and secrecy was the key to splitting the Bengali leadership and supporting that faction which would be prepared to compromise with Pakistan and not demand full independence."
Moshtaque's secret liaison, however, was discovered in October 1971 and he was placed under virtual house arrest in Kolkata.
Following independence Mujib made the biggest mistake in his life by pardoning the proved betrayer. And in the greatest irony in Bangladesh's history in 1972 on Mujib's return from jail in Pakistan, Moshtaque greeted Mujib publicly with a kiss.
[Source: Confessional statement of Taher Uddin Thakur, The Guardian, Wednesday, August 15, 1979- Lawrence Lifschuitz, formerly South Asia Correspondent of the "Far Eastern Economic Review".]