Migrating from a rock to a hard place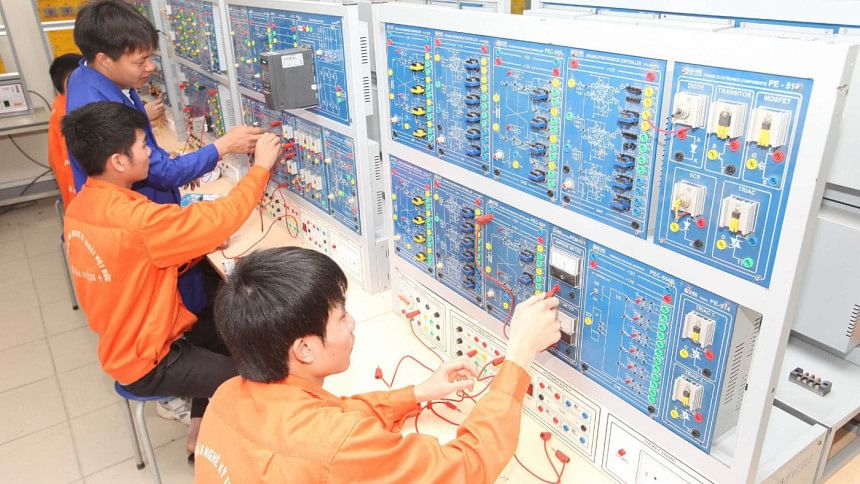 Even for a farmer with no other skills, a savings of VNÑ75 million (US$3,700) after two years of hard work is not winning the lottery, but Thuy was very thankful.
The global financial crisis of 2008 had hit hard and she'd seen many more people suffering without jobs in Viet Nam. It pushed her to overcome fears and accept employment in Malaysia on the advice of a friend. It was 2009.
She'd never been abroad before, and knew nothing about the company she would work for, but the possibility of earning a higher income enticed her to sign the contract and pay the recruitment firm a commission.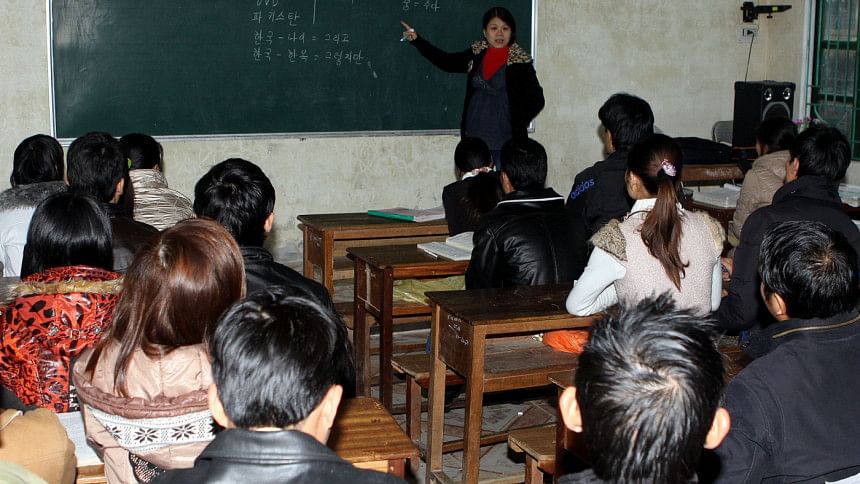 "It was really a stroke of good fortune. It was full of good things. I had stable work, decent working conditions and wages, bosses and colleagues behaved well, and the company seemed to have good relations with the authorities."
Thuy worked for eight hours a day with "no exploitation, no abuse, no violence." She was provided with accommodation, health and social insurance.
 "It was really good there. What could I do at home with just two hands and my health? I was a farmer then, with no high education and no work certificate."
Thuy had been employed by one of the world's largest rubber glove manufacturers, Top Glove, based in Selangor, Malaysia, and she'd got the job through a local labour export company called Vónh Caùt.
The 29-year-old native of Yeân Ñònh District in Thanh Hoùa Province is one of thousands of Vietnamese citizens who seek employment abroad to support families back home.
Once she had the experience of working abroad, Thuùy was eager to repeat it at the earliest, so she could continue to have gainful employment. She contacted a broker who quickly pushed her to sign in a contract.
Thuy thought she was getting into another deal like the previous one. The contract was written in English and Chinese, so she could not read and understand its terms, but it was of academic interest anyway. She trusted the broker and signed the contract.
She did not realise that she was signing up someone who did not belong to any company or labour agency, but a private broker with ties to small and private companies who hired people for short-term jobs.
The illegal job broker had no responsibility or desire to protect the rights of those he recruited. Thuy found later that 50 per cent of her income had been robbed by the broker.
She had to stay in a rundown hostel for which she had to pay herself and share the room with three or four others. She had to do all kinds of jobs for very low pay. Wages were paid after she finished the job and it was not even sufficient to pay for the accommodation and daily meals.
She's signed up for two years, and was dependent on a broker who never cared about her well-being. All he did was threaten her about the need to follow the contract. Thuùy desperately tried to find a way out.
One day, when she phoned home, her mother asked her to contact a labour support centre run by the International Labour Organisation in Malaysia. The mother had obtained the information from an ILO hotline set up by the local labour authority.
The ILO centre, in co-operation with the Vietnamese Embassy in Malaysia, successfully helped her to annul the contract, which later was discovered to be illegal.
Thuùy managed to complete all the procedures and get a ticket to fly back to Vieät Nam.
Thuùy's case is one of hundreds where authorities have had to step in and get migrant workers out of a difficult situation, said Ho Thi Nhung, Deputy Head of the Jobs Promotion Office in the central province of Thanh Hoùa.
She said most migrants from rural areas are farmers with low education levels and awareness of labour export legislation. Typically, they do not undergo any course in travelling, working and living abroad. Many of them have no idea how to access information and their knowledge of employers is limited to what the brokers tell them.
Knowing their rights
Nhung, who is the local co-ordinator for the ILO-funded project supporting migrant labourers from the Mekong Delta Sub-region, said there had been a rapid increase in the number of people wanting to find work abroad.
The three-year triangle project sponsored by the ILO  was implemented by the Viet Nam Minsitry of Labour, Invadis and Social Affairs, the Viet Nam Federation of Labour and the Viet Nam Association of Labout Exports.
As part of the result, the project has provided advice and consulting and information to 4,000 workers from Thanh Hoùa Province through training courses and workshops that they attended before leaving the country.
The courses and workshops helped the workers better understand their rights as also escape bad situations in host countries by co-operating with Vietnamese embassies, Nhung said.
Vieät Nam sent a record-high 105,840 guest workers abroad in 2014, 110 per cent of the year's target, according to the Overseas Labour Management Department (OLMD).
Compared to 2013, the number of Vietnamese guest workers sent to Taiwan increased to 62,000 from 46,000, and corresponding figures for Japan read 20,000 and 9,600.
Tong Hai Nam, Deputy Head of OLMD, said the number of Vietnamese workers abroad is set to increase in 2015, especially with the establishment of the ASEAN Economic Community later this year.
The Labour Ministry has said that in addition to key traditional markets, several newly emerging markets with high incomes will open up more opportunities for Vietnaemse workers in Africa, the Middle East and Japan.
Many highly-skilled Vietnamese will also have more opportunities to work abroad under ASEAN agreements to allow freer movement of workers within the ASEAN Economic Community, Nam said.
Exception, not the rule
At a workshop held in Haø Noäi late last month, Professor Philip Martin from University of California spoke on the challenges inherent in balancing worker's rights with growth of the recruitment industry.
He noted that migration is the exception, not the rule and most people do not move across international borders for more than 12 months, and that governments regulate who enters and what they do inside a nation's borders.
Demographics and economic inequalities were the motivating factors for migration, including from rural to urban areas, he said.
To protect the rights of workers going abroad, it was important that a government has clear-cut policies on recruiters and the fees that they can collect from migrants.
While the international norm is for employers to pay all the costs, competition for jobs abroad is so high that workers are willing to pay significant commissions for it and sometimes, get caught up in a race to the bottom.
Martin said policymakers need to think about how the "wage wedge" that motivates migration is shared between workers, recruiters and others. They need to better regulate recruiters by issuing licenses, setting maximum fees and bonds and strictly enforce regulations.
Many tricky questions are likely to come up internationally and regionally as migration continues to rise, he said. For instance will ASEAN be able to resolve disputes involving recruiters in one country and recruiters- employers in another?
He also said that it was very hard to match workers and jobs because of the "asymmetric" information. He said a study found that people who already held jobs failed to get them when applying afresh.
It is in this complex setting that people like Thuy are seeking job opportunities abroad, and the media has carried many stories over the years about rural women seeking jobs being tricked and trafficked over the border and forced to become sex workers.
Now aware of some of these complications because of a bad experience, Thuy has not been dissuaded from trying to go abroad again.
Her latest target is Japan, where, she'd heard, she can earn as much as $1,000 a month. But this has already hit some snags. She paid the recruiter VND5 million (USD…) for the interview, was told it went well.  Then came the shock.
The recruitment firm told her that she would have to pay another VND70 million when her ticket to Japan is arranged. She's not heard of this demand earlier. Thuy was first angry and wanted to get her VND5 million back.
When VNS contacted the recruiter, an official said they had no policy of collecting fees for interviews.
Crestfallen, Thuy said, she is too tired to make a trip to Ha Noi from Thanh Hoa with the receipt for the VND5 million.
"I have to accept I have lost the money," she said. 
*Copyright: Viet Nam News/Asia News Network