Who Cooked the Coke?
Super Chef Episode 2 airs tonight
If last week's episode was anything to go by, then this year's competition may turn out to be one of the most intense ever seen. By now, few of the participants have been eliminated, some have been selected and a waiting list has also been discussed. With even fewer spots to grab than before, expect the participants to go all out this week. They will all have to learn from the mistakes of their predecessors and try to top those who manage to secure the aprons.
Last week, Nadim was the toast of the town. His take on the yakitori was much appreciated by the judge. In fact, it was later described as being near-perfect, and such a praise has already marked out Nadim as the one to look out for. Will this week bring forth Nadim's first real challenger? However, to say Nadim is free of challengers is stretching it. Anyone who receives the apron or has the chance of receiving the apron is a direct challenger for the crown. This competition, at least initially, is more like T20 than a Test match; winners are dictated by the day and not by form. In fact, you could be consistent 9 out of 10 times, but it's that tenth time that will spell the end for you.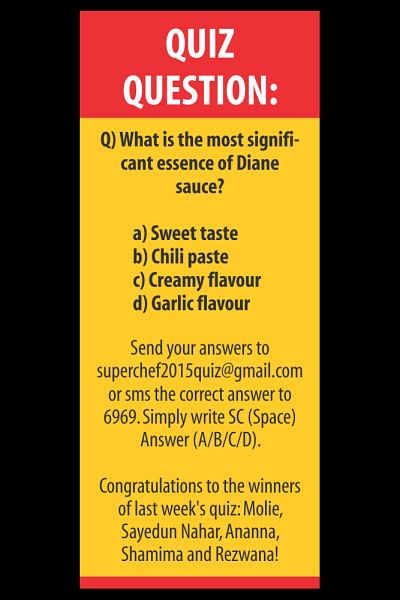 This week, expect plenty of drama. Some of the classics from this week must be that one participant who refuses to understand why this competition invites amateurs. In fact, he raises the question that how can an amateur be expected to cook and prepare an entire dish with only 30 minutes preparation time. Well, that is one of the qualities of the Super Chef. This week, another important question is thrown up; is one born a Super Chef or nurtured into it? We'll let the viewers decide on that.
If it isn't for tantrum-throwing participants, then there are times this week when the judges themselves get flustered. It's a tough job to be honest, but it makes for great TV viewing. In the immortal words of chef Tazammul, executive chef of Watercress Restaurant, "Did you cook this coke?" find out the answer to this hilarious question tonight on ntv sharp at 9pm. But before you head off, see if you can answer our weekly quiz question. You stand to win tremendous gift hampers, courtesy of Rupchanda!