WHEN THE WORLD SANG FOR BANGLADESH
Deep into the night on December 1, 2015, a stadium full of about 40,000 people at the Army Stadium had just been left awestruck by a masterful tabla recital by Ustad Zakir Hussain at the Bengal Classical Music Festival. In his sign-off, the legend said something not heard often from visiting musicians performing in this country. "Joy Bangla!" he said, and very few would have made a connection. But there was one.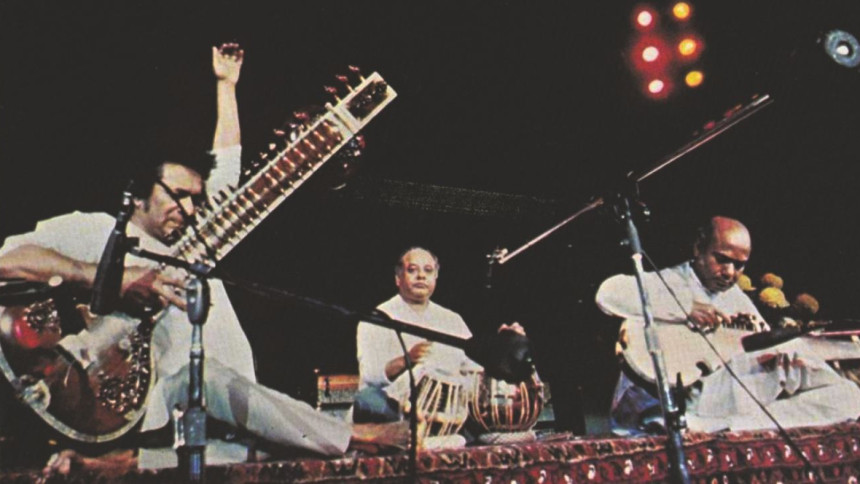 It was 44 years ago, when a 20-year old Zakir Hussain watched on as his father, tabla great Ustad Alla Rakha, played in front of 40,000 people at the Madison Square Garden in New York with the biggest names in World music of the time, to raise funds for a land locked in a David vs Goliath battle to become a nation, thousands of kilometers away. On August 1, 1971, George Harrison held together two concerts (at 2:30pm and 8pm) that featured Eric Clapton, Bob Dylan, Billy Preston, Leon Russel, Ringo Star, Pandit Ravi Shankar, Ustad Ali Akbar Khan, Ustad Alla Rakha -- and Ravi Shankar, who was the scintilla of this concert that bloomed into a beacon.
Ravi Shankar, son of the Bangladeshi-born Shyam Shankar, had mentioned to his friend and co-musician Harrison about the atrocities happening in Bangladesh when they were recording for Raga, the documentary on Shankar's life. He asked Harrison to help alleviate the sufferings, as Harrison later immortalized in the song "Bangla Desh" with which he would close both the concerts: 
"My friend came to me, with sadness in his eyes
Told me that he wanted help, before his country dies
Although I couldn't feel the pain, I knew I had to try
Now I'm asking all of you, to help us save some lives…"
Harrison later said (in his autobiography "I Me Mine") "So I did get involved, and for three months I was on the telephone sitting up what became the concert for Bangla Desh, trying to talk people into it, talking to Eric and all those people who did do it."
And so his supergroup, backed by three sets of artistes -- the band, The Hollywood Horns and the backing vocalists, rehearsed in bits and pieces. It was on July 31 when Clapton and Dylan showed up to rehearsal for the first time. The incredible stories of the concert -- of how the crowd applauded Ravi Shankar, mistaking his tuning of the sitar to be a performance to the uncertainty of Dylan's performance: a set-list taped to Harrison's white Fender Strat read "Bob?" -- are legendary. But beyond the concert, it was a statement, written and showcased through music: as Harrison said, "The musicians completely put down their own egos to play together. The whole vibe of the concert was that it was something bigger than the lot of us." Eric Clapton was quoted as saying "This will always be remembered as a time that we could be proud of being musicians."
Nearly US$2,50,000 was raised and handed to the United Nations Children's Fund for the Relief to Refugee Children of Bangladesh, just from the concert. "There were a lot of kids and general public who, having had the inspiration to go and do something, all started collecting money and were banging on UNICEF doors, saying 'what can we do to help?'" Harrison recalled later. Before any country, and political and geographical entity had recognised Bangladesh, the world of music did. It was the big centerpiece around which a number of other creative minds rallied for Bangladesh: most notably US folk legend Joan Baez with the heart-wrenching song "Bangladesh" and poet Allen Ginsberg's "September on Jessore Road". Ravi Shankar had also released an EP "Joi Bangla" in collaboration with Alla Rakha and Ali Akbar Khan (produced by none other than George Harrison) to raise awareness for The Concert for Bangladesh. But it was the woes and screams from Bangladesh that had traveled half a world across to reach Harrison, and he relayed it on:
"Bangla Desh, Bangla Desh,
Where so many people are dying fast
And it sure looks like a mess
I've never seen such distress
Now won't you lend your hand and understand?
Relieve the people of Bangladesh…"
And the world took notice.