A walk down the memory lane
Azizul Hakim Gets Nostalgic
Noted actor Azizul Hakim has been in the industry for around four decades. In addition to capturing millions of hearts with his performances on the small screen, he has acted in several critically acclaimed films, including the massively successful 'Padma Nadir Majhi'. He has also been a part of Bangladesh Betar and Aranyak Natyadol, one of the most popular theatre troupes in Bangladesh. The artiste looks back on his memories, his past accomplishments and more in a recent conversation with The Daily Star.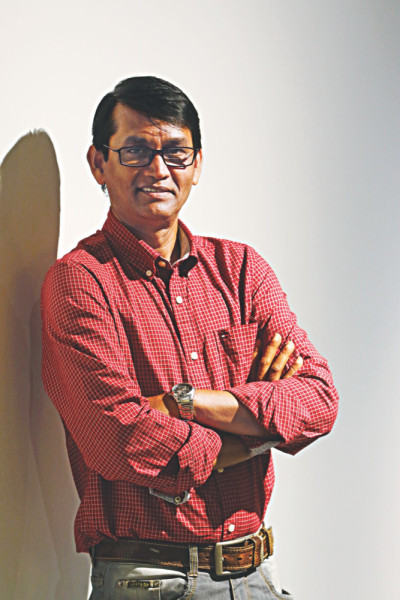 To begin with, Hakim looks back on his memories of playing Mojnu in Mustafizur Rahman's Shokhonil Karagar. This 1992 film was based on a novel of the same name by legendary writer Humayun Ahmed. "I met Humayun Ahmed for the first time when I was working on this film. He was quite happy to know that I was cast as Mojnu. My performance in the film was highly praised by the audience," says Hakim.
The actor then went on to work with Humayun Ahmed himself in the popular tele-fiction Nokkhotrer Raat, alongside the likes of Asaduzzaman Noor, Shomi Kaiser, Afsana Mimi and many other prominent artistes. "Humayun Ahmed used to pen the script on the sets. He loved to chat with the cast and crew and just have a lot of fun. Once he brought Kuddus Bayati to sing for us," Hakim recalls.
While working with Aranyak Natyadol, Hakim became acquainted with many different performers of the theatre scene. "Many of my close friends belong to different theatre troupes. I have had some of the greatest days of my life with them. I consider working in theatre as one of the highlights of my career." He further adds that Mamunur Rashid, who spearheads Aranyak Natyadol, has played an integral role in his accomplishments as a theatre actor. Hakim has acted in plays such as Ora Kodom Ali, Aagun Mukha, Khela Khela and many others. His dedication as a theatre actor has led him abroad as well.
Hakim received his big break as a television actor in 1981 with BTV's Akhaney Nongor. He then gave a remarkable performance as Oli in the TV serial Kon Kanoner Phul opposite Shomi Kaiser on BTV yet again.  It was directed by Fazrul Abedin Dulaal and written by Imdadul Haque Milon. He views the TV serial as the turning point of his career. The actor, who is beloved for his array of roles on the small screen, became quite overwhelmed as he reflected on the memorable moments of his illustrious professional life. "I look back on my days on television with great affection, happiness, and pride," says a nostalgic Azizul Hakim.