In and around Krabi
The province of Krabi may be deemed as the rising star of Thailand's tourism; it is becoming increasingly popular day by day for its splendid beaches, marvellous islands and scenic mountains. For leisure, eco-tourism and community-based tourism, it is the place to be. Away from the hustle and bustle of Bangkok, on the southern part of the country, lies Krabi, of sun, sea and sand, and more.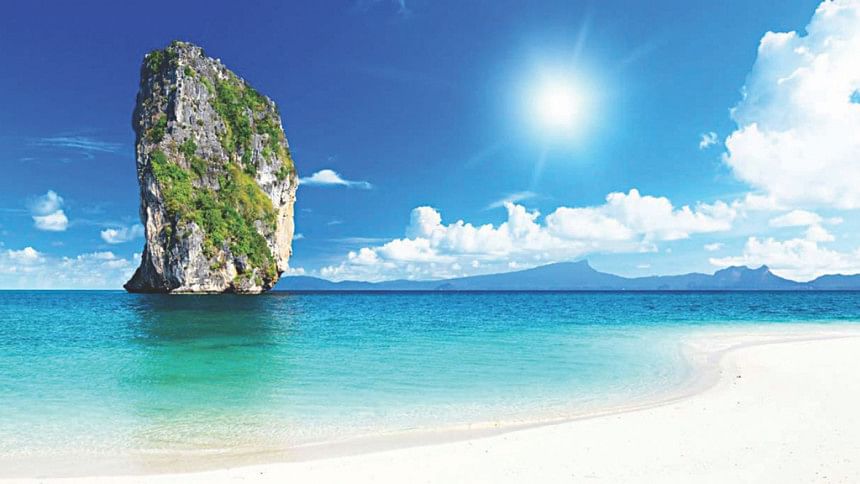 THAILAND'S ISLANDS!

The country is blessed with a large number of islands, from tiny to large. And one of the most famous is situated in Krabi province. The Phi Phi Islands, which is a collection of islands, is well reputed . The group has the 'superstar island' of Thailand: Leonardo DiCaprio's famous movie, The Beach, was shot here. 
With white, sandy beaches and large coral reefs, Phi Phi is indeed a fantastic getaway. 
They say that the destination is not important, what matters is the journey. They are not wrong! It takes somewhere around one and a half hours by a speedboat to get there, and the trip treats you with its fabulous views. 
Among the vastness of the waters and the splendid sky, you will come across random, tiny islands - peculiar, steep cliffs awkwardly rising high above water. A lot of it covered in green, these pristine islands make one's mind curious. 
Phi Phi is well-developed and tourist-friendly; you can even stay there overnight, with many hotels, resorts, restaurants and shops ready to cater to your every need. 
If you enjoy snorkelling, swimming, diving or simply sunbathing, Phi Phi Islands is the place to visit!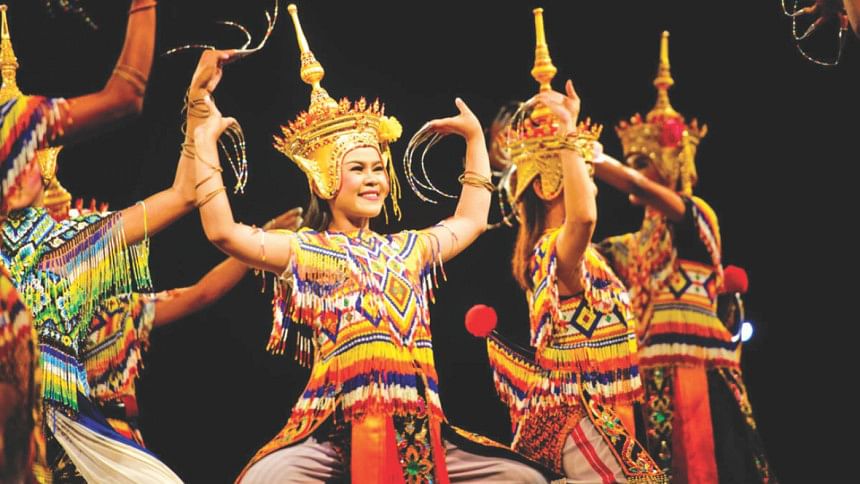 FOR THE LOVE OF NATURE 

Krabi is blessed with beautiful geography. And people have used and moulded it to shape out a myriad of tourist attractions. 
'Stand up paddle boarding' is an exciting tour to embark upon. The paddle board, basically, is an oversized surfboard with a rope attached to it. The other end of the rope is to be tied to your leg. You basically stand up on the board, and use a paddle to move forward and manoeuvre. 
And it is not just about paddle-boarding: the sites and the views all around are going to be a treat for your eyes and your soul. 
From raged mountains to caves, the journey mixes adventure with sightseeing and leaves you a little tired, but a lot more excited!
Or you may want to do some rock-climbing, which is another popular activity in Krabi. Or, you can just rent a bicycle and take a tour through 'Krabi-Tha Pom Klong Song Narm Scenery Route', which has many cultural and natural attractions along its way.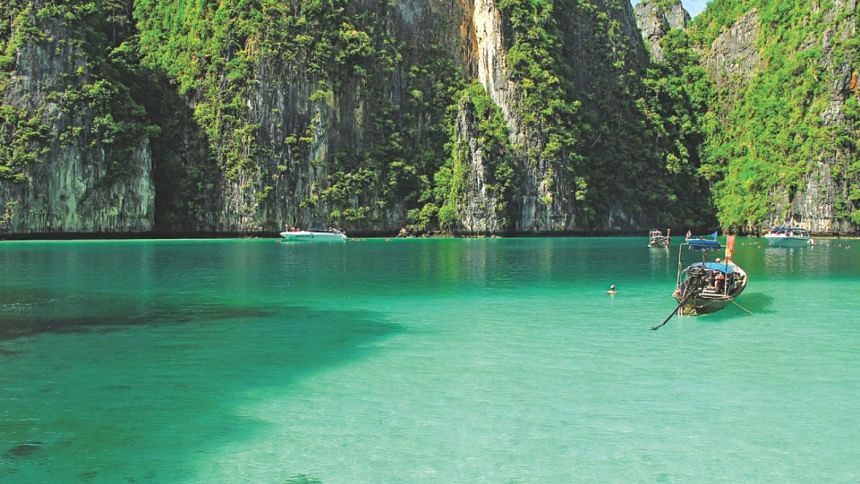 BEAD

Indeed, Krabi does offer a lot when it comes to beaches, islands, caves and mountains. But that's not all. For those who love to go to museums, Andaman Cultural Centre at Krabi is a must-visit. The complex features art galleries, a beads workshop and a beads museum. The art museum is house to, among others, several works of some of the most reputed artists of the country. Hence, it would give the visitors a glimpse of Thailand's art world. 
The beads workshop is also a fascinating one. From cutting to shaping to holing to waxing to shining, you can learn a lot about the intricate process of making beads. 
Beads are an integral part of Thailand's culture, like it is in many parts of the world. And they come in various colours, shapes, sizes and forms. Be it worn as a fashion accessory or as an amulet to ward off evil, beads hold an immense fascination indeed.  
The beads museum at Andaman Cultural Centre embarks you on a journey of beads, from the past to the present. Through intelligent lighting, ornamentation, info-graphics and displays, the museum walks you through the history of beads, and the different types that are found, and the beliefs which surround them.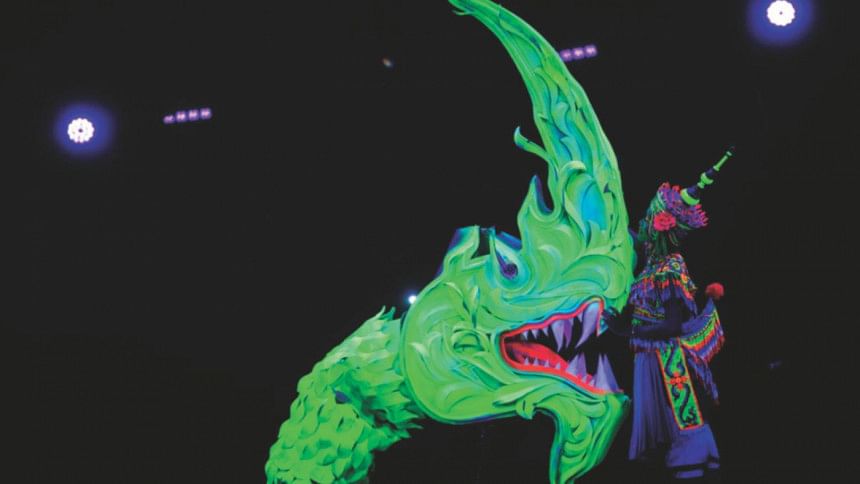 THE MYTH OF KRABI

After a day's adventure and exploration, reserve the night to make a visit to PAKA Showpark, a rather new and unique tourist attraction of Krabi. 
As the lights fall on the mountains, making them stand out among the darkness of the night, the beautiful surrounding of PAKA Showpark becomes visible to the visitor. 
PAKA Showpark may be deemed as a restaurant - but it is so much more than that!  It surely offers you scrumptious seafood and the delicious cuisine of Southern Thailand at large, cooked by famous local chefs. But the crowned jewel of PAKA is its theatre. At the first permanent 360 degree stage in Thailand, a mesmerising cultural show - a story based on Southern Thailand's mythology - is performed. 
Mixing modern theatrical techniques with age-old legends and tales, the performance is a fabulous experience indeed. Given the captivating storyline, lavish costumes, mind-blowing dances and fantastic lighting and sound effects, the show is not to be missed.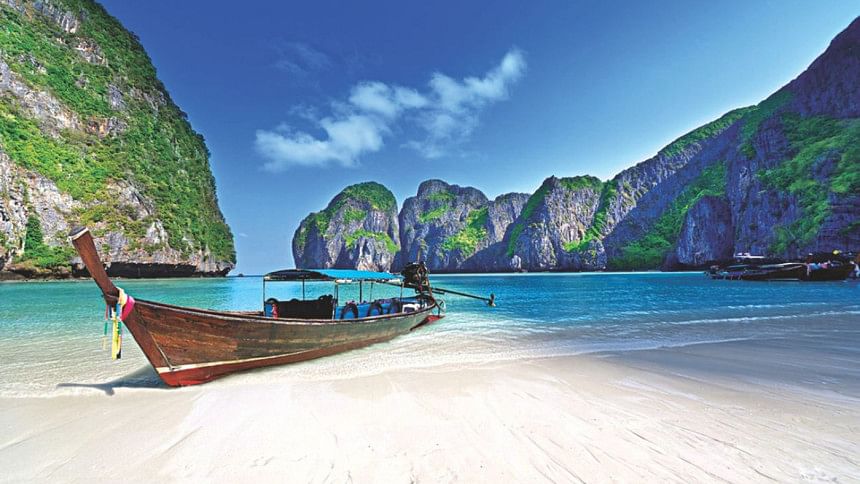 And perhaps one of the best parts of the deal is that you can experience all this with your mouth full! You can have your dinner while watching the show.  
Krabi is all about experience. It is about the ride to the marvellous Phi Phi Islands, the idle time at the beach, the exploration at and around the river and the ravishing cultural show.
So, pack your bags and escape to Krabi for an experience of a lifetime! 
By M H Haider

Photo: Collected