Liberation War through the eyes of differently abled artistes
Dhaka Theatre and British Council Bangladesh jointly organised Bangladesh's first physical storytelling theatre play with differently abled artistes from across the country, on Saturday.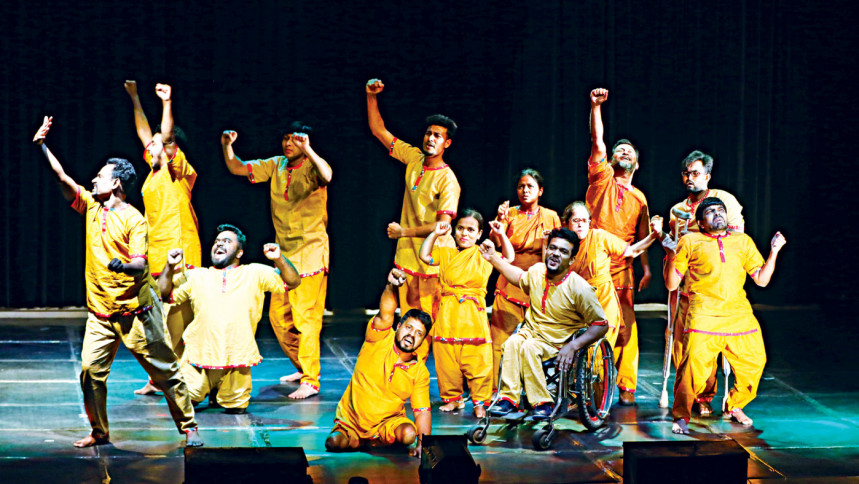 The 20 minute technical show was showcased at the Liberation War Museum. Directed by differently abled British theatre director, Ramesh Meyyappan, the play emphasised on the theme of the 1971 genocide and Liberation War without the use of any dialogues.
The play did not have any name or titles. However, the artistes were able to relay their thoughts with immaculate expression and physical movements. Music and sounds were beautifully used in this play as both the ripples of waves and the brutal genocide had an echoing effect on the audiences.
The unique project refrained from dialogues for a stylistic effect, but the emotional rendition of patriotic songs by blind artiste Lovely highlighted the angst and pain of the war.
In the final and concluding scene, the long and aimless walk of the Birangona amidst the cheering crowd portrayed the sacrifices and sadness of Bangladesh amidst its liberation from the Pakistani army.
"We had done 8 workshops in 8 different divisions of the country, among which we selected some of the artistes and took them to Chittagong for rehearsals," mentioned eminent cultural personality Nasiruddin Yousuff, founder of Dhaka Theatre. "Dhaka Theatre and Ramesh trained the artistes and was able to stage the 20 minute play within 20 days of rehearsal."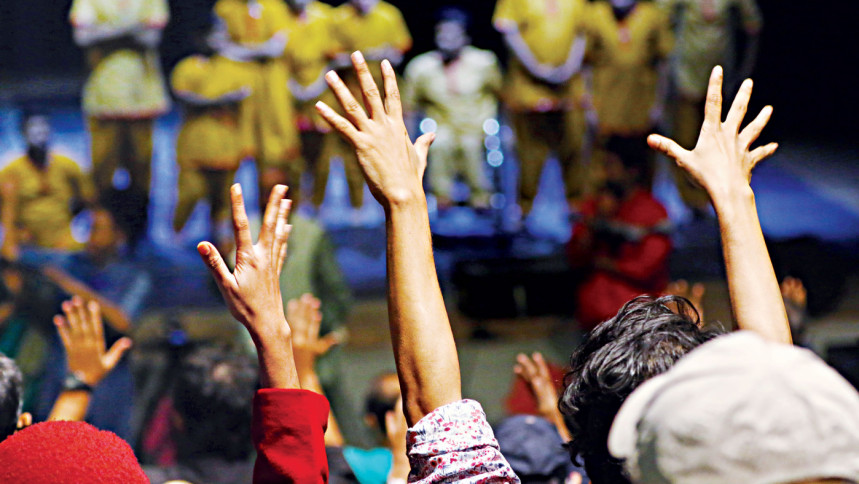 Ramesh Meyyappan conveyed his message on learning about Bangladesh history and culture through his interpreter Jacky.
"It's my very first time here, and I didn't have any idea about the rich history and culture of Bangladesh. I thought the theme of the show should come from the participants, and each and every one of them gave different narratives and ideas to the plot," mentioned the British director.
"The first thing I taught them was the physicality of theatre. We started off by exploring physical language with arms and the forearms. And then later on, we moved to using the entire body. To develop the narrative in a linear way, we only had 5 days and fortunately we were able to showcase the work fruitfully here today," added Ramesh.
Dhaka Theatre and British Council's project 'Disability Arts: Redefining Empowerment' ( DARE) had been arranging such workshops for disabled artistes since 2013. Their first play was called "Romeo and Juliet'',which was staged in 2016 and their second play was named "Fearless" staged in 2019. The final show will be showcased tentatively in March.