The 14-year illustrious journey of Galleri Kaya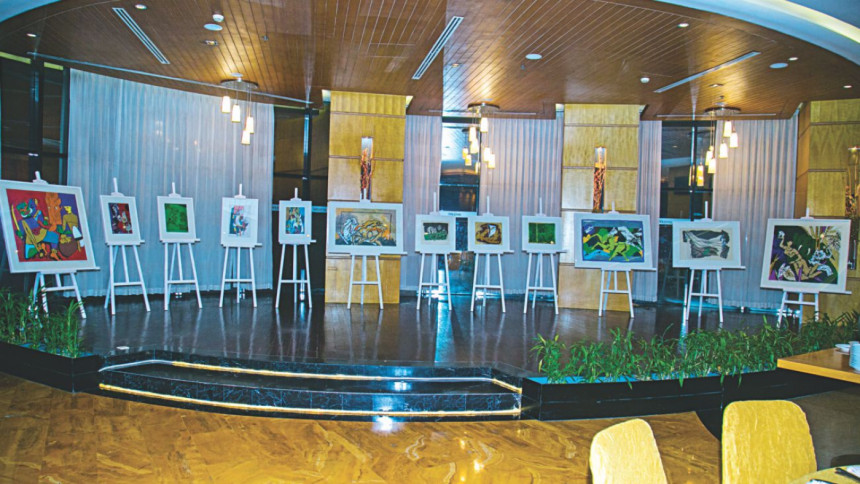 His Bhootergoli home seemed like a tubular, elongated chamber; dark and  air heavy; dimly lit even at night. But it always gave the feeling of an art gallery.
At one corner of the single-story of the house Goutam Chakrabarty would put layer after layer of paint on canvas, day and night. In another corner, his father, the celebrated artist Debdas Chakrabarty, would have his own kingdom. Their results all lined up against the wall of the long drawing room.
Goutam aspired to be an artist, like his father, which he is now. But then he wanted to be something else too. As the son of an artist and also as an artist himself, he has seen how tedious it is to sell artworks.
A significant thing happened then in his life that helped him realise that dream. He had completed work of a double-story house designed by eminent architect Shamsul Wares at Uttara on a piece of land bought by his father.
As he moved to Uttara, he looked around at the airy living room and the idea suddenly sprang to his mind – why not set up an art gallery. He had the right space, and he closely knew all the famous artists thanks to his father. He started talking to others – artists and friends. The feedback was mixed. Young artists found it a good idea where they could showcase their work. After all, it is this group that struggles the most. The more famed ones talked about the pros and cons and yet promised to help him.
So, 14 years ago Goutam set up his gallery – Galleri Kaya. He walled up the windows to make space to hang canvasses. Lighting was a big deal. If the light is too white, a blue tint will fall on the paintings, if it is yellowish, a reddish tint will appear. But finally he got the right kind of lights at Crescent Lights. Artist Kazi Rakib etched out the Vitruvian Man of Leonardo da Vinci on glass to bedeck the entrance to the gallery
His first opening exhibition was of mixed works from 50 famous artists of the country starting from Mohammad Kibria to Rafiqun Nabi to Aminul Islam to Wakilur Rahman. "UDHBODHON" -- The beginning, it was named and was a big success.
"I will not forget the support I received from the artists," Goutam says. "I remember going to Aminul Islam to pay him for a piece of art sold at the exhibition. The artist refused to take the money and said: 'keep it with you, Goutam. You have just started the journey, you will need the money. I will give you a few more works to sell'."
Eminent artist Murtaja Baseer always supported Goutam. He always welcomed any idea Goutam shared with him about his exhibition or publishing limited edition graphics to the launching of his portfolio.
There were a few concerns in the beginning years. Until then art exhibitions were held around Dhanmondi area. The distance to Uttara cast a doubt on whether art connoisseurs would take the trouble to travel that breadth of the city. Today, despite the crazy traffic of the city, art connoisseurs rarely miss Kaya's exhibitions because of the innovative themes and designs of the shows. 
The second worrying thing was the smallness of the art market. Art so far was considered collectible of the rich.
"We wanted to grow a taste for art in the middle class and make art affordable to them," Goutam says. "We started by promoting graphic prints of famed artists as well artworks by young artists who have talents but not names. Their artworks were sold at affordable prices."
In these past 14 years, Gallerie Kaya can name quite a few young artists like Nagarbashi Barman, Shahnoor Mamoon, Kamaluddin, Ashraful Hasan who have crossed the threshold and made it big.
Goutam can claim quite a few milestones in the art canvass of Bangladesh. His last sensational effort was the exhibition of MF Hussain's print works. He had worked for years to collect the prints as well contact the collectors of Hussain's works and convinced them to lend the works to be exhibited in Dhaka.
He is now working towards holding more such exhibitions.
"One big issue in Bangladesh is the record keeping of artworks," Goutam says. "We keep track of every artwork we deal with so that we can authenticate the pieces."
Because of his untiring dedication, Gallerie Kaya has today left an indelible mark on Dhaka's art world.
The writer is Executive Editor, Digital, The Daily Star.