What to expect at Litmosphere's 'Expecto Patronum!'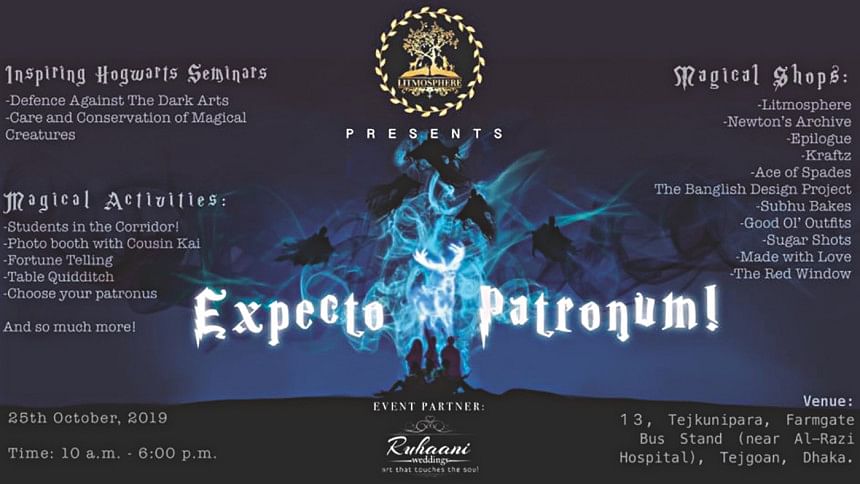 Popular online book club Litmosphere is set to host the creative event, Expecto Patronum!  with the aim to bring book lovers and fans of JK Rowling's Harry Potter series together.
The event will showcase merchandise from different shops and feature activities, panel discussions and other exciting arrangements.
Scheduled to take place from 10am to 6pm at BSM Group at 13, Tejkunipara, Farmgate Bus Stand today, the event has no age restriction. The tickets for the event are BDT 360.
Partnered by Ruhaani Wedding, the event will have shops by Litmosphere, Newton's Archive, Epilogue, Kraftz, Ace of Spades BD, The Banglish Design Project, Subhu Bakes, Made With Love, Good Ol' Outfits, Sugar Shots, and The Red Window. Participants can battle to win exciting prizes from the activity sponsor, Ace of Spades BD.
Tasnuva Ashraf Umama, creator of the platform Healthy Minds and Nayeema Reza, creator of the platform, Hobby Ki? will participate in a panel discussion on why compassion and hobbies are important for mental health, moderated by journalist and writer, Sabrina Fatma Ahmad. The event will also feature a lecture on animal care by animal rights advocates, Zahid Hussain and Rabita Arefin from Care for Paws.
Visitors are welcome to take photographs with Kai, the dog, at a booth. All proceeds from the photographs will go to Care for Paws. At the 'Choose Your Patronus' section, participants can pick a beautiful piece of artwork from a collection created with submissions from all over the country.
In Table Quidditch, a version of the fictitious sport from the world of Harry Potter, participants can pick their teams and take turns trying to score goals with the 'Quaffle', by aiming it at the opponent's hoops. The event will also host Tarot card reading and crystal ball reading sessions.