Tirjak Natyamela 2019 concludes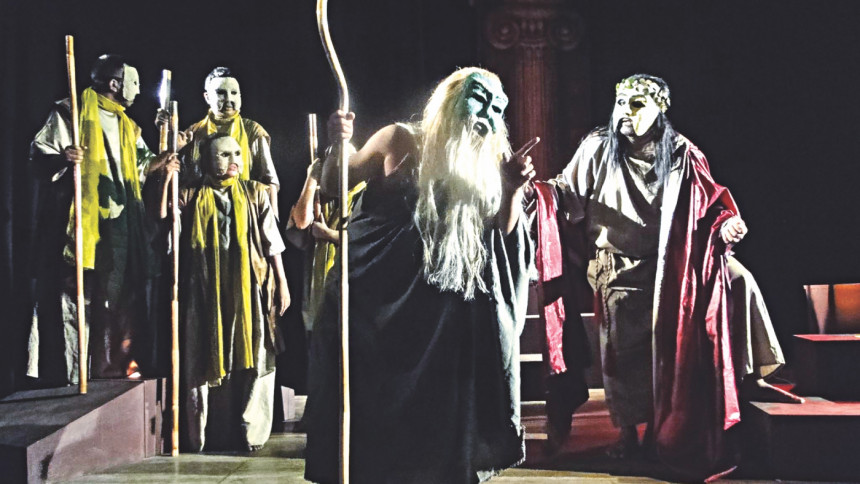 Marking their 46th anniversary, Tirjak Natyadal, a theatre group of Chattogram, organised a five-day theatre festival, titled Tirjak Natyamela at Theatre Institute Chattogram. Thespians Bivas Chakraborty and Mamunur Rashid jointly inaugurated the event.
The festival featured performances commemorating their 46-year journey, including musical performances, poetry and dance recitals. Chattogram's folk songs were also presented in the open space every evening for the audience to rejoice on traditional tunes.
Theatre personalities Ataur Rahman, Ramendu Majumder, Nasir Uddin Yusuff, Dr Afsar Ahmed, Kaushik Chatterjee, Mannan Hira, Golam Sarwar, Gazi Rakayet, M Saiful Alam, Dr Kuntal Barua, Alok Ghosh, Sanjib Barua and Ananta Hira, among others, participated in different sessions of the festival. Five plays, one on each day, were also staged at the festival.
Tarangobhango, a play written by Syed Waliullah and directed by Ahmed Iqbal Haider, was staged on the first day of the event. Natyachakro, a theatre group based on Dhaka, enacted Eka Ek Nari, a play based on Italian playwright Dario Fo's A Woman Alone on the second day. Oedipus, directed by Ahmed Iqbal Haider was presented on the third day. Theatre Factory showcased Asharashyo Prothom Dibash, a play written by Mohan Rakesh, on the fourth day.
The festival concluded with Upstage's presentation of the play Raat Bhore Brishti, based on Buddhadeb Basu's novel of the same name.