In the mindscape of Ata Mojlish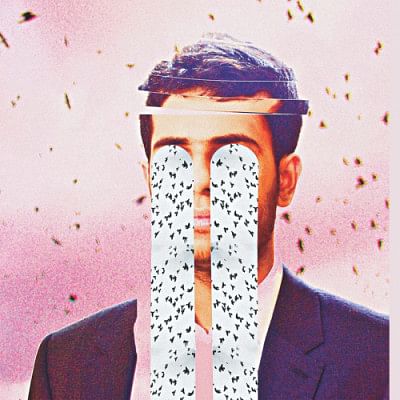 Artist Ata Mojlish is known for his precision of work and impeccable presentation skills. As I opened the door to his ongoing exhibition, Truce- Juddhobiroti, at Dwip Gallery, I stepped into a red and blue zone. A CRT TV presents the basic intention of the artist. "I wanted to recreate my psyche here. Anyone who walks in will learn what goes on in my mind," said Ata as he caught me at the entrance. A square piece on the floor with the words, 'You do not belong here' made me anxious. I could not resist but ask what the artist meant - he shared that those words sum up the feeling of being uprooted from his home and placed in a space which is not his own. As he lives in the USA, many assume that Ata has an enviable life, but rarely do people realise that there are two sides of a coin. Ata highlights the side that is less talked about.
"I lost my father at a very young age. I practically have no memory of him. I accidentally found a portrait of him that was kept away from me for a long time. Finding that portrait made me realise that there is a void in my life," adds Ata. He faced further difficulties when he started living in a different country. Amid the apparent perfection of his life, he felt detached from his roots. Through digital photo manipulations and video making, which he defines as 'non art materials', he calls a 'truce' with his inner battle.
He practiced photography and worked around with photo editing tools for a long time. He consciously wants to break away from that to express his feelings of imperfection. "I try to process and represent the disconnection that I feel with my home. In an effort to find these photographs, I am trying to confront certain parts of myself as well," explains Ata.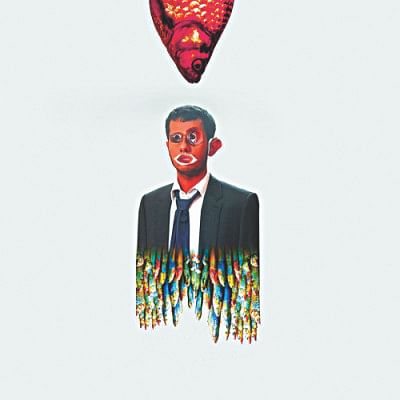 Truce- Juddhobiroti is also a beautiful story of reunion of two close friends,, Kazi Tahsin Agaz Apurbo, the curator of the exhibition, and Ata. The two have been confidants of each other for more than a decade. "Since we were both in different countries, we practically worked through the exhibition online. I like dealing with works that break the hierarchy of art and make it more salient to public interaction," says Apurbo. To that end, the UV ray pens in the exhibition let the audience spend some time spotting the invisible writings on the walls and read through the commentary of the artist.
Ata explained that his mother, sister, fiancé and Austin's iconic Hi, How Are You? mural are the inspirations behind his work. "Everyone who walks into the exhibition and looks through the works are helping me become heard. I placed my lens at different spots to recognise their effort even in my absence," says the artist.
The nifty square frames, the colours and the provoking sound tracks are the subtle, yet striking details of the exhibition. At the same time, Ata intends to give a sense of the turmoil that occurs in the society. Truce – Juddhobiroti is open to all at Dwip Gallery till tomorrow.