Sudeshna Swayamprabha: Telling tales through the body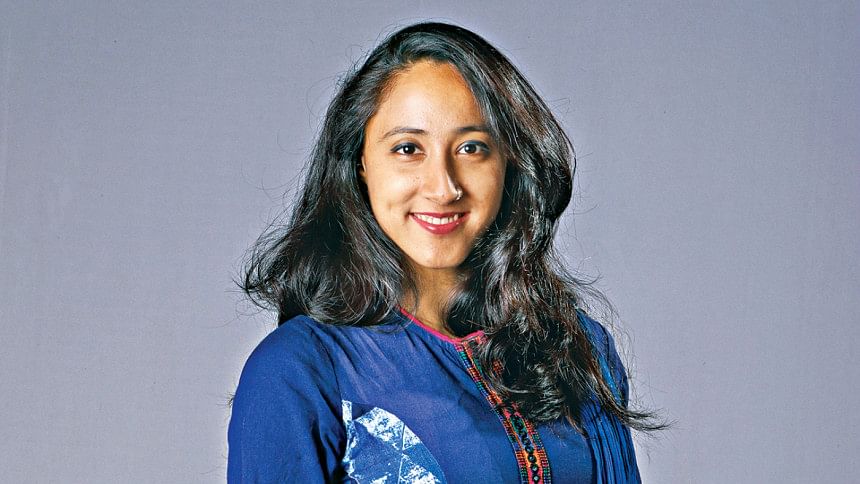 Brilliant dancer Sudeshna Swayamprabha Tathoi has been pursuing Indian classical dance forms -- Manipuri and Bharatanatyam -- since early childhood from her mother, eminent danseuse Sharmila Banerjee. Later, she took lessons on the genres under the tutelage of Sharmila Banerjee, Belayet Hossain Khan and Tamanna Rahman at Chhayanaut. "I am blessed with receiving Bharatanatyam from Padma Bhushan Professor C V Chandrasekhar. Besides, I took intensive Manipuri training from Smt Kalavati Devi at Indira Gandhi Cultural Centre in Dhaka," says Tathoi.  
With an ICCR Scholarship, Tathoi went to Rabindra Bharati University, Kolkata to study dance. She bagged four awards, the University Medal (Gold), Nirod Baran Memorial Prize, Sunit Basu Memorial Prize and Asit Chattopadhyay Memorial Prize at the 44th annual convocation ceremony, securing the highest score at the MA (Dance) Examination among the students of all the seven dance departments under the Faculty of Fine Arts, of the university. "I felt very happy to achieve the recognition. It's a great impetus that has made me more responsible towards the art form."   
The artiste also completed her BSS (Honours) and MSS in Anthropology from the University of Dhaka. "As I have pursued dance from an early age, and I wanted to further study dance to learn the theoretical aspects of it. That's why I did another MA in Dance. Besides, dance is a dominant feature of Cultural Anthropology. The art form has its distinctive impact on society circling various festivals," said the dancer, who dreams of experimenting with dance forms with the aspects of Cultural Anthropology. "I want to create some scholarly works mingling dance with my research on the themes like -- where does dance belong and how does the art form contribute to the society?"
In April, 2019, Tathoi participated in the art project 'Transforming Narratives' organised by British Council, UK and Arts Council, UK, in Birmingham. The project aims to connect cities from Bangladesh and Pakistan with Birmingham. "There is a large pool of generations of Bangladeshi diaspora communities there. The project shed light on different narratives about society, art and culture. I had wonderful experiences and experiments with global dance artistes, choreographers and musicians. As I learned from them, I shared my expertiese with them as well," says Tathoi.    
The artiste, also a dance teacher at Chhayanaut and Nritya Nandan, also learned the forms of Mohiniyattam and Odissi. Currently, she is taking tutelage from renowned Manipuri exponent Bimbavati Devi and also working with her troupe, Manipuri Narthanalaya in Kolkata. Even though she is dedicated to the beauty of four classical dance forms, Tathoi has a knack for creative and contemporary dance, where she can blend mudra from different dance forms.
Organised by the Goethe Institut Bangladesh, Tathoi participated in 'Young Choreographers Platform', an initiative to promote and foster talents of young and potential choreographers in Bangladesh. This programme was held in 2016 with the guidance of Tomas Bünger, a dancer and choreographer based in Bremen, Germany. "There is no end of learning; be it academic or artistic. A dancer should always keep her/his mind open to learn new things, challenging their own body. My knowledge was enriched with that platform, as Tomas made us think about new things in choreography."
Tathoi also performed at the prestigious Khajuraho Dance Festival. In February this year, she went there to perform with her Guru Bimbavati Devi, who is the daughter of eminent Manipuri dancers Guru Bipin Singh and Smt Kalavati Devi. "As a member of Manipuri Narthanalaya, I regularly perform in different states of India. Every dancer eagerly looks forward to performing in the Khajuraho Dance Festival someday. It was a divine experience for me to perform at the festival," says Tathoi. "We performed in Bimbavati Devi's latest production Ghana Baari Barikhata, that she premiered in Kolkata last year, marking the birth centenary of her father, Guru Bipin Singh."
Sudeshna Swayamprabha Tathoi was recently at Weimar, Germany, where she had an overwhelming experience while attending the Kultur Symposium Weimar 2019. Goethe Institut Bangladesh gave her the opportunity to be a part of the wonderful event.