'Snippets Behind Bars and Other Related Stories' on display
Photography exhibition underway at DrikPath Bhobon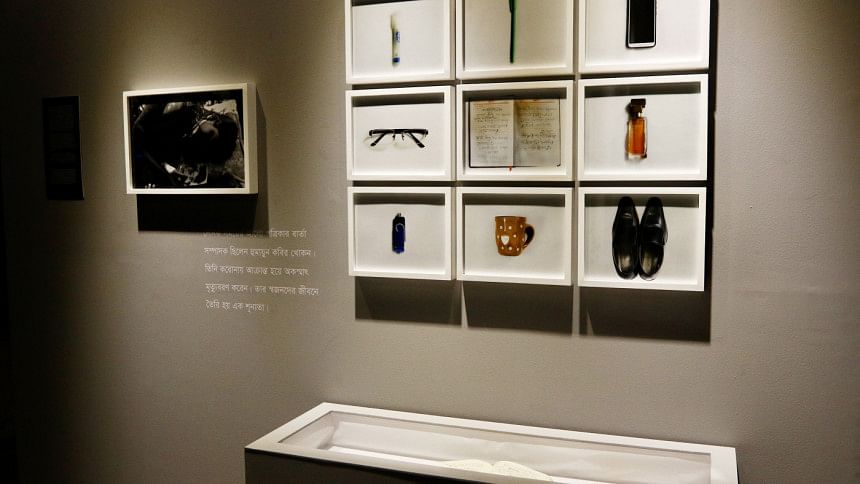 Organised by Drik, a ten-day photography exhibition, titled "Snippets Behind Bars and Other Related Stories", is currently underway at the DrikPath Bhobon, Panthapath. The opening ceremony of the exhibition was held on March 10. Photojournalists Shafiqul Islam Kajal and Al Mamun Jibon, along with other participants, were present at the ceremony.
Journalists are storytellers, representing people from all walks of life. This exhibition provides a glimpse into the daily lives of journalists. Several journalists have been detained and imprisoned over the years. During the ongoing COVID-19 pandemic, journalists have been working on the front lines, delivering news day and night, risking their lives. Several of them lost their jobs as well. The struggles, sacrifices and hard work behind their work go unrecognised, more often than not. "Snippets Behind Bars and Other Related Stories" presents the harsh realities of journalists' lives today, to the audience.
"Photojournalists are often underappreciated. Their struggles and experiences during this pandemic are featured in this exhibition, along with issues of labour rights violation, economic exploitation and gender equality," shares Saydia Gulrukh, one of the directors of Drik. "We are presenting their work in the form of a visual storytelling book focusing on stories behind the lenses."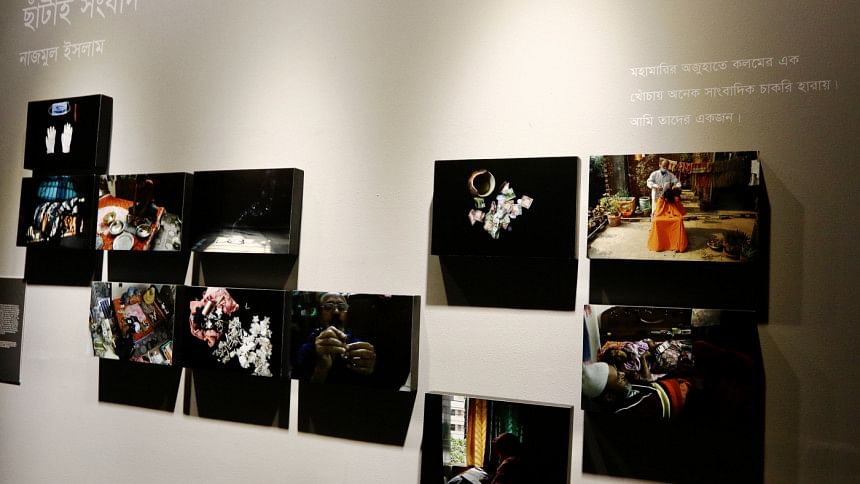 Dedicated to recently deceased writer Mushtaq Ahmed and journalist Borhan Uddin Muzakkir, the exhibition features 13 different works by photojournalists across the country.
"An exhibition is a presentation of the artistic process, at the end of the day, every participant is an artist. Journalists rely more on facts and while telling stories, they get influenced by their medium," says A S M Rezaur Rahman, curator of the exhibition. "Through a workshop, I had the opportunity to discuss and exchange ideas with the participants' in January. They tried their best, looked beyond the recognised limits of mediums and tested organic possibilities of mixing them."
'Internal Conflict' by Sabina Yesmin portrays her works as a photojournalist, risking her life as a frontline worker in the pandemic. Through her work, Sabina, a photojournalist at Prothom Alo, reflected on her inner struggles of managing work and home simultaneously, while showcasing her love for her daughter and her job.
Monon Muntaka's 'Stagnant Time' features a series of interviews with renowned female journalists, Kakoli Prodhan, Senior Photojournalist, Kaler Kantho, Dipa Ghosh Rita, photojournalist, Amader Orthoniti and Snigdha Sharmin Zaman from New Age. Female photojournalists constantly face struggles, competition, and lack of recognition in their careers. Through the series of interviews and a photograph taken by Shahidul Alam at "Chobi Mela", this installation focuses on several women's struggling journey as a journalist.
Joyeeta Roy, a photojournalist at Bangladesh Pratidin, showcases her work, 'The Man of Light' highlighting the story of Rajib Dhar, another journalist who recently lost his job during the COVID-19 outbreak. Joyeeta captures intimate photos of Rajib and his family members, portraying the hardships and frustrations evident in his eyes.
Al Mamun Jibon's work, 'Fugitive Roads' features a map of an upazila named Baliakandi under Thakurgaon district, focusing on his struggles and fugitive life after a case was filed against him under the Digital Security Act (DSA).
Abdur Raihan Jewel's work, '34 years' focuses on the much neglected field of grassroots journalism. His photographs revolve around newspaper cuttings, portraying his frustration over this field, which receives no recognition, despite the constant hardships and struggles it poses.
Farzana Akthar's 'Memory' shows the everyday objects used by Humayun Kabir Khokon, former news editor of Daily Shomoyer Alo, who died from COVID-19. Abu Jafor's work, 'Snippet Behind Bars' features a scrapbook with the letters he wrote in prison after a case was filed against him under DSA.
Other installations include 'Trishul' by Shujaul Islam Shuja, 'Termination' by Nazmul Islam, 'The Feeling of Nothingness' by Rahat Karim, 'Invincible' by Nipa Monalisa, and the work of one journalist from the Chittagong Tracts. 'News at Five' by Sayoda Mahafuza Misti features an interview of journalist Akkas Shikdar from Jhalokathi. Made by Drik Picture Library, the video installation also features a satirical news presentation, reflecting on the restrictions and limitations of news in present Bangladesh due to the DSA.
The exhibition is open to all from 3 pm to 8 pm every day until March 20, 2021. It is also available for viewers online.