Serenading the night with Arnob and Friends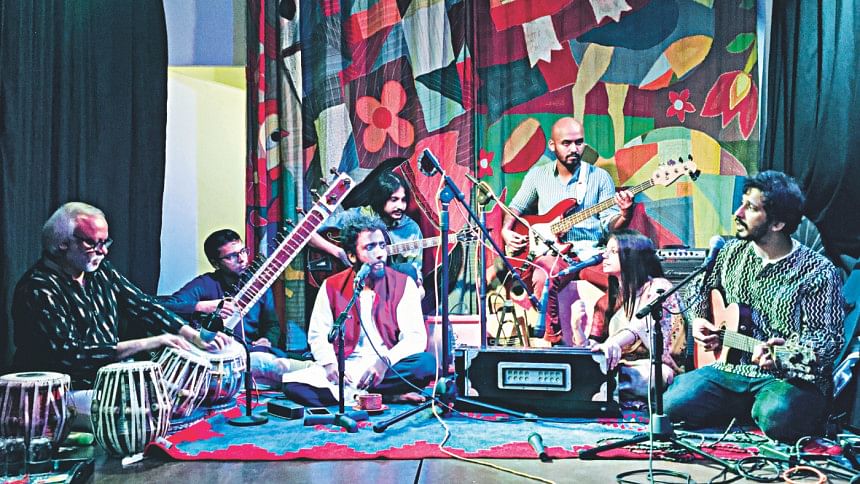 On November 7, 2019, Shayan Chowdhury Arnob took the stage at Jatra Biroti with his latest ensemble of Arnob and Friends. Besides Arnob, the band consisted of Sunidhi Nayak, Soumyadeep Sikdar Murshid on vocals and jazz musicians Imran Ahmed and Mohaimin Karim on guitar and bass respectively, among others.
The performance focused on a cross-cultural musical experience that was based on an amalgamation of Rabindra Sangeet, Sufi music and songs from Baul and Lalon Sai, both of whom were inspirations for Tagore himself.
The show started with Rabindra Sangeet, masterfully sung by Sunidhi and Arnob, that included crowd favourites like Majhe Majhe Tobo Dekha Pai, Megh Boleche Jabo Jabo and Ei Je Tomar Prem'. Murshid's rendition of Ud Jayega Hans Akel, a mesmerising Sufi song, written by 15th-century mystic poet, Kabir, followed this.
After a short break, Arnob performed many of his popular songs including Hok Korlorob, Tomar Jonno Nilche Tara, Tor Jonno while the audience sang along and cheered them on. Nearing the end of the serenading autumn night, Arnob performed Purono Shei Diner Kotha, and the entire room hummed together.
"I have been living in Shantiniketan for the last year to make music away from all the city clutter," said Arnob after being asked what he had been up to. The diverse group of musicians seem to have found a kind of balance in making music together, through all their unique musical influences. "In our group, we classical musicians, Rabindra Sangeet singers, as well as a Sufi and Jazz ensemble. This really makes the process even more exciting", said Murshid.
The band is currently planning to tour different parts of Bangladesh and India. Arnob also plans to settle in Goa for a while, to work with musicians there.
The night ended with everyone taking home t-shirts designed by Arnob himself, as a reminder of how any rendezvous with him is memorable.