'Saturday Afternoon' awarded at MIFF 2019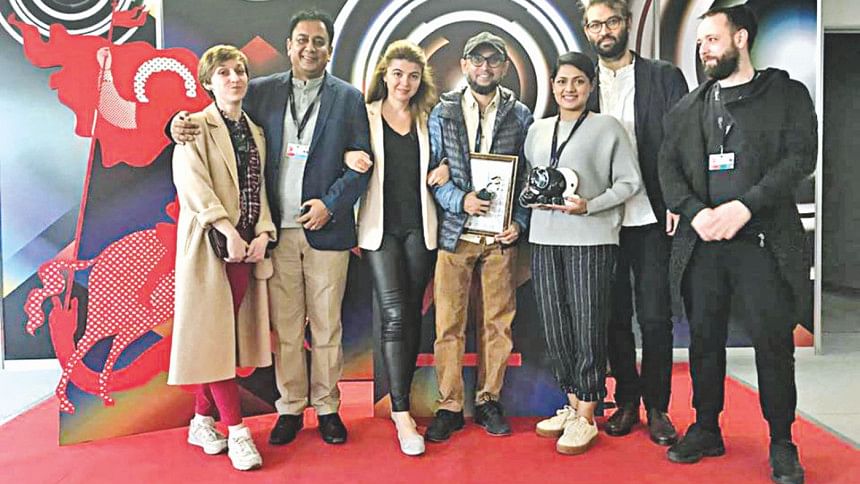 Saturday Afternoon or Shonibar Bikel, a film by Mostofa Sarwar Farooki, won two independent jury awards at the 41st Moscow International Film Festival (MIFF) yesterday. The film, that had stirred quite the commotion regarding Film Censor Board of Bangladesh's decision to halt its theatrical release, won two independent jury awards -- Russian Federation of Film Critics Jury Prize and the Kommersant Prize -- at the competition. Mostofa Sarwar Farooki, Nusrat Imrose Tisha and Zahid Hasan were among the cast and crew present at the festival.
"After the screening of our film, the audience met with us and expressed how emotionally touched they were by the film," said Farooki from Moscow, Russia. "It was a rather uplifting experience for our team. I am extremely delighted that apart from the audience, the jury board too was impressed with our work."
"To see a foreign audience indulge in a Bangla film and walk out with tears in their eyes is a truly exhilarating feeling," exclaimed Nusrat Imrose Tisha. "It is a matter of utmost pride whenever the representation of Bangladesh has such a positive impact, especially on foreign soil."
Zahid Hasan, who plays a significant role in the film, said that he was overcome with emotion when he heard Bangladesh being announced at the competition. "When they announced the name 'Bangladesh' amongst the multitude of foreign nationals at the festival, it was a matter of patriotic pride," he said.
"It is an exceptional feeling. Hence, I feel the awards that we won today not only belong to the team of the film, but rather to the nation as a whole."
Saturday Afternoon, a Bangladesh-Germany joint production, is the first film in a trilogy by the trailblazing director, Mostofa Sarwar Farooki. It is produced by Abdul Aziz from Jaaz Multimedia and Farooki from Chabial.
Anna Katchko of Tandem Productions (Germany) is the co-producer. Alongside Zahid Hasan and Nusrat Imrose Tisha, the film stars Iresh Zaker, Mamunur Rashid, Nader Chowdhury, Intekhab Dinar, Gousul Alam Shaon, Palestinian actor Eyad Hourani, Indian actor Parambrata Chatterjee and others.