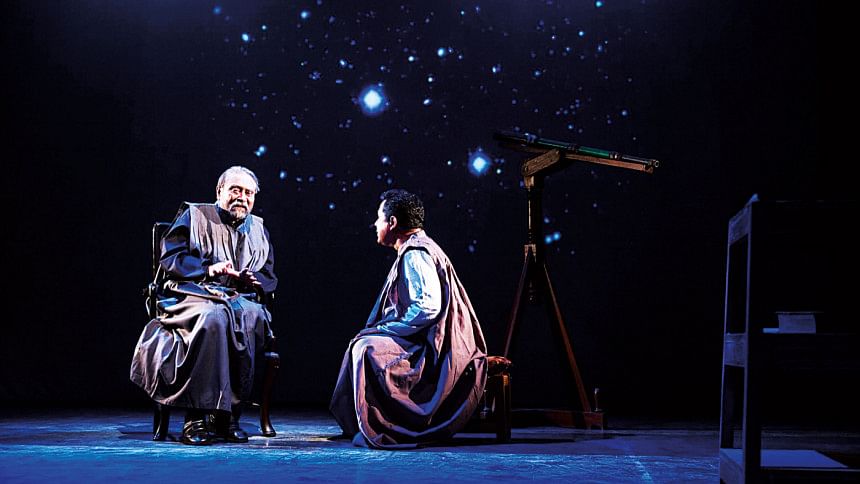 Aly Zaker, my Galileo, made his final exit in the early hours of November 27, 2020, bringing about a nationwide realisation of loss and shock. Yet, my poignant torment stems from an exclusivity—an affliction of my own—because this titanic man—both physically and qualitatively—enthused me immensely to be associated with theatre. The play that I translated almost half a century back in 1975, was initially a result of my mere leisure garden pleasure,for when I had translated "Life of Galileo Galilei", I never thought that it will be performed on the stage ever.
I wrote in my introduction of the publication of the play in 1977 that the rendition was much more intended for readers of Bertolt Brecht than for the stage. It was because until then, I had no practical knowledge of writing or translating any drama-dialogue suitable for performers.Aly Zaker came to my rescue.
He showed me how a person of Galileo's stature, a freak of a scientist, could be resurrected and justified as a person in flesh and blood on the stage. I could visualise Galileo in a way that I had never envisioned him during my process of translating the play. Aly Zaker, in fact, made me realise my potential in drama translation and I have worked through 30 plays till date. He made Galileo 'real' to me, with his larger than life presence.
I could see the indomitably intelligent man and the starwatcher who loved food and old wine in Aly Zaker himself—my very own Galileo. He took me by hand into the world of performing art, and my entire practice of literary writing from then on was impacted by his unparalleled acting. In 2017, I visited the Zakers at their Banani residence several times.
Interestingly, Aly Zaker had proposed to the Ministry of Cultural Affairs that I should be awarded with the Ekushey Padak in 2017, but somehow it did not work out. I still feel honoured that the suggestion came from him, which is no less than getting the award itself. Once, I read out one of my latest translations, "PremPotro", in the presence of Ferdousi Majumdar, Ramendu Majumdar and Tropa Majumdar at his residence.
Ramendu Majumdar actually wanted Aly Zaker and Ferdousi Majumdar to portray the two named roles of the play, which was supposed to be directed by Tropa Majumdar.  After the reading, Aly Zaker expressed his keenness to act in the play, but that could not happen because of his prolonged fight with cancer.
I made a promise on my own accord to dedicate one of my next publications to him, and with that in mind, I hastily proofread, "PanchMonchanubad"to be published by Bangladesh Shilpakala Academy. To my disappointment, I failed to do that during his lifetime. It is rightly said that wishes of mortals do not commensurate with those of the Almighty.           
I tested positive for the coronavirus during the months of May and June and lost one-on-one contact with Aly Zaker. But we communicated through 'likes' and clicks on social media, until he fell severely ill.
In remembering him, I would say: Aly Zaker, I am sure that when you meet Galileo on the other side and measure up your respective achievements, you will find clear similarities between yourself and him. He was rigid to the establishment of scientific truths and brought about a new world for the future generations—for the rich and poor alike—fighting against prejudices and religious fundamentalism just like you. You walked the path of practicing liberal culture and aesthetics.
The writer is a translator, playwright and an academic. Email him at: [email protected].