Professor Razia Sultana Khan's 'Of Woman Born' underway at Zainul Gallery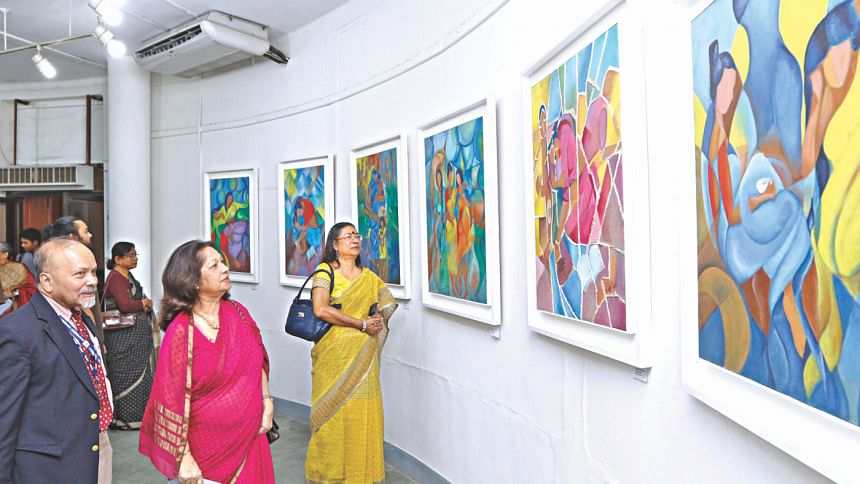 Professor Razia Sultana Khan's solo painting exhibition, Of Woman Born, is underway at Zainul Gallery-2, Faculty of Fine Art, University of Dhaka (DU). Mojibur Rahman, President, Dhaka University Sculpture Alumni Association, inaugurated the exhibition as the chief guest on February 24. Dr Niaz Zaman, former Professor of DU, and Alamgir Kabir, Convener, Different Strokes, were present as special guests.
Professor Razia is an English Literature teacher by profession, and an artist by passion. She enjoyed drawing and painting from a young age. As her father's job demanded a lot of travelling, growing up, she had many opportunities to explore various cultures and art forms in different parts of the world. Professor Razia has met many artists from across the world and visited many renowned art museums, including Louvre, MoMA, Prado and Hermitage.
Most of the paintings on exhibit at the event, completed over the past few years, shed light on the lives and emotions of Bangladeshi women. "I did not want to focus on gender inequality or the oppression women and girls face. Rather, I intended to portray strong and independent women," shares Professor Razia. Vibrant colours, together with the use of geometric shapes and forms, alongside graceful lines, are dominant features of her artworks.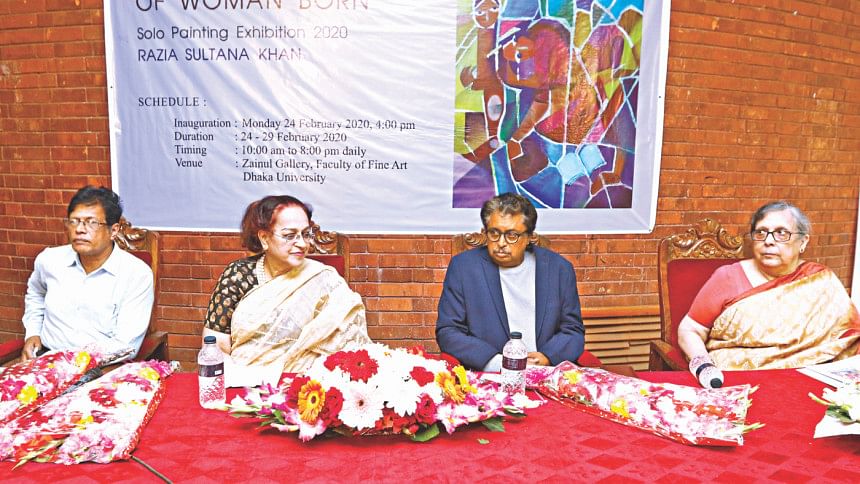 Even though she was a non-academic artist, she was self-motivated to learn from different artists and art organisations, including Syed Hasan Mahmud of Jhapi School of Art, Rezaun Nabi, and Alamgir Kabir, the Convener of Different Strokes. "I have not only become more expansive in my explorations of forms and colours, but I have also ensured that I invest a fair amount of time practicing my art," mentions the artist. "My mother, who is also artistic, encouraged me throughout all my endeavours. My children, too, have always supported me. I am sincerely thankful to them."
Besides teaching and painting, Professor Razia is passionate about fiction-writing. "Works of fiction use words to paint  moving pictures, whereas, paintings tell stories," she asserts. "A well-written story has textures, colours, a unified theme and the ability to emotionally connect with people, much in the same way that an interesting painting does."
Of Woman Born, opening from 11 am to 8 pm, will conclude on February 29.