Portrait of a Cover Artist - Shalim Hossain Saju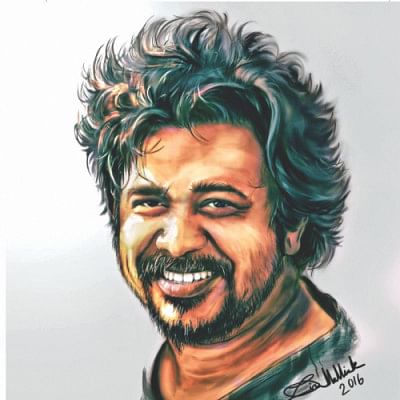 A graduate student from the Faculty of Fine Art, University of Rajshahi, Shalim Hossain Saju had a keen interest in the field of arts since his youth. His unique talent lies in his prowess to portray creativity in a simple yet elegant manner. During 1994, he worked as a cartoonist for the popular youth publication, Kishor Potrika and went on to contribute for various other newspapers over the years. Progressing through his career, Saju also worked for films and tele-fictions. Apart from his artistic undertakings, he has been actively involved in the field of advertising for over a decade, including many successful campaigns over the years. He also won an award at a prestigious competition held in Japan, for designing a logo. A zestful character at heart, Saju is currently the Associate Creative Director for a reputed advertising agency in the capital.
His involvement as a cover artist at the Ekushey Grantha Mela began in 1996. Ever since then, he has been contributing to the field purely out of passion. Throughout the years, Saju has worked with several renowned authors and publishers. Due to his busy schedule, this year, he was only able to design around 19 books for the fair. When asked if there was any aspect of the Boi Mela that he would he would like to see an improvement in, he replied, "It is sad to say that, except for a very few people, those who like to employ our talent, do not value it for what it is worth. There is this tendency whereby they want to take advantage of us." The artist further explained, "At times it is actually due to financial constraints, but they often use that as an excuse, even when they are capable. And as passion tends to be more precious than payment, many artists give in." He asserts that if this practice continues, the many artistic talents of our country will hardly be valued. According to Saju, when one sees the final outcome of an artist, they can barely evaluate the amount of effort that is required for a piece of work.
Besides the aforementioned activities, Saju has a fondness towards typography and designed 12 exclusive categories of Bangla fonts till date, which he uses when designing book covers. He also designs creative t-shirts, for a popular online apparel store. Saju aspires to publish his own book at the Boi Mela in the near future.