Monica Ali on returning home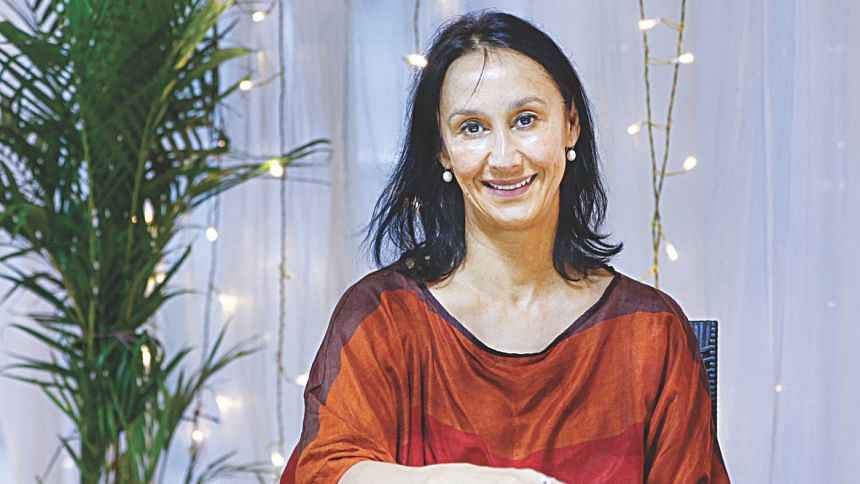 Having left Bangladesh at the age of three, Monica Ali became a household name in the UK with her career-defining novel, Brick Lane, in 2003. Its popularity propelled it into becoming a feature film in 2007.
Brick Lane narrates the story of Nazneen, a young Bangladeshi girl who marries and migrates to Brick Lane in London. Her book was shortlisted for the Booker prize, as she won many accolades, among which were the prestigious British Book Awards Literary Fiction Award and British Book Awards Newcomer of the Year. She was also termed as "One of Britain's 20 best young novelists" by Granta magazine in the same year.
Ali was one of the honourable guests at this year's Dhaka Lit Fest, where she had quite a memorable experience. "It feels incredible. It should have happened long ago, and now that I am here, I know that I am definitely going to come back soon," said an emotional Monica Ali. "I did not know how I am going to feel – whether it would be just like a foreigner, or as a tourist. However, I feel strangely at home."
Following on to the success of her first novel, her next instalment Alentejo Blue (2006) was a shocker, as it was set Portugal, an entirely different context. Her stay in Portugal inspired her to take up this work. "I spent a lot of time in Portugal. We have had a house there since many years. All of these stories and characters in the village caught my attention," shares Ali. "The structural format was different, and I got to challenge myself as a writer. However, they were characters demanding to be written."
Speaking of her "upside down" fairy late, Untold Story (2011), Monica carefully structured her protagonist Lydia around Princess Diana. Lydia runs away from her ivory tower to find a simple and peaceful life. "I was deadly serious about what I was writing, and who I was writing about. When you become a commodity, you are also dehumanised, and that was something I wanted to explore," mentions Monica.
One of major challenges for Ali, being A South Asian writer , has been people's expectations about what a writer represents. "I don't represent anything as a writer. I reflect on things that need reflecting." She believes that one does not have to represent a specific minority in order to write about their struggles. "That is not the way creative writing works,' she adds.
Besides writing, Monica worked as a guest editor for BBC Radio 4's Today programme and has hosted several editions of the show A Point of View. Alongside spending time with her family, she teaches creative writing to aspiring writers, and is a trustee of the St Giles Trust Charity, that helps marginalised and disadvantaged people in the UK.
At the end of her interview, she advised young writers to write with honesty, courage and perseverance. Monica Ali also promised her upcoming novel. "I finished the first draft and am working on the second one. Hopefully, I will finish it by the end of January," she concluded.