Mitali Perkins on women empowerment and 'Rickshaw Girl'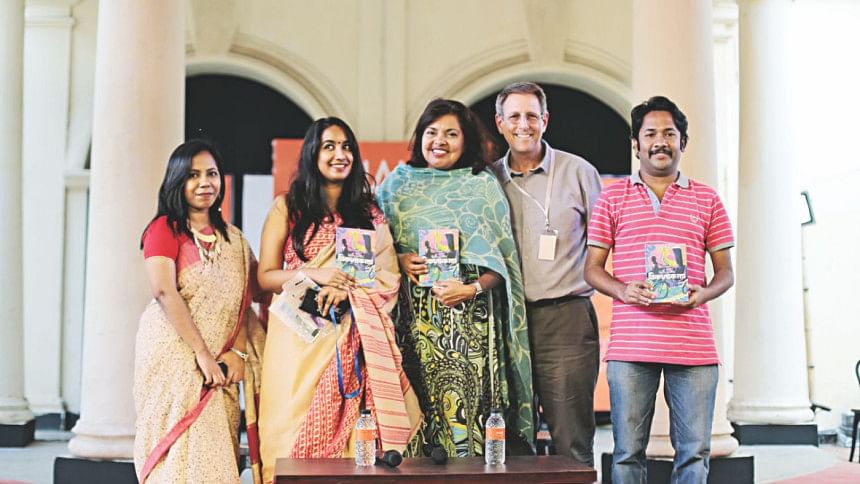 The conversation with Boston-based popular children's author Mitali Perkins and journalist Shuprova Tasneem at the Dhaka Lit Fest 2018 was enlightening and empowering. In the panel discussion titled Rickshaw Girl, Perkins talked about her writings and hopes.
Her book, Rickshaw Girl, has been translated to Bangla by Mehedi Hasan and published by Myurpankhi. "This is the first time I am seeing my name written in my mother tongue!" exclaimed Perkins.
Rickshaw Girl is the story of Naima, a Bangladeshi teenager living in rural areas of the country with her family. She is frustrated that unlike her best friend Saleem, she cannot help her father drive his rickshaw because she is a girl, but she bravely attempts to help her struggling family.
People, place and plot are the three key elements Perkins bases her writings upon. While talking about her inspirations she mentioned that her father is an advocate of female empowerment. "My father and I share a special bond and it is often reflected in my writings," said Perkins.  The book has been published in several Asian languages.
Perkins prefers to portray the life of different characters in her writings more than telling her own story. She shared a heart touching story of some girls in America who were selling cakes to travel to India as they were inspired after reading one of her books. She spoke of her responsibility of writing for a young audience. "I have the pleasure of shaping children's hearts, and if important values can be instilled in them from an early age, we can hope to raise responsible individuals," said the author. She also expressed her appreciation for the role of Bangladesh in women empowerment. Giving example of the microfinance model she said, "Bangladesh has the potential to be the next powerhouse of women empowerment."
The film adaptation of Rickshaw Girl, directed by Amitabh Reza Chowdhury, will soon hit the silver screen.  Perkins believes that with his finesse as a director, Chowdhury will be able to tell a truly Bangladeshi story.  "My family and I are really excited about the film which is set to start its shooting in February," she said.