How a tiny music store in the backstreets of Dhaka influenced Bangladeshi Rock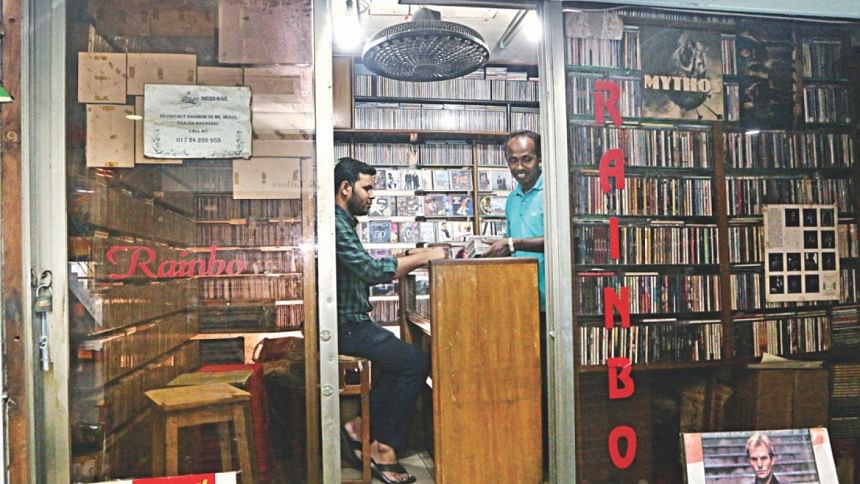 I was a music-mad teenager in 1980s England, and heavy metal was going through a resurgence. The older bands like Black Sabbath and Judas Priest, who had started in the late 60s and early 70s, were still going strong, but a new cohort of exciting younger bands had begun to appear. The NWOBHM (New Wave Of British Heavy Metal) bands such as Iron Maiden, Saxon and Def Leppard were getting radio airplay on Tommy Vance's Friday Rock Show on BBC Radio 1, and appearing regularly on TV. They even had hit singles in the pop charts.
All my friends loved metal. They had long hair, wore black leather, or proudly sported denim jackets decorated with their favourite band's patches. Some even borrowed their mother's needles and threads (I will admit to this) and embroidered their favourite album covers onto the back.
In Bangladesh, however, heavy metal was not so easy to find – it was not on the radio or TV much, and major western bands did not tour there. There weren't any home-grown heavy metal bands, and the genre was viewed with suspicion by the establishment. However, around the same time I was starting a band, some young musicians in Dhaka were doing the same. Their influences came not from radio, TV, or magazines, but mainly from one small shop in the backstreets of Dhaka. From this unlikely place, the seeds of the first wave of Bangladeshi Heavy Metal were sown.
A few months ago, I was looking through the Facebook page of Bass Musician Magazine (a website I write for), and there was a post from a Bangladeshi bassist, Ayan Upadhaya.
He spoke about playing in a 'Bangla Rock' band. This was very interesting for me, as I had never considered Bangladesh as being a place where rock music might be popular. We got talking, and he suggested that I listen to Artcell, a progressive metal band from Dhaka. I was amazed at how good they were, and this prompted me to investigate some other Bangla Rock bands that Ayan recommended, like Rockstrata and Warfaze. I started to look further into the history of the Rock and Metal scene in Bangladesh, and one thing kept cropping up: The importance of a small shop - the Rainbow Music Store.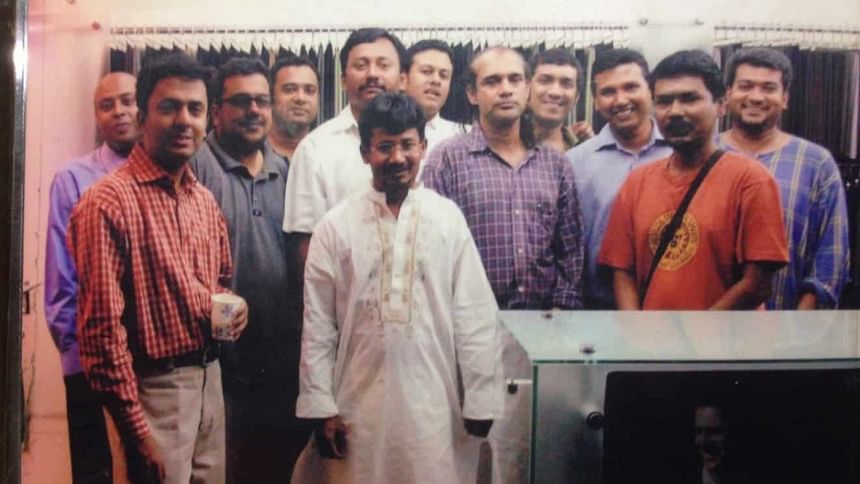 Abdul Kadir Murad was a huge fan of hard rock music, especially Black Sabbath, Motorhead and AC/DC, and in 1982 he decided to open a store selling copies of LPs and CDs. The shop was very small, and situated in an arcade just off New Elephant Road in Dhaka, and Abdul named it 'Rainbow Music Stores' after another one of his favourite bands.
At first, the shop sold copies of albums from Abdul's own collection, and to start with, business was slow. "In the beginning, people were not into English [language] music, so it took a bit of time to get people accustomed to listening to it, as at the time it was mainly a Bangla-based music industry," recalls Abdul.
Soon, he was making trips to Singapore to bring back albums by the best pop, rock, and metal artists to add to the shop's stock. There were a few similar stores in Dhaka, but the Rainbow had a distinct edge over the competition. However, it was not just music fans who came to the shop; local radio stations began to access the Rainbow's library of CDs and LPs to add new Western rock and pop sounds to their mainly Bangla music playlists. As the store expanded their catalogue, it attracted more and more music fans, and in 1983, Abdul was joined in the store by another hard rock obsessive, his next-door neighbour Humayun Kabir.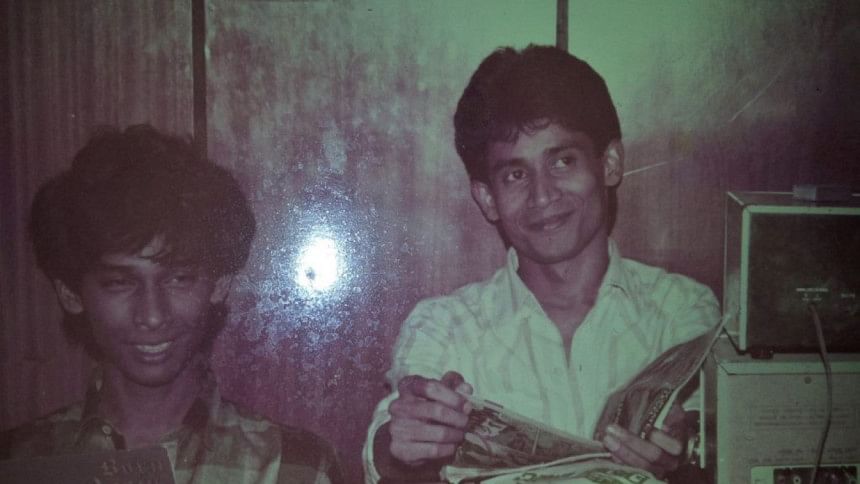 As the Rainbow's popularity grew, other music stores opened close by (Shur Bichitra, Shur-Niketon and Rhythm), and soon the 'Elephant Road Coffee House er goli' (Coffee House alley) became a thriving hub for local musicians and music fans. The other shops did well too, but at Rainbow, Abdul and Kabir did not just sell them what they came in for - they also advised them on what to listen to. Rather, like Jack Black's character in "School of Rock", Humayun and Abdul were educators in all things rock and metal – the bands, the albums, and the history.
In a similar way to the origins of the US thrash metal scene in the 1980s, where fans were influenced by Jon Zazula -- owner of the 'Rock 'n' Roll Heaven' music store in New Jersey, young metal fans in Dhaka found a similar source of inspiration and guidance at the Rainbow and shared of cassettes of bands from Europe and the UK.
If you wanted the latest and best western rock and pop music, you went to Abdul's store. Guitar legend Ibrahim Ahmed Kamal of Warfaze and Aurthohin remembers: "..they were the best; they had an amazing collection."
Some of the boys from Dhaka's St Joseph High School became regular visitors to the Rainbow, but by then, the demand for copies of Western pop and rock meant a long wait for their cassettes. "They used to come hang out at the store and put orders for mixed cassettes but the queue was so long that they had to often wait more than three months for their cassettes to be done being recorded," recalls Abdul.
Although the wait could be long, patience was rewarded. Journalist and author Towheed Feroze (a former St Joseph student) remembers that; "Kabir bhai was the undisputed rock guru to many, leading a Bohemian life dominated by a crazed passion for hard rock. Many musicians who became top names later on took their first lessons on metal music from Kabir bhai, who initiated local listeners to Black Sabbath, Uriah Heep, and Deep Purple."
Some of these young music fans formed heavy metal bands. One of the first of these – Warfaze -- was started in 1984 by some of the boys from the St Joseph school who, used to hang out at the Rainbow. "I was one of the people who went there in early 1984, and we were guided by Kabir bhai," recalls Kamal, "It was a huge help towards my musical journey."
At first, Warfaze covered the songs of their heroes Deep Purple, Iron Maiden and Dokken, but as they became more confident in writing their own material, they began to sing in their mother tongue, and in 1991, they were the first band to release a heavy metal album sung in Bengali. St Joseph's also produced another seminal Bangladeshi metal band, Rockstrata.
Rainbow remained a huge influence on the upcoming bands into the late 1990s, sometimes giving them more esoteric material to listen to. More adventurous groups like Artcell took these influences and pushed the metal envelope to include more progressive and interesting compositions.
As Artcell bassist Cezanne recalls: "The best part was, when anyone would give them a 60 or a 90 minute cassette to record some album, if there were few minutes left after the album was transferred, they would fill that in with other good music of similar genre. And that's how I was exposed to Steve Vai and Joe Satriani."
More established mainstream Bangladeshi artists also came to the store for advice. "Many people used to come," Abdul recalls, "Ayub Bacchu, LRB, James, Selim Hyder, among others, used to  listen to music at our store, and discussed music with us. Almost all of the big names in the music industry used to come and hang out, and ask for advice about music."
Later Bangladeshi metal bands were influenced by the groups that grew out of the scene around Rainbow in the late 80s, but by the late 90s, the availability of alternate media enabled music fans to explore a huge range of bands and styles on their own. By the start of the twenty-first century, some of the rock and metal bands in Bangladesh began to move from their 'underground' status of the 80s and 90s, and began to find better exposure and more fans. 
Also, around this time, the metal scene in Bangladesh was served by the 'Rocklink', a TV show hosted by former Warfaze bassist, Bassbaba Sumon. These factors meant that the impact of Rainbow on Bangladeshi musicians was reduced, and more recent bands like Trainwreck and Powersurge were influenced more directly by listening to, and seeing their heroes online.
Today, finding new bands is now just a few clicks away on a computer or a phone, but Rainbow stubbornly refuses to close its doors. From the start, its motto has been 'Where the Music Never Stops' and Abdul doesn't intend to cease trading any day soon.
"Neither me nor my children or the people who used to come would let me close this store down. The memories attached to it is worth more than anything else in the world," says Abdul. "It may not be a very popular place right now due to the internet and YouTube, but it holds a dear place to all the musicians that have come up through the cracks of time."
Abdul Kadir Murad also reflects on the importance of his tiny shop in New Elephant Road. "It has touched almost all parts of the [Bangladeshi] music industry in an indirect way. And to me, that's what makes this place so special," he concludes.
Tim Fletcher is a music journalist, educator and musician from the UK. He writes for a range of US based music websites, but also for print media in the UK. Tim also briefly appeared in a film with Christopher Ecclestone who was the ninth Doctor Who.